After I returned to Guyana from studying overseas, I was always met with stunned expressions when persons found out that I was pursuing a career in fashion. Most see it as a pointless career option in the Caribbean. I remember trying to convince my parents that I wanted to do a fashion related course at the BSc level and was immediately shut down. They too didn't see it as a practical career choice.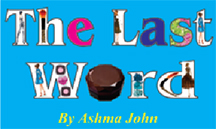 I finally got around to doing a Masters in something fashion related later on and I recollect taking a job as a sales girl at a Next retailer one summer. I wanted to get an insight into the behind-the-scenes action and appreciate how campaigns are developed and merchandised. It was then I truly realized that working in fashion is the total opposite to what people would expect and only those who work in the industry would be able to truly appreciate and understand the diligence it takes to make it.
The possible reason for the misconception that fashion is for the frivolous minded is based on the fact that fashion has to sell you aspirational products and not unattractive behind-the-scenes realities.
Then there are those who say people in fashion chose that career path because they have nothing else to offer. It is insulting. But it signals that there are people who seem to forget that every day we make a conscious decision to get dressed. Fashion is the one art form that has a utilitarian factor, which supersedes any other. We don't really have a choice; from the day we are born to the day we die, fashion will be involved in our lives somehow. It's therefore surprising that seeking a career in such a lucrative industry is met with stunned faces. Perhaps it's all about the opportunities available locally and what the society views as important.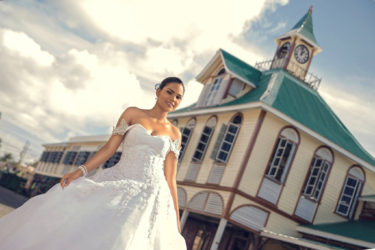 This week, I interviewed Keisha Edwards of Shasha Designs to get the scoop on industry events and growth. Since 2008, the 29-year-old designer has been designing wedding gowns and ready-to-wear pieces. What started out as hobby in 2006, was taken to the next level when Keisha did Guyana Fashion Weekend in 2008.
Ashma John: How would you describe the respect for fashion careers locally?
Keisha Edwards: We are a bit stilted because fashion itself isn't seen as a legitimate art form among the rest of the arts. Fashion is wearable art. People seem to not see that enough to appreciate it. Designers are looked down on because most aren't academics. Whether you have a degree and diploma even, we have a culture that doesn't associate fashion with bright people. That is how we distribute and earn respect here, it's based on academic profile.
AJ: Why do you think it is viewed in such a way?
KE: There must be an appreciation for anything to happen. I think first of all that appreciation was never there. Fashion can't develop locally because it needs a lot of investment. There was never really any significant investing. You see, it isn't an instant return on investment like a medical career, for example. When people understand the importance of investing in it and become more acquainted with its returns, they will give it more respect. There will always be scholarships available for doctors, engineers etc but hardly ever for people in the arts. It is because they understand the value of those careers towards Guyana and its economy. Unfortunately, the same can't be said about fashion. We seem to have a foreign concept of success. A designer will have to do something big on the international scene eg Project Runway, for fashion to gain that respect.
AJ: What do you want to see change, in order for the industry to progress?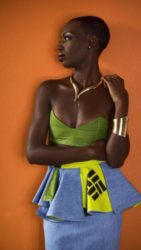 KE: There needs to be more programmes available. The scholarships being offered by government need to include the arts students more. There needs to be some sort of schooling for us to develop our skills. While we have Burrowes School of Arts, have you seen its condition? It is terrible. Also the fashion course offered there is only from a fine arts perspective, which isn't completely applicable for all areas of the fashion industry. I did an advanced programme for two weeks during the summer time. There are usually fashion teachers coming from Trinidad to run the programme. While it was informative, I honestly didn't see much industry players. We, too, in the arts, have to learn to welcome opportunity. If there are things in place we must access them.
AJ: Could you tell me about your experience at Carifesta and how it was beneficial to you as a designer?
KE: I would love to be raw but I have to censor myself! It was a cultural overload. Seeing the Caribbean on display and being surrounded by it was overwhelming. Being there made me feel prouder not that I wasn't, but more full of pride. Seeing how talented we are as a Caribbean community left me in complete awe. While there were seminars for dancing and theatre arts etc, there honestly wasn't much for the fashion industry. Again, even from this you see how respect for industry unfolds itself. There were just three designers from Guyana, we were outnumbered by the other art forms. We are at the bottom of the arts food chain.
They weren't any retailers and buyers but there was a fashion market and you sold your pieces. I think Carifesta is necessary and so is human cultural experience for inspiration purposes. However, more needs to be done for designers to really gain on a long-term perspective.
AJ: What would you say is your biggest challenge within the regional fashion industry?
KE: I would say learning to adapt your business model to the clientele base. We constantly have to consider our context and understand the fashion business will work differently for us because we don't have access to infrastructure like other international designers. For instance, a collection from the runway will sell straight off as opposed to sending it to a factory and bulk producing.
AJ: Would you say there is a seasonal demand for local designers?
KE: For me I feel like I work all year round. In the beginning it was seasonal but now it's not like that. It will vary from designer to designer.
Keisha also stated that it is key to note that no reviews have been done for the last two big fashion related experiences she took part in which includes her Carifesta debut. This, she said, is the biggest setback as the industry can't reflect on where it's going wrong and how it can improve. She stated that it is vital for to us to create spaces in which we can grow the industry and that working independently to grow it may not be the best solution as we need each other.
It is no surprise that the arts being marginalized in terms of attention and funding, contributes to the little respect shown for the industry players. While this can breed stigma, it is better to acknowledge the realities and work around them.
https://twitter.com/theonlinerunway
http://instagram.com/theonlinerunway
Around the Web