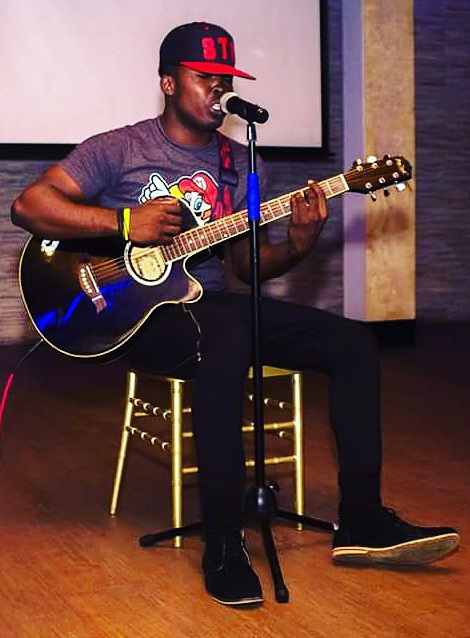 Abel 'JR Lovestabbs' Stokes has been getting his music out there, performing at bars, hotels and most recently at BowJay's fifth anniversary and the Miss Guyana Emancipation 2016 at the National Cultural Centre (NCC).
The singer and guitarist hasn't yet settled on a genre but dabbles with Reggae, Soul, R&B and Jazz.
Music runs in his blood, or as he puts it, "When you have Rastafarian heritage, music is like praying."
He has always had a passion for singing. "I have been singing as far back as I could remember. Music is my life and joy, my form of happiness and one of the things I love," JR said.
In fact, music means so much to him that he has returned here to pursue it.
According to JR, his entire family is Rastafarian and he only recently lost his dreadlocks but their support for him has been tremendous.
JR taught himself the guitar while watching YouTube videos when he was 15 or 16 and though his performances are often applauded, he still believes himself to be a novice.
The problem with many people he said, is that they get too comfortable or contented with life as it is, they never try to be better; his reason for using the word novice to describe himself.
But before he started stealing the Guyanese crowd his first onstage performance was in Suriname; a moment he will never forget.
"Last year while I was in Suriname a band was playing at one of the biggest hotels I've ever seen. I walked around with my guitar on my back then sat down and watched their performance and when they broke for intermission, this guy from the band walks up and caught me by surprised when he asked if I could play. I am like the biggest John Legend fan. There's not a song of John Legend's that I don't know. I performed like five of his songs and the reaction was great! They loved it," said a beaming JR.
Apart from being a John Legend fan he also enjoys listening to Elle Varner songs. Still when asked who he wished he had the opportunity to meet, the likes of Legend was dropped for the "I Feel Good" singer, James Brown.
JR performs every third Sunday at Franale's HipHop and Poetry Night at 704 and has in the past performed at the Pegasus Poolside. It was at Pegasus that an incident took place that has JR laughing now, although then it was no laughing matter for him and his group Nations Collide. "I could never forget the time the band was playing at Pegasus Hotel poolside and in the midst of our performance our pianist hit the pedal of the drum machine. Instead, the machine started to play a very slow beat compared to the fast rate we were playing at and completely threw us off. Some of the guys were kinda angry at the embarrassment it caused us but I found it funny," he said.
"Being on stage is the only time I can truly express myself. The best part about being an artiste is being able to make people understand, enjoy and appreciate what I do."
However not many people appreciate and sometimes he, like other artistes, face the challenge of making money as many persons ask for free performances.
The Miss Guyana Emancipation 2016 pageant saw JB along with Nations Collide performing "Smile Guyana" (a riff on the popular Chronixx tune "Smile Jamaica"). He serenaded the contestants and had them all blushing, before what was supposed to be his last performance, "African Queen." However, Nations Collide was caught the trio off-guard with a request for "Redemption Song." They quickly recovered and in this last performance fed the audience so that before the end of the song, patrons in NCC were singing along.
JR eagerly looks forward to becoming one of the leading international recording artistes.
His free time finds him at the gym, voluntarily teaching one of the youngsters of the Buxton Steel Pan Band how to play the guitar and sometimes enjoying hobbies such as cycle racing, playing video games, traveling, socializing, practising his Martial Arts (Capoeira) skill and swimming.
Though he hasn't created much of a fan base for himself yet he promises that he'll always perform at his best and will continue striving to better his talent.
Around the Web