Local accessories entrepreneur Jenell Pierre recently celebrated the fifth anniversary of her business, BowJay, with a show exhibition and sale at St Stanislaus College auditorium.
Jenell, who started out making hair bows, has over the years progressed to bowties made of fabric, wood and other materials, purses, bags, scarves and hats among other accessories.
Opening the show, African designer Dara Kehinde launched 'Odunayo' the second collection of her Rhoda Doxa's line.
Spoken word poet Renetta Burnett recited two poems: "Maybe I'm too Deep" and "An Apology to the Little Black Girl in Me".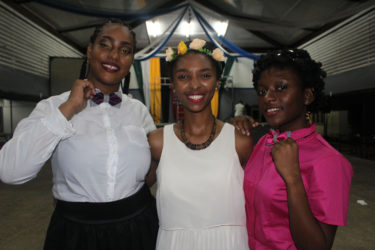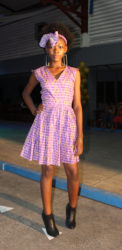 Then it was BowJay's turn and models strutted the catwalk showing off their sophisticated yet glamourous look wearing colourful and patterned hair bows and bow ties. The crowd present cheered them on especially the youngest – who is just a kindergartener.
Also taking the stage was local singer and guitarist, Abel Stokes who performed "She's Royal"; former Miss World Guyana Ruqayyah Boyer did a performance of Sunshine, making way for renowned local artistes Kwasi Ace and Calvin Burnett who sang a number of songs including "This Place is Crazy" while the excited crowd sang along and gyrated to the beat.
After the show, Jenell said she has always had a passion for this and never thought it to be difficult as she was only making her dreams come true.
Jenell extended gratitude to all those who have supported her especially her staff.
To mark her fifth year in the business, apart from the show, Jenell said she was headed to Trinidad and Tobago this month to explore expansion opportunities.
In Guyana, BowJay's items are retailed at the Marriott Hotel Gift Shop and at Giftland Mall in the Gents Section. In addition, interested persons can check out BowJay at www.fb.com\bowjayandmore or call or WhatsApp 642-8369, items can be made to order.
Around the Web