'Lost in Time' is the name of the 21st edition of Naya Zamana, which hits the stage of the National Cultural Centre this evening.
Billed as a theatrical adventure, 'Lost in Time', a press release from the Guyana Hindu Dharmic Sabha says, "features a superb blend of cutting-edge choreography, chartbusting music and superb acting that brings the exciting storyline to life." It encompasses comedy, romance, thrills, spills and a gamut of emotions.
The more than 70-strong cast of dancers and actors, who have been trained at the Dharmic Sanskritik Kendra and are from all across the country, provide the perfect complement to the main cast of Farzaana Khan, Indhira Harry, Nirmala Persaud and Travez Piaralall along with Aryan Masi and Rahul Ravichandran who join the cast from Canada, the release says.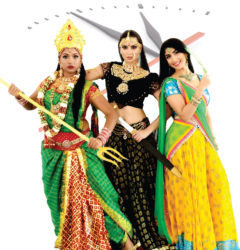 It reveals that Aryan is currently based in India where he is doing short films and TV commercials and making small appearances in Bollywood films. Both Aryan and Guyanese born Travez received training in acting and graduated from the world famous Anupam Kher's Actor Prepares Academy in India. This year, they team up to give our audience a wonderful performance. Rahul Ravichandran of Canada is trained in numerous dance styles including hip hop, ballet, jazz, Bollywood and the South Indian dance style of Gaana. He has been part of numerous competitions including Canada's got Talent. In Naya Zamana 21, the audience will get to enjoy Rahul in several avatars, the release adds.
Meanwhile, brand new sets and fabulous costumes by Trishala Persaud add the right touch to every act. Direction, choreography and script have been done by Dr Vindhya Vasini Persaud.
Naya Zamana 21 is said to be a must see as it continues to "lead the way in family entertainment and raise the bar each year in production."
The release notes that many fans who attend without fail every year always remark on how much it is like looking at a film on stage. The Sabha says it hopes that this year, persons who have never attended will make 'Lost in Time' a first-time experience.
It informs that the production is further enhanced by excellent lighting from Cloud Nine Inc and the Cultural Centre has advised that the air conditioning is fully operational in all parts of the theatre.
The Guyana Hindu Dharmic Sabha's recent experience of taking the entire production to New York and receiving rave reviews has brought home forcefully how much Guyana and its youth have to offer to the world, the release says. It therefore remains committed to working with youth and encouraging them to explore new avenues on the world stage and at home.
Tickets for tonight's show cost $3,500, $3,000 and $2,000 and are available at Bhagwan's on Water Street, Red Mango on Robb Street, the National Cultural Centre, all E-Networks locations including Giftland and Mon Repos Malls and the Dharmic Kendra in Prashad Nagar or by calling 227-6181.
The Sabha expressed thanks to Digicel, E-Networks, Farfan and Mendes, Fly Jamaica, Ansa McAl and NTN for their support.
Around the Web