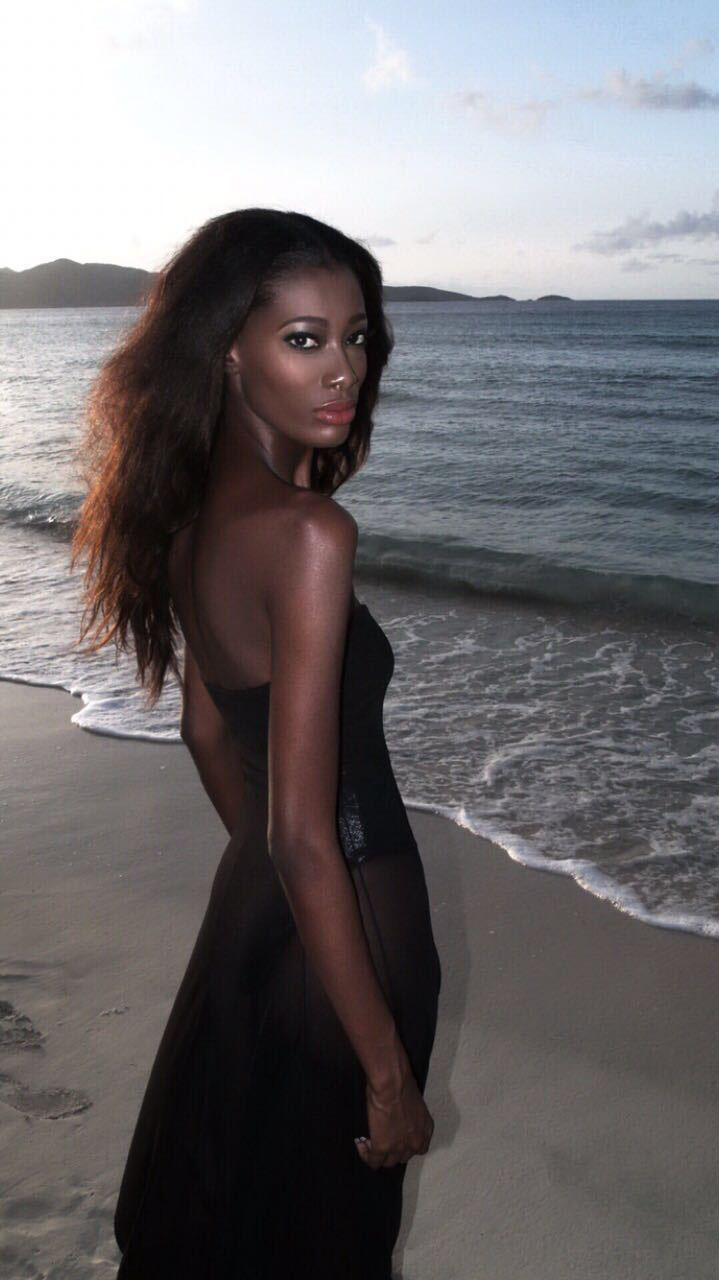 International model Natasha Harper has been walking the runway for eight years now, ever since she was just 15 years old.
"I was actually at an event at the Cultural Centre and Michelle Cole and [the late] Trevor Rose came up to me and asked if I had modelled before and told me to give them a call. A week later they had me trained by Riah Austin," Natasha said.
Natasha began modelling Michelle Cole's pieces, before moving on to a few of Sonia Noel's. In the past she's modelled for local designers Keisha Edwards, Randy Madray, Ryan Berkley, Mwanza Glen and Roger Gary. For the past two years she has been on the international catwalk, walking for designers like Caesar Galindo, Korto Momolu, Mauricio Alpizar, Edwing Deangelo and Laquan Smith whose pieces have been worn by the Kardashians, Beyoncé and Rihanna.
She recalled stepping on the stage for the first time which she admitted was a bit scary and she was nervous but she focused on what she had to do and erased the audience completely from her mind. In the years since, she fell practically in sync with strutting her stuff and taking in the audience which has taught her a few things as well.
"It has made me become more disciplined and more focused in my preparations and being able to develop my technique in strutting the runway. The offer to me by Oronde Hugh George [the owner of Traits Model Agency] and Junior Kennedy [co-owner] was a turning point in how my career has advanced as a model. Junior Kennedy took me under his guidance and helped me to develop my technique. I find that I have become more accepting of my natural beauty. He thought me how to become more likable without doing or saying too much," she said.
Natasha is inspired by three persons who have played a fundamental part in her life. "My mother [Elizabeth Harper] has always encouraged me to never give up and to always have patience in everything I do. Number two person would be Riah Austin; the first person to train me. She always encouraged me and looked to bring out the best in me while number three would be English Fashion Model, Jourdann Dunn. Being one of the top black models to walk the Prada Runway and to also to cover British Vogue, she's an advocate for the empowerment of women and is always encouraging them to achieve their goals whether big or small."
The best part about modelling for Natasha is getting to meet new people. This sometimes allows models to benefit in taking their modelling career to another level. Natasha has so far modelled in the British Virgin Islands and at the Mercedes Benz New York Fashion Week.
At six feet one inch you would think her height would not be a challenge, but it is when it comes to finding jeans. "Apart from my height having the right body weight is another thing especially around my hips… casting directors sometimes say I have too big hips. I'd have to either not wear any jeans or leggings or anything that may show them up. However now, hips are the going thing. Lastly, it's challenging to stay disciplined, to eat healthy and remain at the gym." When Natasha talks of the gym she means going two times a day. Though she's skinny, she explained that models hitting the international runway are required to be even skinnier.
The first time Natasha strutted the runway in New York would be a moment to remember, she said. "As I was strutting the catwalk, I was [shocked] to see the audience giving me a standing ovation. I was wearing a black, low-necked gown with a slit to the side. The braided hair around my forehead, a golden band and the gladiator sandals gave me that Egyptian look. Designers after the show approached me to work with them."
But the runway is not always praise and sometimes can lead to embarrassment. While on the catwalk once an incident took place where the top of the garment she was wearing slipped off her shoulder and uncovered a bit of her breast. She was embarrassed but managed to keep he composure and finish the strut. The incident she humorously said was added entertainment for the audience.
"When I was younger I always had a passion for modelling and I'd see the older models always strutting and doing advertisements on different shows and I wanted to do the same also… And with my height and unique look I decided to give it a try. I'd always be grateful for the opportunities that allowed me to embark on my modelling career."
Her family she said was always supportive while she was in Guyana but they never really took it seriously until she made it internationally.
Talking about support she doesn't believe that models have the support they need from society and definitely thinks that models could be better financially rewarded. She added, "There should be a greater recognition and acknowledgement of time and resources invested by models to perfect themselves and to advance in the career. Create a Facebook page or Instagram to highlight our local models."
Apart from modelling Natasha is also a part-time decorator and caters for weddings, parties and graduations. She's concentrating fully now on her modelling career and plans also to pursue studies in the wider field of fashion, designing and marketing aspects. She hopes with time she'd be recognized as one of the premiere models in Guyana and recognized also on the international scene.
She enjoys, in her spare time, listening to dancehall, trap and conscious music from artistes like Chronixx and gospel (on Sundays), reading novels and inspirational books, socializing and travelling.
To aspiring models she says, "I have experienced much since launching my career. These experiences have taught me that there are a lot of girls out there and you have to try your best to be outstanding and not every agent or designer is going to want to use you but that's okay. Never feel discouraged because you may have that unique look that others may not have. Keep aspiring if that's the career you want to focus on."
Around the Web