Designer Sonia Noel will be reaching out a helping hand to ailing actor/comedian Henry Rodney and make-up artist Corin Gibson through her charity Style Mission scheduled to return to the up-coming Guyana Fashion Week (GFW) 2016.
According to a release from Noel Style Mission is a special event hosted during the GFW and as the name suggests it has a mission which includes supporting the less-fortunate, underprivileged and those in need of financial support. This year's mission is to assist in offsetting the medical bills of Rodney and Gibson.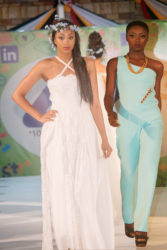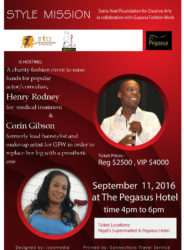 Style Mission was launched some years ago and this year, according to the designer, it returns with a bang and will feature a cross-section of local designers who will participate in GFW 2016 and it will be directed by 'Caribbean fashion guru' Richard Young.
The event will be held on September 11th at the Pegasus Hotel commencing at 4pm.
"Sonia Noel, recently bestowed with an honorary doctorate and 2016 Philanthropic Leader award for her extraordinary philanthropic work, continues her style mission by giving back to her community and elevating the ways we seek to build nation- building confidence among our citizenry," the release said.
And this year's GFW promises to be one to remember as it would be graced with the presence of the likes of Russell Lancaster and will also feature an auction of jewellery from King's Jewelry World, a painting by Devina Deputron and a signature piece by Noel.
Local celebrities such as Ron Robinson, Merrano Issaac, Jennifer Thomas and Sonia Yarde will strut their stuff. Ras Camo is also expected to be there among others.
Tickets for the event are being sold at $2500 and $4000 and are available at Nigel's Supermarket and at the Pegasus.
Around the Web