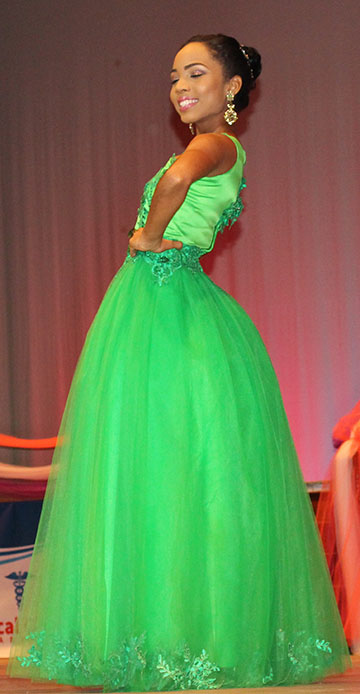 Faced with stiff competition from her peers, Aliya Wong managed to hold her own to be crowned Miss Guyana Talented Teen at the National Cultural Centre.
From the time the eight contestants: Ahiesha Antoo, Anicia Williams, Annastacia Boyal, Naiome Bacchus, Ayana Glasgow, Aliya Wong, Geetanjali Nauth and Jerusha Farrell introduced themselves it was clear that the judges would have a difficult time choosing a winner.
Showcasing their skills in the Talent segment, the young ladies wowed the audience. Ahiesha opened the segment dancing to live drums. Anicia performed a belly dance to recorded music. Annastacia did a spoken word piece, which she wrote herself, on being a fatherless queen; Naomi's was a dramatic piece that moved into a dance; Ayana stole the show with her dramatic poetry, "True Guyanese"; Aliya demonstrated karate self-defence; Geetanjali performed Poonam's song, "Guyana" and Jerusha concluded the segment with a spoken word rap piece, which she wrote.
A multimedia presentation showing the girls assisting at different charities, which was to be done by Jairo Rodrigues, did not happen, owing to technical difficulties.
Instead, Tiffany Bonner, Miss Guyana Talented Teen 2013, serenaded the audience with her song before the intermission.
After the intermission it was time for the much anticipated Evening Gown competition. As far as designer gowns were concerned, Ayanna and Ayiesha's were designed by Randy Madray, Aliya wore a Keisha Edwards' design, Jerusha, a Quinton Pearson piece and Annastacia was dressed by Olympia Small-Sonaram. The other contestants' gowns, which were also lovely, were sewn by seamstresses.
The contestants soon reappeared on stage for the special prizes segment. Jerusha was awarded the winner of the cotillion, which was held a few weeks ago at the Pegasus Hotel. The prizes for Best Talent and Best Evening Gown went to Ayana. Miss Congeniality was awarded to Aliya, while Best Multimedia Presentation went to Ahiesha. Jerusha also won the People's Choice Award, while Geetanjali received an award for being the most improved contestant.
When the contestants returned to the stage, the final three were announced as Jerusha, Aliya and Ayana. However, the other five contestants were not allowed to walk away empty handed and were each presented with a bouquet of flowers by Nesha's Flowerland.
The final three were each asked the same question, which was whether they thought social media has helped or hurt society. Answering first, out of the earshot of the other two contestants, Jerusha said she strongly believed that social media has impacted society in both positive and negative ways. Aliya, who was next, said it has helped society because it allows for persons to keep in touch with relatives and friends. Ayana said she did not believe that social media has hurt our society since she's seen a lot of growth.
It was then time for Miss Guyana Talented Teen 2014, Reesa Sooklall, to do her final walk, during which her recorded speech of all she has been able to do as Miss Guyana Talented Teen was played. Teary towards the end, she thanked her parents and promised to always be the Miss Guyana Talented Teen Queen of 2014 at heart as long as she lives.
Finally, it was time for the announcement of the winner and the top three were back on stage with their classmates from their respective schools in the audience calling out their names in encouragement. The second runner-up place went to Ayana, while first runner-up went to Jerusha and Aliya was named this year's Miss Guyana Talented Teen.
The runners-up and the queen will be awarded trips, computer packages, photo-shoots and gift cards at a prize-giving ceremony soon.
Aliya will represent Guyana at a Caribbean teen pageant slated for December.
Meanwhile, earlier, Wazim Khan of Imperial House, which hosted the pageant this year, thanked Pamela Dillon of Simpli Royal for the work she has been doing in the pageant arena. Responding, Pamela spoke on the work that she started 16 years ago, noting that it was just around that time that pageants began to emerge in Guyana again, and she wanted to do something for girls to prepare them for the bigger pageants. The Miss Guyana Talented Teen Pageant, she said, has over the years moulded the girls into being and poised, elegant and at the same time bold which has led most of its past contestants to lead better lives and taking what they would have learnt into the world of work. Five former contestants are doctors today.
This year's corporate sponsors were: Professional Guard Services, Medical Choice Pharmacy, Ferreira's Import & Export, Palace De Leon, Pegasus Hotel, Juju, Pink Memo Boutique, Asha's Beauty World, Beauty Brat Boutique, Pieces & Things, Nayelli Salon & Spa, Simpli Royal Day Spa, Missology Guyana, Trophy Stall, Nesha's Flowerland, Moi Toori Boutique, Buckhead ATL Boutique, Computer World Career College & CXC Institute, Arrow Point Nature Resort, B Salon & Spa, Suraj Singh and 55 Photography.
Around the Web