Two Thursdays ago the Guyanese Cultural Association of New York awarded artiste, Quincy Lacon in recognition of his 'EGO' career.
For two of the four years since Quincy ventured into the entertainment industry, he has been performing across Guyana as well as in Suriname and Trinidad.
He was unable to make it to the award ceremony in New York and his aunt, Jacqueline Lacon, received the award on his behalf.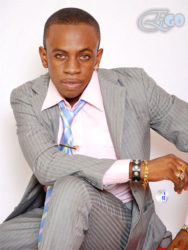 "It's such an amazing period for me…," Quincy told The Scene. "Stuff like this continues to make me believe success doesn't lie in how many times your music is played on air or which DJ loves your art. It's about discipline and consistency and also the support from the right people and the Almighty Father."
Recently he made special appearance in the movie Old Higue, which was produced by Ssignal Productions.
Quincy also works along with youth groups in collaboration with the Guyana Police Force. He was recently appointed secretary of one of the youth groups in Linden called Children of the Future.
Around the Web