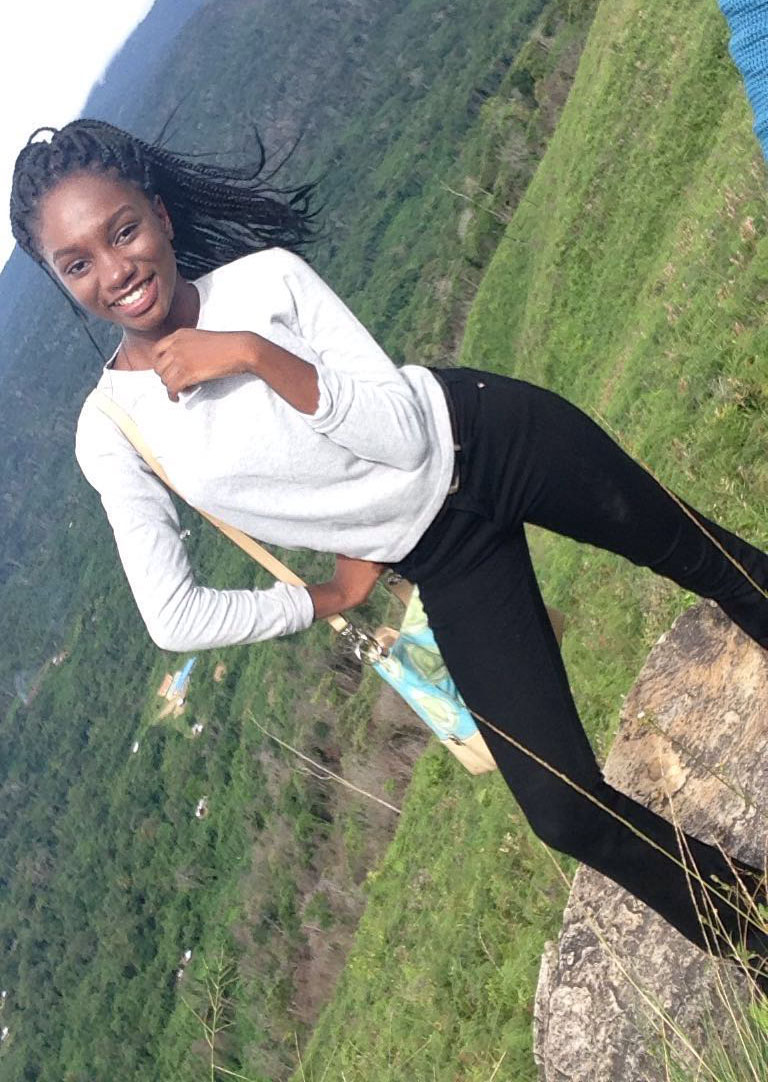 While the average 14-year-old girl is caught up with school and extra lessons, Omaiah Aaliyah Hall has a lot more on her plate. The St Roses High School student is also a singer, dancer, writer and model.
Omaiah first came to The Scene's attention a few months ago when she modelled for designer Dara Kehinde and was also present during Dara's interview with this reporter.
The multitalented Omaiah was eager to share.
"It all started in church but my voice became more [modulated] when I started Success Elementary," she said.
According to the young woman that was when she found the choir or the choir found her. Choir leader and teacher Wilfred Success, she said, took her under his wing and moulded her into what she is today; "I remember him saying, I have a nice and strong voice and I must use it."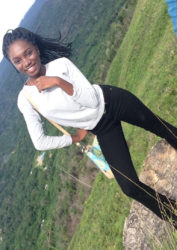 She sings mostly Gospel, Pop and Soul genres and dabbles in a bit of Rap. Omaiah performs at school and in church. However, she has sung at the National Cultural Centre, and at the annual staff talent show at the Caricom Secretariat, where her mother Odetta Young works.
Most recently, she was on Franale's HipHop Concert at the 704 Sky Lounge. "People were surprised at hearing a little girl with such a voice," she said speaking of the 704 event.
But why choose music? For Omaiah it was more like music chose her.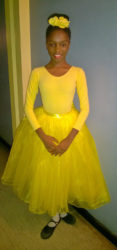 "Music keeps me going. It's a way of expressing myself in song and dance. Music makes doing stuff more interesting and fun. A simple thing as walking down the road or even doing household chores, becomes more fun when you're listening to music," she said.
Her last Christmas Concert was while she was still a student of Success Elementary. The concert was held at the National Cultural Centre and she was on stage in front of the biggest crowd she had seen to date. "Oh Holy Night" was the song and she said she stood there a little overwhelmed with excitement and nervousness, but she talked herself into it and before long she forget about the crowd and pulled through excellently with applause ringing in the end.
But not all her memorable moments were outstanding; some turned out to be funny.
"I don't quite remember the age; I was somewhere around nine though. But there was this one time I was singing 'Nobody Greater' in church and then out of nowhere my voice croaked. It was so embarrassing but I kept on pushing and I pulled through.
"One other time, this one has to do with dancing. I was dancing at a Christmas Concert and I fell. But I laughed it off and made it look like a killer style. The dancers realized but the audience didn't. Both of the times taught me one thing: to never give up no matter what and to always keep pushing," she said.
Omaiah is inspired by the late Whitney Houston, Beyoncé and Zendaya but her role model is her mom. "Mommy is my number one role model. I look at my mother taking care of me as a single parent and she does a fantastic job 'cause I'm a handful being an only child," she said.
Omaiah admits to being stubborn too saying that although she shouldn't have ice-cream she is often caught indulging, which she sometimes pays for with her voice going, but honey and lime and ginger, she said, is a quick fixer-upper when that happens.
At the time of our interview, Omaiah was attending a writing class at the Theatre Guild. She was also writing a play called There's a Light in the Darkness.
The Scorpio-born artiste is also a student at the National School of Dance where she's perfecting her skills in ballet, contemporary and ethnic dances. She is a member of the First Assembly of God Church on D'Urban Street, Wortmanville.
This new school year, she said, brings her a step closer to her dream career of becoming a corporate lawyer. She is a fourth-former in the Humanities (Arts) Stream.
Though she plans to study law she intends to stay close to music and is intent on putting her songs out there.
Her hobbies are reading, hanging out with friends at Generation Next and browsing the internet or as she puts it "I'm a social-media freak!"
Omaiah remains an optimist and her drive to succeed is remarkable. As the interview concluded, she said, "Only recently I was watching Beyoncé's performance and I'm like 'Oh wow; she's so good'. I told myself, 'that is going to be me, only better!'"
Around the Web