Come Friday at 8 pm, the National Cultural Centre is the venue for 'Piano Improvisations: An Evening With Dr Patricia Cambridge.'
According to information released, Cambridge, one of Guyana's outstanding pianists, winner of the Phillip Pilgrim Memorial Harp (1974) and graduate of the Boston Conservatory, will perform her unique and exciting improvisations of Guyanese and other music.
'Piano Improvisations' is actually Cambridge's album of improvisations on five Guyanese songs: "My Native Land," "To The Hibiscus," "Let Us Cooperate," Itanami," and "Sitira Gal." The album, which showcases her creativity and versatility, is available from Amazon, iTunes, CD Baby, Google Play Music, YouTube, and Spotify, the release said. Patrons can expect performances from this album as well as other music during Cambridge's recital.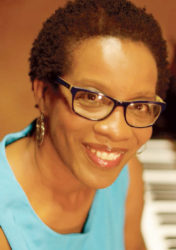 Cambridge began studying piano at age five, the release said. But she was not content to play only the piano. While growing up, she played violin, double bass, organ, guitar, and steel pan, even arranging music for the steel band at the Bishops' High School.
At 15, she earned the distinct honour of being the youngest ever accompanist of the Woodside Choir. At 17, she was awarded a Government of Guyana scholarship to study music at the Boston Conservatory. While pursuing her studies, she became the assistant organist at Boston's Union United Methodist Church.
Upon her return to Guyana, Cambridge became director of music in the Ministry of Education.
She also was an active member of the wider music community. She was organist and choir director of Trinity Methodist Church, and she again became the Woodside Choir's accompanist. She even was a guest performer with Harry Whitaker's jazz ensemble on several occasions.
After a few years, Cambridge immigrated to the US and earned an MA in international administrative studies and a PhD in mass communication at Ohio University.
Her career change left little time for working on a classical music repertoire, so Cambridge would often sit at the piano and improvise. Eventually, she began to share this talent with the Athens, Ohio, community where she resides, the release noted.
It added that patrons attending Friday night's recital are encouraged to make donations to the Guyana Musical Arts Festival to promote musical development in communities in Guyana.
Around the Web