The local fashion arena can look forward to something new with the runway debut of Indigenous-themed pieces from cousins Vanda Allicock and Abigale Buckley, during Guyana's longest running fashion event, Guyana Fashion Week (GFW), which is slated for November.
CEO of GFW Sonia Noel Noel said including the designs of the cousins in Guyana's premiere fashion event, will not only add a special element to the event but also give the cousins a chance to showcase their talents.
"The world actually is looking at Indigenous influence and it's not just the clothing it is the medicine it is everything else and there is something special about it and people definitely like to feel special. I can imagine one of Miss Allicock's designs on the red carpet; it will be special because it is a conversation piece. It's something that will have people asking where do you get that from. I know the element she is going to bring to the runway… both of them. It is just going to be remarkable," Noel said.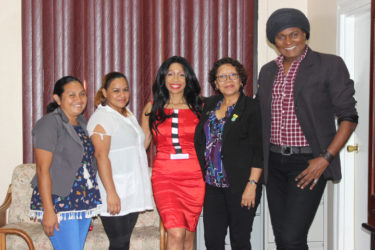 She further noted that the cousins have been operating almost silently in the business for a number of years and feels that the time has come for them to share with Guyana and the rest of the world.
Minister within the Ministry of Indigenous Peoples Affairs Valerie Garrido-Lowe, in brief remarks during the opening of an Indigenous Art exhibition at Castellani House had proposed the inclusion of an Indigenous exhibition for next year's Heritage celebrations. This was an idea that was said to have been fully endorsed by Noel.
The minister said this added feature could serve as the impetus for the much touted November Fashion Week. Similarly, Noel expressed her excitement at being able to add some "freshness" to her annual event.
Following the decision to include the two Indigenous designers in the fashion event, the Junior Minister stated that by working with the talented Noel, they will be guided on the varying aspects of designing and fashion on a whole.
"I am putting them together because Sonia will be the guide for these two talented people on how to really turn out clothing that we can wear with their natural talent using their beads, straw, wood and everything … I am very happy about this," the minister said.
Meanwhile, Buckley related that while she grew up hearing of Noel and her designs, it wasn't until she saw them for herself that she was convinced of the wow factor that came from Noel's designs.
"I see this as a good start for the Indigenous fashion line and I am so anxious about the line because in my Surama Culture Group we are discussing the line, but at the village level so I am a really excited," the woman said.
Similar sentiments were expressed by Allicock who noted her excitement at being able to work   with Noel to develop a line for fashion week.
She said, "I am excited to be working with Sonia; I have always admired her work and I am happy to be a part of this very exciting venture."
Noel also took the opportunity to give her reviews of the recently launched Rupununi Essence Line of beauty products which was developed by the Makushi Research Unit in collaboration with the Institute of Applied Science and Technology (IAST).
She called on the persons responsible for marketing this line of products to ensure it graces the shelves of stores, supermarkets among other businesses all across Guyana because of its effectiveness.
Described as Guyana's most celebrated annual fashion event, the 2016 edition of the Guyana Fashion Week is expected to run from November 6-13 and will feature the work of several local designers, most of whom are continuing to build their respective brands.
Around the Web