Artist Sheena Henry has been creating quite a stir with her textile handbags, purses and of recent adorable little dolls.
A diploma from ER Burrowes School of Art may have provided her with a certificate to teach art but her knack for it started long before.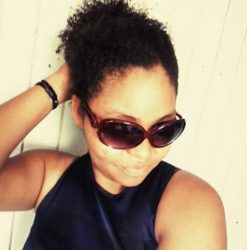 "My father made shoes, belts and wallets from leather while mommy used her hands to sew and do embroidery; later she started sewing on the machine," said the young artist implying that creativity has always been a part of her life.
In an interview with The Scene, the former Tutorial High School student shared that while at school she made her own bags from cloth and embroidered them to personalize them. Her art teacher noticed her passion for creating and encouraged her to work on an art project. Sheena, who had joined the art stream, mentioned that the stream never offered art as one of its subjects and so she was given a few tips by the very teacher. Based on that she wrote the subject at the Caribbean Secondary Education Certificate exams.
In 2011, she graduated from Burrowes with a major in textiles and a minor in sculpture. Each student graduating from the art school is expected to complete a major task which combines both the major and the minor. For her project Sheena made a bed complete with a quilted bedcover and pillow cases.
After graduation Sheena was at home and she soon became bored and as a result got started on a project. "After leaving Burrowes I worked for three months as a student/assistant at UG. Having nothing much to do I decided to do something. I had lots of extra pieces at home [and] I started by doing a cross-stitch of swans and added that to a bag I crocheted," she shared.
Sometime later Sheena found a craftswoman to sell her bag but the woman decided she wanted a large profit and as such had the bag on display at a high price and never got it sold. Two   years later, Sheena retrieved her bag and decided to find another person to sell it. This time she ran into a woman while at the Multi Complex Mall in Regent Street, who has an eye for intricacy and originality. The woman asked about the bag she was wearing (another one of her designs) and said she would be happy to sell bags like hers. Sheena had the other bag with her and she pulled it out and gave it to the woman who was willing to display it at a lower price. Later that day just after arriving home Sheena received a call from the woman saying her bag was already sold. That was her first sale.
Marketing her pieces she knew would be difficult but the young artist had arrived at a conclusion long ago that determination would deal with that. "Although marketing is a problem getting the materials serves as a bigger one. Sometimes you don't always get the materials you need and there are times when I've seen bags online made of different materials like some metallic ones but we don't get them here. When it comes to marketing we know our government isn't too supportive when it comes to local artists on a whole so we ourselves have to be more determined in finding the market. There are other artists who get their stuff sold but that just goes to show how determined they are."
To make her bags and purses she uses materials such as wool, yarn, brown cotton, twine, jute, and sometimes leather and beads. People, she said, prefer quantity over quality and would tell themselves before they pay this amount for a bag of hers they could probably go to one of the Chinese stores here and get two, so she waits on orders before making anything. Most of her customers are friends of her friends.
Since she started teaching at Annandale Secondary Sheena can't remember ever buying herself a bag; she makes them.
'Relaxed'
And it is not all about the marketing, money and providing a bag for herself that propels Sheena to continue her art. "When I start doing crochet I feel relaxed. A combination of crocheting and music does it for me," she said. Art, she added, is everything. It is life itself and has taught her patience and discipline.
"Sometimes when I need a bit of inspiration I go to stores and look at their pieces on sale. I look at the colours and how they're mixed and that inspires me. I don't go to copy their styles. Mine is always different and original."She is inspired by local sculptor and surreal artist Winslow Craig who she admires for his out-of-the-box ideas and local designer Tracey Douglas, who, she added, is filled with endless ideas.
Having a knack for customising her things, Sheena acknowledged that even the top she was wearing during the sit down with The Scene had been altered to look different. She is not one to want to blend in with everyone else or follow the latest fashion, Sheena likes to stand out. If something is in style and she likes it she would likely wait until it goes out of style before wearing it. Sometimes she takes to customising her jeans by bedazzling them with beads and/or glitter.
Sheena considers herself to not only be a patient artist but a passionate one as well. Sometimes getting a piece done takes a lot of time and she needs to leave it and continue later, but there are times when curiosity gets the better of her and she anticipates the finish product and finds herself working through the night to complete it.
When asked about sculpting she admitted that she does not do much of it now; the last piece she did was back in 2014 for the Visual Arts Competition and Exhibition and she donated it to Help and Shelter.
Sheena also participated in the 'Kiss my Art' 2014 Exhibition and has for three years now assisted in the creating of floats for Mashramani.  She hopes a few years down the road finds her still teaching but with her own business selling her pieces. Apart from crocheting and teaching she attends the Plaisance Seventh Day Adventist Church and has recently learnt to make pastries which she sometimes loves treating the children at her church to. To add to her list of likes she also enjoys reading (mystery and history books) and listening to music.  For more information on her pieces contact Sheena on Facebook at Sheena Maria.
Around the Web