Hi Everyone,
Bear with me as I tell you, in a rather roundabout way, how I ended up making the best doughnuts I have ever eaten.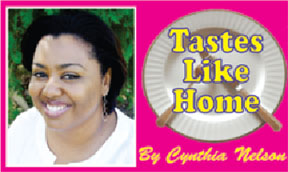 On Thursday, February 4, 2016, Stabroek News reported on the renovations and upcoming reopening of one of Guyana's well-known eateries, Salt and Pepper, I was filled with memories of their soft, puffy doughnuts covered in a cloud of powdered sugar. One bite and you were hooked as you wiped away the powdered sugar from the sides of your mouth. It was the best doughnut I had ever eaten in Guyana and since then I have measured all other doughnuts to that standard of taste and texture.
Don't you find that the world seems to have gone overboard with the many glazes, sprinkles, toppings and fillings for doughnuts? From bacon to bourbon, from curds to custards, and from graham crackers to gingerbread, you can find it all glazed, topped or stuffed on or in doughnuts. I may sound old and crotchety but there are certain things that I like simple and simplicity is what I want in a doughnut. For me a doughnut is all about the quality of the fried dough – light and pillow soft. On the outside, a dusting of granulated or powdered sugar, or the classic light, icing glaze, is all that is necessary to complement the wonderfully yeasted dough.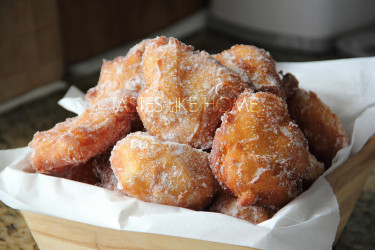 A few days after the Stabroek News article on Salt and Pepper appeared all attention was focused on Shrove Tuesday, Pancake Day. Several readers specifically requested a recipe for Portuguese-style Guyanese pancakes. As the discussions ensued and the connections were made to the influence and origins of our fried pancakes (something that I have written about before), I decided to source and make Malasadas, a pre-Lenten doughnut that originated in Madeira. Madeira is an autonomous region of Portugal; an archipelago comprising 4 islands off the northwest coast of Africa that were settled in the 1400s. It's known for its subtropical climate and is the place from which many of the early Portuguese in Guyana originated.
As people travel, so too does food, and in many places around the world original dishes have been adapted to suit the availability of ingredients, climate, convenience, time, and creativity. It is that type of adaptation that transformed the original Malasadas/doughnuts into a Guyanese-style fried pancake. The original Madeira doughnuts were made to use up butter and sugar before Lent and they do not contain holes or fillings; they were made in large batches and shared with family and friends. The sharing is a tradition that continued in Guyana. As kids we always had containers and parcels of pancakes to deliver to various family friends and they in turn would give us packages of pancakes to take home or deliveries would be made. It was such a sweet time, my siblings and I loved taste testing and determining which 'aunty' had the best syrup or made the best pancake. Sometimes the pancakes of one aunt would be better with the syrup of another and vice versa.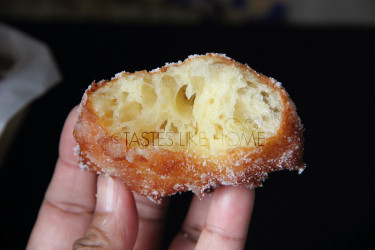 I did not make any pancakes this year – busy with work and besides I was consumed with thoughts of soft, melt in your mouth doughnuts.
Portuguese chef, Nuno Alves, the youngest of eleven children was born in the Azores islands off the coast of Portugal and the recipe he shared for making Malasadas/doughnuts belongs to his grandmother and has been in his family for many generations. I could not have sought a better source to make what turned out to be the best doughnuts I have ever eaten. I can unequivocally say that I have been spoilt by these doughnuts. As you know, I don't really have a sweet tooth but when I choose to have something sweet, it really has to be standout to suit my personal taste. After eating these doughnuts, I don't think I can eat any other. For old times' sake and to support our own, I'd have to wait and see, what, if any doughnut, Salt and Pepper comes up with.
My taste testers and I were embarrassed by the number of doughnuts we consumed at one go; think chain smoking. I ate 3 of them, one immediately after the other, two testers had 4 each, and another had 5! I bagged the rest and sent them (tasters) on their way. One of them called later to confess to eating 2 more on the way home! These Malasadas are that exceptional.
Make them and judge for yourself. I made some slight adaptations such as reducing the amount of salt and adding lemon zest and cinnamon to the dough-batter.
Malasadas
(Lightly adapted from Chef Nuno Alves)
Yield: 34 – 36
SPECIAL EQUIPMENT
2 sheet pans with wire racks inserted into the pans
INGREDIENTS
4 cups all-purpose flour
2 ¼ teaspoons instant yeast
1 teaspoon ground cinnamon
¼ heaped teaspoon fine table salt
4 eggs room temperature
1/3 cup white granulated sugar
Zest of 2 limes or 1 large lemon
1 ¼ cups warm whole milk (114 – 115 degrees F)
6 oz (3/4 cup) unsalted butter, melted and cooled to room temperature
Oil for deep frying
White sugar for dusting (I prefer caster sugar for this)
DIRECTIONS
Mix together the flour, yeast, cinnamon and salt and set aside.
Whisk together the eggs, sugar and zest until the sugar is dissolved.
Make a well in the centre of the flour then pour in the egg mixture, milk and melted butter; mix together for 1½ minutes, the batter will be wet and sticky. Cover and place somewhere warm but draft free and leave to rise until doubled in size – 1½ hours.
Brush a large bowl with oil and set aside.
Take the risen batter and knead it for 2 – 3 minutes. The dough will be more like a very thick batter so knock it back and forth in the bowl or lift and drop it in the bowl this will help to develop the gluten; do not skimp on the time as it has an impact on the finished product.
Transfer the dough-batter to the oiled bowl, cover and let rise in a warm, draft free place for 1½ hours. The dough-batter will more than double in size and become elastic.
Heat oil in a deep frying pan such as a karahi or Dutch oven over medium-low heat until the oil begins to shimmer.
Oil your hands and pinch off a piece of dough the size of a large egg, stretch the dough about 3 inches or a little more. Add to oil and fry until brown on one side, turn and brown on the other side. It will be finished cooking in 2 – 2 ½ minutes. The dough will rise a few seconds after being added to the oil.
Drain on paper towels for a minute then, dust with sugar and rest on wire racks to cool. Repeat until all the batter is used up.
NOTES
Given that the second rising of the dough more than doubles in size, be sure
to use an adequately large bowl, think 3 – 4 times in volume.
Depending on the breath of your pan/pot you can cook 3 – 4 doughnuts at a time.
The original recipe recommends dusting the doughnuts with sugar as soon as it is removed from the oil, do this by all means but I find that too much sugar adheres to the doughnut so I wait for a minute or 2 before dusting with the sugar.
There is no rule about how small or large the doughnut can be, make it to your preference.
Instead of any form of granulated sugar, the doughnuts can be served dusted with powdered sugar.
Cynthia
Comments

Hi Everyone, Several years ago while standing in the cashier line at one of the supermarkets here in Barbados, a man (tourist) standing immediately behind me pointed to the small tray I had just put on the cash belt and asked what it was.

Hi Everyone, What's Cooking is a series in which I answer questions and share advice about food and cooking that you may have but are too shy to ask.

Hi Everyone, Have you had your fill of mangoes yet? Me? Almost. Next week I am going in to preservation mode – pureeing the pulp and freezing in half cup portions for use later in the year.

Hi Everyone, This is the third and final part of our heat series on hot peppers.

Hi Everyone, This week, we continue our heat series featuring hot peppers currently in season.