Hi Everyone, December has arrived like guests that turn up too early for a party – they are expected, and you like them, it's just that you're not quite ready. Are you ready for the holiday cooking spree?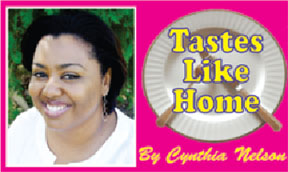 It is always the little things that we can do that make our lives so much easier in the kitchen, particularly during the holidays when there is a lot of entertaining, people dropping by, parties and functions to attend. For me, December 15 is when the holidays officially begin, and since today is only the 10th, we have a few days to get ahead of some things. Now you don't have to do everything I recommend or suggest before December 15, but try to be done at least by the 21st. I know that a lot of people thrive of the last-minute hype of activity that is what Christmas is all about for them, that's fine, but for those of us who like to plan and prepare in advance, this is for you.
Start by cleaning out the fridge and freezer. There are jars, bottles, containers and packages in there that have not been used in months, perhaps all year. These 2 compartments more than any other in your home will be working over time during the holidays. You need to make room for the meat(s) you will be ordering and the make-ahead items you will be creating to ease up on the work later.
Get rid of the items that have long expired, are no longer recognizable or have been freezer burnt. The things that are still edible, use them to make a huge 1-pot dish of soup, a stew or some other type of dish in which you can put in a variety of ingredients. Call some friends over and feed them.
Speaking of make-ahead items. Make your own pastry dough, divide it into portions for pies, tarts or whatever else you are planning to make. Wrap, label and freeze. Sweet and savoury scones for breakfast, brunch or tea are a perfect make ahead item. Once the dough is made, cut into portions/shapes, wrap them individually, freeze them on a tray and then put them into a freezer zip bag and label it with the name of the item and date. When ready to bake, preheat the oven and take them straight from the freezer to the oven, no thawing necessary. Factor in a couple of extra minutes of the recommended cooking time.
If you are planning to bake cut/portioned meat such as chops or cut chicken for baked chicken, go head and season the meat, double bag them, label and date them and put them in the freezer. When you are ready to bake, defrost them overnight in the fridge and bring to room temperature on the countertop the following day before baking.
Your oven too will be working overtime, and to keep it clean, avoid spills, and make clean up easy for you, I recommend lining baking sheets with foil and placing your dishes such as macaroni pie on the lined pan. By doing this, any bubbling over of cheesy goodness drips on to the lined pan instead of the floor of the oven. Depending on what you are roasting and what you plan to do with the drippings, line the baking pans with aluminum foil (preferably heavy duty). This would avoid you having to soak dishes overnight to remove stuck on baked food and grease. Clean up made easy.
Save the drippings from your roasts and baked ham. Use these concentrated, well-seasoned and deeply flavoured reductions to add to your rice dishes, such as rice and peas or vegetable rice. Toss potatoes with them and roast or use them as a base for gravy.
Stock up on stock – chicken, beef or vegetable. This is one item in the kitchen that can elevate a lot of your dishes.
If you're making stuffing, you will need stock, making any type of rice-pilaf style dish or risotto, use stock, making soups for the first course, use stock. Making meat sauces? Use stock instead of water.
You may already have green seasoning in a jar in the refrigerator but make a fresh batch just for the holidays to add to your marinades for meats for roasting, baking stewing, frying, grilling or even steaming. Freshen your spices too. Make or buy fresh ground spices such as cinnamon, cloves, allspice and ginger.
Compound butters can liven up many a dull dish and bring great flavour. Compound butter is a mixture of butter and other ingredients. For example, butter mixed with roasted garlic to make garlic butter is a compound butter.
Butter mixed with chopped chives or tarragon is also a compound butter. Use compound butter as a finishing touch to certain dishes. For example, add a knob of compound butter to steak or a chop and let it melt and baste the meat. It can be added to steamed fish or seafood as well as steamed vegetables creating a flavourful buttery sauce. Of course doing something as simple as spreading it across toast is great way to enjoy compound butter(s).
To make compound butter, bring the butter (salted or unsalted depending on your preference) to room temperature. If adding herbs, very finely mince the herbs and mix it in with the butter. If making garlic butter, roast the garlic and mash it with the butter.
Transfer the mixture to the center of a piece of plastic wrap forming a log about 4 – 5 inches long, fold one end of the plastic over the butter, roll it snugly while twisting the ends.
Refrigerate until hardened, and when ready to use, slice thin or thick disks of the butter depending on use.
Finally, we've been talking about eating without a word about prepping for drink season. It's cocktail time! Apart from having a well-stocked bar, simple syrup is every bartender's best friend. Simple syrup is a mixture of equal quantity of sugar and water (or other liquids such as fresh squeezed orange or other citrus juice).
The two ingredients are added to a saucepot, stirred over medium heat until the sugar dissolves, is brought to a boil for a minute, removed from the heat and then allowed to cool completely before use. Use simple syrup to make every-day drinks such as swank (limeade) and iced tea. Or to sweeten fruit drinks. Please remember to drink responsibly.
Cynthia
Comments

Hi Everyone, Several years ago while standing in the cashier line at one of the supermarkets here in Barbados, a man (tourist) standing immediately behind me pointed to the small tray I had just put on the cash belt and asked what it was.

Hi Everyone, What's Cooking is a series in which I answer questions and share advice about food and cooking that you may have but are too shy to ask.

Hi Everyone, Have you had your fill of mangoes yet? Me? Almost. Next week I am going in to preservation mode – pureeing the pulp and freezing in half cup portions for use later in the year.

Hi Everyone, This is the third and final part of our heat series on hot peppers.

Hi Everyone, This week, we continue our heat series featuring hot peppers currently in season.