Natural Resources Minister Raphael Trotman yesterday signalled that the long-awaited signing of Memorandum of Understanding Between Guyana and Trinidad and Tobago that will formally signal a commitment on the part of the twin-island Republic to provide various forms of support for Guyana in preparation for this country's oil exploitation programme is now back on track following earlier indications that the agreement between the two countries had been placed in "cold storage."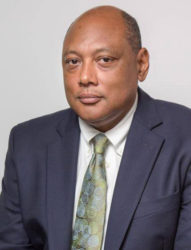 Speaking at a breakfast briefing for the media on the oil and gas industry at the Herdmanston Lodge, Trotman said that a high-level meeting between the two Caricom countries to further discuss cooperation in pursuit of Guyana's oil and gas ambitions was now imminent following an active re-engagement between Georgetown and Port of Spain on the matter.
He declined to provide a specific time frame for the signing of the MOU which had been scheduled to happen first, in November then in December last year.
On two previous occasions Trotman had told the Stabroek Business that progress in the bilateral exchange between the two countries had been stalled, first, on account of the portfolio change in Port of Spain which saw the replacement of the country's Energy Minister. The new minister subsequently fell ill.
Yesterday, however, Trotman confirmed that the two Caricom capitals had arrived at an agreement on the content of the MOU, turning back, in the process, an enquiry from the Stabroek Business as to whether the pace of progress in the relationship between Guyana and Trinidad and Tobago was being slowed by Port of Spain's relations with Caracas and directing it instead to Foreign Minister Carl Greenidge for comment. Analysts of relations between Guyana and oil-rich Venezuela say, however, that moves by Guyana in the direction of becoming an oil-producing country will be closely monitored by Venezuela given that country's age-old, but spurious claim to two thirds of Guyana.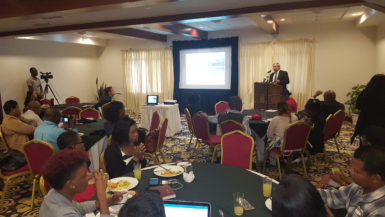 As far back as September last, the visit to Georgetown by a team from Port of Spain headed by Trinidad and Tobago's then Energy Minister Nicole Olivierre had been followed by news that agreement on technical assistance from Trinidad and Tobago in developing the oil and gas industry here was to have been cemented with the signing of an MOU before the end of 2016. Olivierre had disclosed that her meeting with President David Granger in Georgetown had led her to the conclusion that the Guyanese Head of State was receptive to the idea and that Guyana had specifically requested Trinidad and Tobago's support in areas such as engineering and infrastructure development.
At the time Olivierre had said that drafting of the MOU had already commenced.
Around the Web