By Karen Abrams       
When my daughter who attends school in Palo Alto, California called me to say she was homesick and she missed the usual Guyanese food treats I knew it was time to reach out to my friends, online retailer West Indian in The Woods. I promptly went to their online website, filled my checkout basket with freshly made and well packaged patties, puri, mettai and other treats and had them shipped off to my daughter's dorm room in California. A little more than a day later she called us with squeals of delight. She had received the package of goodies. For a college student, this was a windfall so she stored them in her freezer and proceeded to thaw, heat and eat over the course of the next week.
Welcome to the world of technology, where everything is possible, where online shopping is rapidly expanding and where this small West Indian bakery shop has joined the IT 'affray.'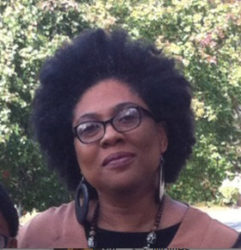 West Indian in The Woods is a dynamic company specializing in the manufacture, packaging, shipping and retailing of Guyanese and Caribbean comfort foods. The company, which also does event catering, is the brainchild of former President's College student and IT industry professional, Heather Chin. Heather started the company in 2015 because she lived in a Caribbean food 'desert' in The Woodlands, Texas, where quality Guyanese and Caribbean food was nearly impossible to find. She shared memories of driving 50 miles one way to find the nearest Guyanese restaurant and waiting over two hours for her favourite 'eats,' black pudding. "It was frustrating not to have somewhere close by, you know, and I couldn't really ship anything in the quantities I craved from New York. I would have to beg my brother and his wife and then pray it came in one piece. You know they say necessity is the mother of invention. The idea to provide this type of service came to mind and I got all the necessary things together and made contact with a supplier in Guyana for the ingredients that created the right flavours and just like that I started. People started ordering and I started shipping."
Heather recalled that as a child she had two aunts who specialized in making black pudding and snacks. One aunt, Eslyn Thorne actually catered for JP Santos. She watched her aunt rise early to go to the abattoir and market for the freshest ingredients and helped whenever she could. Afterwards she enjoyed whatever was left over.
During her high school years at President's College her mother journeyed on weekends from Georgetown to Golden Grove on the East Coast, fully laden with comfort foods. She recalls gathering with her friends in the dormitory around the bags to feast on black pudding, mittai, tamarind balls et al. These memories of great food and camaraderie continue to drive Heather to put everything into her work.
She recalled that later on in her years at Barbados Community College she would make curry and roti early in the morning with her mother and take about a dozen to school where she had willing customers. Even her tamarind balls never made it to lunchtime.
Heather states that she wasn't always in the food business. A graduate of Rutgers University and the New Jersey Institute of Technology, she followed a path of Information Technology, and as recently as 2016, she was employed as an IT Risk Management professional at the Fortune 10 company, Hewlett-Packard (HP).
"It was difficult to build the company with my attention split between two worlds," she said. "I chose what I loved; food, and began focusing on West Indian in The Woods."
Heather says that West Indian in the Woods is passionate about pleasing its customers with quality food products. She prides herself on using products imported directly from Guyana. She grinned widely when she stated, "I like the idea of getting all my herbs and spices and other products from Guyana. It's one of the ways that I keep the flavour consistent. When people taste my products they always exclaim that the flavour is amazing. Americans ask what herbs I use because it's nothing they've tasted before. It is also a big plus to know that the money I spend is going into farming and benefiting the agriculture industry in Guyana, even if it's just a drop in the bucket. It's just a good feeling."
Heather believes that the success of West Indian in The Woods is built on providing customers with an authentic experience filled with the familiarity and flavours of home.
What's new for West Indian in The Woods? They are always inventing new ways to get the products to their customers in the best condition and experimenting with new products. "We're coming out with new products for a particular segment of the market that is largely ignored. We'll save that for another time," she teased. "Also, there is a new product that is coming out of Guyana that we are eager to get our hands on. With regard to expansion, we're building new partnerships every day. It's a really exciting time and we can't wait to reveal our new partners once they are formally engaged."
The stated mission of West Indian in The Woods is to serve up Guyana's best to customers around the US and showcase the flavors and culture of the Caribbean to the world. West Indian in The Woods makes black cake, black and white pudding, pastries, roti, dhal puri, mittai, chicken foot, pepper sauce, mango sour, burnt sugar, and preserved fruit for black cake, and bottles, cassareep, dried thyme and dried basil.
West Indian in The Woods can be found on Facebook. Its website is www.westindianinthewoods.com.
Comments

Investment proposals in several sectors of the Guyana economy were facilitated by GO-Invest last year.

Cevons Waste Management and Puran Brothers have won the full backing of much of the private sector.

The country's remaining standing mangrove forests are continually under threat from "a range of natural and man-made factors".

A leading UK-headquartered market research firm, Technavio, is predicting that from 2016 and up to 2020 the projected growth of the global coconut water market is likely to be close to a whopping 27 per cent.

Nothing, she says, pleases her more than the modest achievement of Team Guyana at the recent international robotics tournament in Washington and the occasion it afforded for a celebration at home.