Hinterland agriculture is expected to come into sharper focus this year as the country embraces production of onions, potatoes and other non-traditional crops.
Stabroek Business has seen a copy of the review of the support programme for agriculture being undertaken by the National Agricultural Research and Extension Institute (NAREI) which lists Irish potatoes, onions, spices and new varieties of cassava, breadfruit, watermelon, tomatoes and plantains as "priority crops" for the Institute this year. The Institute says that it is developing "long-term plans… to guide their introduction into the cash crop sector."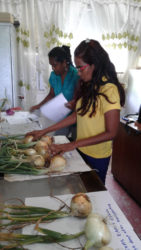 Production of the named crops, NAREI says, will take place against the backdrop of plans for "the phased reduction of the importation" of the commodities."
NAREI has partnered with the non-profit organization, World University Service of Canada (WUSC) and the Canadian-funded Promotion of Regional Opportunities for Produce through Enterprises and Linkages (PROPEL) project to conduct what the Institute says were successful initiatives to conduct trials with Irish potatoes and onions. The harvesting of Irish potatoes is expected to take place at Santa Fe and at farms in a number of Region Nine communities including Aishalton and Annai in the coming weeks.
The Project, NAREI says, has yielded the production of a number of spices in Region One communities including Mabaruma, Wauna, Whitewater, and Waini which are being marketed in Georgetown and exported to Suriname.
At Hosororo, where ten acres of land was prepared to expand the cultivation of spices, two acres were used to cultivate black pepper while three acres were planted with turmeric and ginger.
NAREI has announced, meanwhile, that it has responded to a call by President David Granger by commencing the distribution of breadfruit plants to farmers. The Institute says it was seeking to better position farmers to address the President's call for increased breadfruit production with a view to creating more raw material for the country's agro-processing sector. The Institute says it plans to establish a 5-acre breadfruit plantation at Bartica in Region Seven.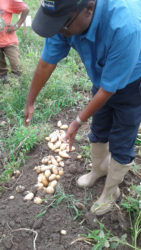 The NAREI first quarter review lauded the performance of the "other crops" sector" which it says has performed exceptionally well "within the first four months of 2017." Stabroek Business has seen evidence of significantly reduced market prices for greens and vegetables in municipal markets in recent weeks and NAREI says that farmers have been producing to "maximum capacity, resulting in an abundance of fresh fruits and vegetables on the local markets at affordable prices."
In its report the Institute said that the abundance of farm produce on the market could be attributed to several factors including "no outbreak of pests or diseases, weather conditions conducive to farming, incorporation of technologies in farming practices and continuous technical support from NAREI".
NAREI says that it is in the process of implementing its 2017 Work Programme, which has been crafted to achieve the objectives of the Strategic Plan 2013-2020. It lists as its priorities the effective implementation of its agriculture diversification programme, the implementation of climate smart farming practices, the measured use of bio-pesticides, integrated pest management, establishment of demonstration farms and soil management techniques.
Part of the NAREI 2017 programme for qualitatively upgrading the agricultural sector includes the use of already established demonstration farms in all of the country's administrative regions to implement "the farmers' Field School" method of educating farmers on improved production practices for fruits and vegetables. The Institute says that examples of this type of support include continuous support for a West Coast Berbice Women's Group that benefited from shadehouses last year.
NAREI says that it is also collaborating with the Institute of Applied Science and Technology to undertake a sun- dried tomato project at Paramakatoi, utilizing 3,000 seedlings in the first instance.
Comments

The unchanging dilemma of an uncompetitive   local manufacturing sector continues to be manifested in the persistence of high electricity costs coupled with a notoriously unreliable power supply system and high costs of imported raw material inputs, among other things, Former President of the Guyana Manufacturing & Services Association (GMSA) Ramsay Ali who is also Chief Executive Officer of Sterling Products Ltd.

With the global coconut industry now offering numerous potentially lucrative opportunities to the manufacturing and agro-processing sectors, the local company, Sterling Products Ltd is signalling its intention to utilize the sector to enhance its own expansion and diversification programmes.

It had always appeared to be the case that the assurance given the citizenry by Town Clerk Royston King in a statement last week that following the withdrawal of services by City Hall's substantive service providers, Cevons Waste Management and Puran Brothers, the City was putting in place contingency measures to manage, in an environmental friendly manner, the city's waste disposal, was little more than just another example of the municipality getting ahead of itself.

(Trinidad Guardian) China Railway Construction Corporation (CRCC) has been awarded a $221.7 million contract by the National infrastructure Development Company (Nidco) to build the controversial Curepe Interchange, the state company's chairman Herbert George has confirmed.

Gold Prices for the three-day period ending Thursday August 17, 2017 Kitco is a Canadian company that buys and sells precious metals such as gold, copper and silver.