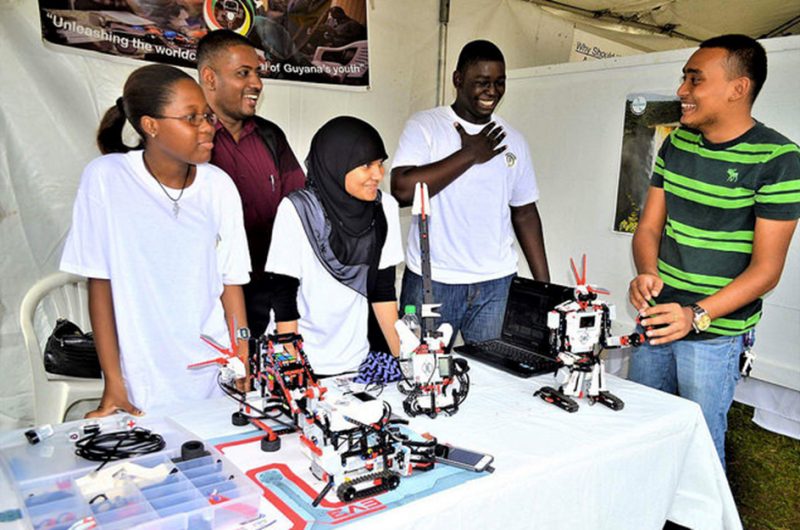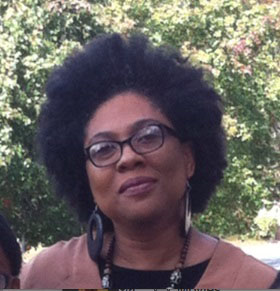 By Karen Abrams
The Cliff Anderson Sports Hall will be home to Guyana's first robot and technology exhibition on Saturday June 24, 2017. The event will be sponsored by the STEMGuyana initiative and the young talented students who will represent Guyana at the First Global Robotics competition in Washington DC will play host to a projected more than 400 visitors from various communities in Guyana.
The display will include more than 16 robot exhibits created under the themes of Education, Healthcare, Oil and Gas, Agriculture and Games and presented by the STEM clubs that were gifted robot kits after STEMGuyana's inaugural robot building and programming summer camp in 2016. High school teams from Kuru Kururu, Lusignan, President's College, St Rose's, the Bishops', Holy Cross, Buxton, and more will present their creations and youth who attend will be able to explore the robots in a very hands-on way. The team that creates and displays the most creative and functional robot prototype will win a drone for their STEM club.
The much-demanded Lego Mindstorm EV3 robot kit will be used to create the robots.  MindStorm, a robotic invention system that is revolutionizing LEGO construction kits, grew out of the LEGO Company's 20-year collaboration with the MIT Media Lab. This construction kit is based on MIT's Programmable Brick technology, where a tiny, portable computer is embedded inside a traditional LEGO brick. With this added technology, the brick is capable of interacting with the physical world through sensors and motors, allowing children to build and program their own robots and other computerized contraptions. Lego Mindstorm technology is used by children and teens for play and learning, and as a rapid prototyping tool by businesses.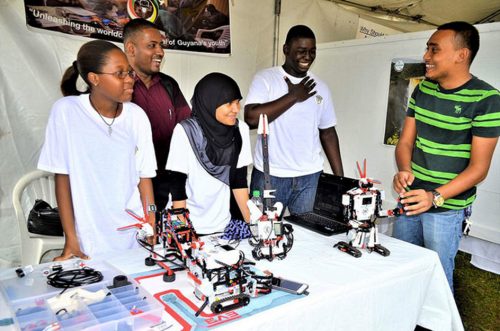 Organizers of the exhibition indicate that the goal of the exhibition is to inspire, motivate and educate Guyanese youth and to encourage them to consider other career options in the field of technology. "We want to use fun technology to expose our youth to what were traditionally 'hard' fields; Math, Engineering, Science," STEMGuyana Co-founder Karen Abrams said.  "We also want to contribute to the development of critical thinkers, problem solvers and innovators in Guyana. The young people who will look around their community, their country, and their region to solve problems that have lingered for decades. We expect them to create companies, and jobs, while they develop their country. We are preparing them for the future."
The exhibition is open to students of all ages and will be a fun family event. In addition to robots, students will be able to learn how mobile apps are made for android phones using MIT's App Inventor program. They will also have a chance to learn how to create games using MIT's Scratch program. There will also be an opportunity to learn how solar energy works and the National Robotics team will display and present their competition robot solution to the public. Representatives from weOwn space and Guyana Animation Network have also been invited to present their offerings.
According to Abrams, "The exhibition is a critical fund-raising event for STEMGuyana so a donation of any amount will be requested at the door and no one will be turned away. Members of the Guyana Diaspora, the Office of the First Lady of Guyana, Ministry of Public Telecommunications and several private companies graciously sponsored this event. I must also say special thanks and acknowledge the Director of Sports, Mr Christopher Jones who has been instrumental and even critical in making all of STEMGuyana's programs possible."
For more information, email stemguyana@gmail.com or browse the website at http://stemguyana.com.
Comments

The efforts of the Ministry of Natural Resources attended by external support notwithstanding, the Government of Guyana still considers the phenomenon of gold smuggling to be seriously injurious to the country's economy and in his recent 2018 budget presentation to the National Assembly, Finance Minister Winston Jordan set out the APNU+AFC administration's proposals for helping to address this problem.

aNatural Resources Minister Raphael Trotman has disclosed three key objectives which the Government of Guyana will be pursuing in 2018 to consolidate its capacity to effectively service a modern oil and gas industry including a national oil company which will be charged with responsibility for overseeing the country's commercial interest in the sector.

Against the backdrop of longstanding concerns over a dire shortage of job opportunities in hinterland communities, government has disclosed plans in the 2018 budgetary proposals for a $200 million investment in the Hinterland Green Enterprise Development Centre at Bina Hill in Region Nine which, according to Finance Minister Winston Jordan, seeks to focus on areas of training "that leverages indigenous and traditional knowledge and drives upstream demand for local products and services." The disclosure in Jordan's 2018 budget presentation of what he describes as a "flagship initiative" comes against the backdrop of a growing clamour for the creation of job opportunities for residents of hinterland communities that go beyond their reliance on the production and sale of traditional craft and small scale agriculture.

These days, there are unmistakable indications that Mahdia is busying itself preparing to embrace the township status that beckons.

Five months after the University of Guyana's School of Entrepreneurship and Business, (SEBI) was launched, Dean of the new institution, Guyanese-born Professor Leyland Lucas has told the Stabroek Business that some of the challenges that repose in ensuring that the institution delivers on its mandate repose in the fact that "it is different.