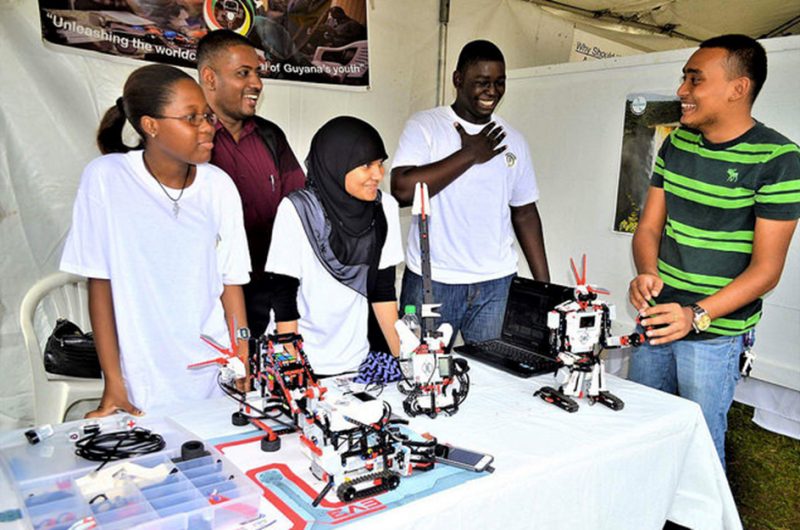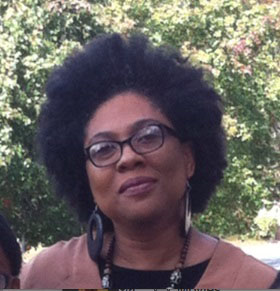 By Karen Abrams
The Cliff Anderson Sports Hall will be home to Guyana's first robot and technology exhibition on Saturday June 24, 2017. The event will be sponsored by the STEMGuyana initiative and the young talented students who will represent Guyana at the First Global Robotics competition in Washington DC will play host to a projected more than 400 visitors from various communities in Guyana.
The display will include more than 16 robot exhibits created under the themes of Education, Healthcare, Oil and Gas, Agriculture and Games and presented by the STEM clubs that were gifted robot kits after STEMGuyana's inaugural robot building and programming summer camp in 2016. High school teams from Kuru Kururu, Lusignan, President's College, St Rose's, the Bishops', Holy Cross, Buxton, and more will present their creations and youth who attend will be able to explore the robots in a very hands-on way. The team that creates and displays the most creative and functional robot prototype will win a drone for their STEM club.
The much-demanded Lego Mindstorm EV3 robot kit will be used to create the robots.  MindStorm, a robotic invention system that is revolutionizing LEGO construction kits, grew out of the LEGO Company's 20-year collaboration with the MIT Media Lab. This construction kit is based on MIT's Programmable Brick technology, where a tiny, portable computer is embedded inside a traditional LEGO brick. With this added technology, the brick is capable of interacting with the physical world through sensors and motors, allowing children to build and program their own robots and other computerized contraptions. Lego Mindstorm technology is used by children and teens for play and learning, and as a rapid prototyping tool by businesses.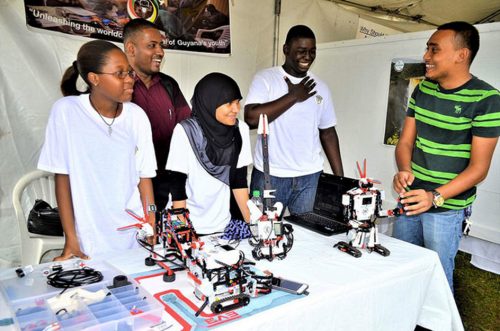 Organizers of the exhibition indicate that the goal of the exhibition is to inspire, motivate and educate Guyanese youth and to encourage them to consider other career options in the field of technology. "We want to use fun technology to expose our youth to what were traditionally 'hard' fields; Math, Engineering, Science," STEMGuyana Co-founder Karen Abrams said.  "We also want to contribute to the development of critical thinkers, problem solvers and innovators in Guyana. The young people who will look around their community, their country, and their region to solve problems that have lingered for decades. We expect them to create companies, and jobs, while they develop their country. We are preparing them for the future."
The exhibition is open to students of all ages and will be a fun family event. In addition to robots, students will be able to learn how mobile apps are made for android phones using MIT's App Inventor program. They will also have a chance to learn how to create games using MIT's Scratch program. There will also be an opportunity to learn how solar energy works and the National Robotics team will display and present their competition robot solution to the public. Representatives from weOwn space and Guyana Animation Network have also been invited to present their offerings.
According to Abrams, "The exhibition is a critical fund-raising event for STEMGuyana so a donation of any amount will be requested at the door and no one will be turned away. Members of the Guyana Diaspora, the Office of the First Lady of Guyana, Ministry of Public Telecommunications and several private companies graciously sponsored this event. I must also say special thanks and acknowledge the Director of Sports, Mr Christopher Jones who has been instrumental and even critical in making all of STEMGuyana's programs possible."
For more information, email stemguyana@gmail.com or browse the website at http://stemguyana.com.
Comments

The unchanging dilemma of an uncompetitive   local manufacturing sector continues to be manifested in the persistence of high electricity costs coupled with a notoriously unreliable power supply system and high costs of imported raw material inputs, among other things, Former President of the Guyana Manufacturing & Services Association (GMSA) Ramsay Ali who is also Chief Executive Officer of Sterling Products Ltd.

With the global coconut industry now offering numerous potentially lucrative opportunities to the manufacturing and agro-processing sectors, the local company, Sterling Products Ltd is signalling its intention to utilize the sector to enhance its own expansion and diversification programmes.

It had always appeared to be the case that the assurance given the citizenry by Town Clerk Royston King in a statement last week that following the withdrawal of services by City Hall's substantive service providers, Cevons Waste Management and Puran Brothers, the City was putting in place contingency measures to manage, in an environmental friendly manner, the city's waste disposal, was little more than just another example of the municipality getting ahead of itself.

(Trinidad Guardian) China Railway Construction Corporation (CRCC) has been awarded a $221.7 million contract by the National infrastructure Development Company (Nidco) to build the controversial Curepe Interchange, the state company's chairman Herbert George has confirmed.

Gold Prices for the three-day period ending Thursday August 17, 2017 Kitco is a Canadian company that buys and sells precious metals such as gold, copper and silver.