Things may be 'looking up' for the agro-processing sector as the Guyana Marketing Corporation's Robb and Alexander streets Guyana Shop seeks to promote a wider range of local spreads, spices and sauces in an effort to secure greater traction on the local market for small and medium-scale producers. When Stabroek Business engaged the Shop's General Manager Kevin Macklingham earlier this week he expressed satisfaction over what he says has been "a closer relationship" between the shop and local producers though he conceded that local manufacturing is still some distance away from realizing its true potential.
What he asks is that comparisons be made between what the sub-sector offers the local market today and what obtained up to just a few years ago. He has a point. Both in terms of the range of products now available and the presentation to consumers, there has been a discernable degree of forward movement.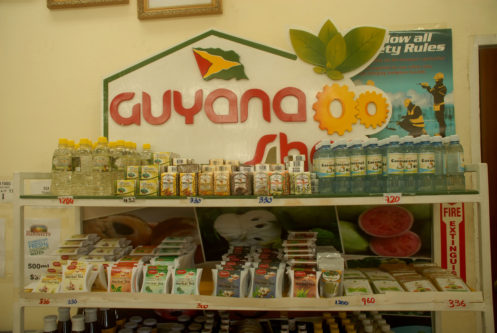 What, frequently, are no more than modest (a family/one-man/one-woman) undertakings aimed at subsidizing incomes, are in some instances on the verge of market breakthroughs, sufficient to provide encouragement for increased investment.
Macklingham, reluctant though he seems to overstate the case, takes the view that the worm is turning. Some local agro-produce, taking advantage of the GMC's support, are beginning to hold their own on supermarket shelves though he admits that consumers still appear to favour imports. Macklingham believes this habit can be broken by a further acceleration of the old-fashioned 'buy local' campaign. He envisages a structured initiative that provides a place of pride for local goods alongside imports on supermarket shelves. "That is still not the case," he says.
For that to change, Macklingham says, we need to go beyond a mere 'buy local' chant, focusing more attention on areas that include food safety standards, providing consumer information and packaging and labelling. Good quality but poorly presented products no longer have that 'homey' appeal; the contemporary market demands much more.
The evidence of progress to which Macklingham alludes is reflected in a greater collaborative effort between producers and the GMC to raise the profile of the local products. On the Guyana Shop's side there is evidence of a higher standard of product display that matches the enhanced quality of packaging. When Stabroek Business visited the shop, condiments, spreads, food flavourings, wines, sweets, porridges, and snack foods all appeared infinitely more marketable than a few years ago, the packaging having risen significantly above handwritten labels, stapled plastic packages and ill-shaped containers.
Macklingham says the facility stocks around 105 locally-produced items, ranging from tamarind balls and fried chick peas (channa) at the one extreme to table wines, on the other, serving as the only launch pad for local products.
There is no hiding the fact that progress is slow but the role of the Guyana Shop in keeping hope alive is a critical one; the marketing support of the GMC as a whole represents one of the more enduring examples of public/private sector cooperation.
Our conversation with Macklingham provided deeper insights into what remains a decidedly small agro-processing sector with its underdeveloped production infrastructure, inadequate finance for investment in upgrading, weak marketing and challenges associated with product presentation. He explains that while local high-profile supermarkets have not, in most instances, been unprepared to help expose local products to a wider market more work has to be done to convert consumers.
He returns to the theme of standards and inevitably to packaging and labelling, pointing out that local products are competing in an age when these costs can rival production costs. Where marketing is concerned he explains that sub-standard packaging and labelling has to end if local products are to be competitive. Not for the first time he makes the point that high-profile supermarkets, anxious to project an image, are mindful of the physical appearance of the items that secure space on their shelves. "I have no doubt that, quality wise, many of our locally produced items match the imported ones," he says, however, the challenge lies in "turning out products that can match the presentation of the imported items."
Richard Haniff, the GMC's Marketing Manager, agrees. Setting aside what, in some instances, is the standard of product presentation, he points to the high cost of packaging. Not only do environmental requirements add to the cost of goods packaged in plastic bottles, but glass bottles used in product packaging are substantively costly and require replacement covers when being recycled. GMC, Haniff says, is currently exploring an initiative aimed at providing local manufacturers with readier access to bottles.
Macklingham concedes that efforts to raise packaging and labelling standards can be financially demanding for small producers, and in some instances seriously threatening competitiveness. He says that these factors, coupled with facilities that only allow for low production levels impact negatively on the ability of manufacturers to meet local demand, far less, to make an impact on the external market.
What would appear to be needed is a well-planned, well-financed and sustained local and external product promotion exercise aimed at familiarizing potential customers with the range of items being manufactured locally. That, both Macklingham and Haniff say would require not only funds to finance the product promotion exercise but also the commitment of the outlets to promoting them. GMC, they say, has also played a role in ensuring that local products find external exposure through international food fairs and product displays, like the widely-popular Kazakhstan Food Fair, regarded as an excellent product presentation platform, where some Guyanese products will be on display this year.
Haniff says the GMC's services to the local food manufacturers also include market advisory, brokerage, business development and software that can meet labelling requirements. Additionally, the GMC also directs producers to service departments like the Government Analyst Food and Drugs Department.
Comments

Local gold mining syndicates are awaiting a commitment in writing from Natural Resources Minister Raphael Trotman which an official of the umbrella body administering the affairs of syndicates says should kick start operations by the groups comprising hundreds of small miners.

A joint public/private sector initiative to realize the setting up of a multi-purpose agro-processing plant in Guyana will be high on the agenda of the second Inter Ministerial Roundtable discourses between government and the Guyana Manufacturing and Services Association (GMSA), Stabroek Business has been informed.

By Raymond F. Trotz ITC Liaison, Guyana: Coconut Industry Development for the Caribbean (CIDC) It has been almost a year since the staging of Guyana's first Coconut Festival and there have been many queries on its outcome and possible repetition.

At least thirty young Guyanese from various local communities will shortly be experiencing a novel learning opportunity designed to equip them with skills that will open up possible employment opportunities in the country's mining and oil and gas sectors.

Even as Guyana becomes increasingly preoccupied with the 2020 timetable for the commencement of oil and gas recovery, the ongoing efforts of Trinidad and Tobago to diversify its economy away from the fossil fuel ought to be an object lesson for the new kid on the block as far as the fossil fuel sector is concerned.