Guyana is one of several Caribbean countries seeking to strengthen trade and economic ties with Cuba in the wake of indications that the country is in the throes of liberalization.
Information reaching this newspaper points to recent high levels of traffic between Georgetown and Havana involving a number of local businessmen and private sector officials and a source has told Stabroek Business that in some instances Guyanese and Cuban officials could be on the verge of reaching agreement.
Earlier this week, Chief Executive Officer of the Berbice-based Nand Persaud and Company confirmed that officials had visited Cuba and progress has been made towards the commencement of shipping of consignments of rice to Havana. Another informed source told this newspaper that Nand Persaud and Company had a substantive agreement with the Cuban state-run company ALIMPORT for the export of Guyana rice to Cuba for the first time in about 40 years.
The source says that the first shipment under the agreement, for 8,000 metric tonnes, will be in July with a further 7,000 metric tonnes in August. Cuba is reportedly anticipating shipments totalling 73,000 metric tonnes this year and this newspaper understands that the two sides are aiming for a longer-term arrangement.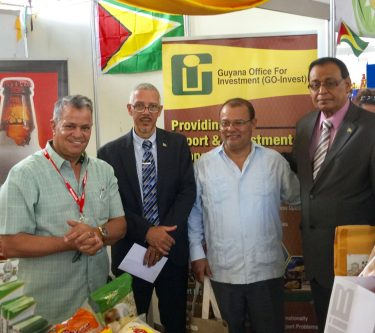 Stabroek Business understands that in the short term Nand Persaud and Company is to establish a rice milling plant and warehouse operation at Port Mariel in Cuba in order to facilitate supply to the broader Cuban market with around 410,000 metric tonnes annually and to extend into markets in Central America.
This newspaper has already reported on existing travel and business ties created between Guyana and Cuba recently on account of the creation of the daily Easy Sky flights to Guyana initiated by local company Roraima Airways. These days, Cuban shoppers toting their trademark huge shopping bags have become a common sight in downtown Georgetown stores.
This newspaper understands that business traffic between Georgetown and Havana is likely to continue into the foreseeable future with representatives of Bulkan Timberworks due in Cuba from July 11 – 16 and other local companies including Gafsons Industries, Modern Industries and W&T George and Company likely to follow.
Meanwhile, a source in Georgetown has told this newspaper that discourses are underway with the Cuban Civil Aviation Authority aimed at initiating the introduction of direct flights from Cuba to Guyana through Fly Jamaica.
Guyana and Cuba are also in the process of completing a Revised Draft Trade Memorandum of Understanding that is expected to result in the conclusion of a trade agreement between the two countries. This newspaper understands that work is being done on a new agreement for the health sector, the previous one having expired in 2015.
Guyana is expected to participate in the 35th Havana International Trade Fair which will take place from October 30 to November 5.
Comments

What had appeared for several months to have been sharp differences between the Ministry of Natural Resources and representatives of mining syndicates over land allocation that had effectively stalled the commencement of work by the country's first group of gold-mining cooperatives now appears to have come to an end following an encounter between the miners and Minister of Natural Resources Raphael Trotman.

While there are signs that talks on the huge debt owed by the city to Puran Brothers and Cevons Waste Management have been bearing fruit, dissonance continues even as the garbage crisis in the capital may be worsening.

The Guyana Mining School and Training Centre Inc.,in partnership with its stakeholders and supporting training partners, has begun training more than thirty five young adults in disciplines relating to the application of STEM (Science, Technology, Engineering and  Mathematics) to the exploration component of  upstream oil and gas operations.

Gold Prices for the three day period ending Thursday November 16, 2017 Kitco is a Canadian company that buys and sells precious metals such as gold, copper and silver.

With good grades in English Language and Mathematics increasingly being touted as a critical doorway to higher education and meaningful employment paths in Guyana," the Georgetown-based JTW Management Institute has launched the City and Guilds of London and English and Mathematics certificates as what the Institute's Director Jocelyn Williams is describing as a "second chance" for CSEC students and young school leavers.