Guyana is one of several Caribbean countries seeking to strengthen trade and economic ties with Cuba in the wake of indications that the country is in the throes of liberalization.
Information reaching this newspaper points to recent high levels of traffic between Georgetown and Havana involving a number of local businessmen and private sector officials and a source has told Stabroek Business that in some instances Guyanese and Cuban officials could be on the verge of reaching agreement.
Earlier this week, Chief Executive Officer of the Berbice-based Nand Persaud and Company confirmed that officials had visited Cuba and progress has been made towards the commencement of shipping of consignments of rice to Havana. Another informed source told this newspaper that Nand Persaud and Company had a substantive agreement with the Cuban state-run company ALIMPORT for the export of Guyana rice to Cuba for the first time in about 40 years.
The source says that the first shipment under the agreement, for 8,000 metric tonnes, will be in July with a further 7,000 metric tonnes in August. Cuba is reportedly anticipating shipments totalling 73,000 metric tonnes this year and this newspaper understands that the two sides are aiming for a longer-term arrangement.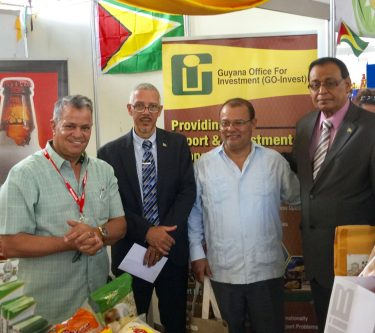 Stabroek Business understands that in the short term Nand Persaud and Company is to establish a rice milling plant and warehouse operation at Port Mariel in Cuba in order to facilitate supply to the broader Cuban market with around 410,000 metric tonnes annually and to extend into markets in Central America.
This newspaper has already reported on existing travel and business ties created between Guyana and Cuba recently on account of the creation of the daily Easy Sky flights to Guyana initiated by local company Roraima Airways. These days, Cuban shoppers toting their trademark huge shopping bags have become a common sight in downtown Georgetown stores.
This newspaper understands that business traffic between Georgetown and Havana is likely to continue into the foreseeable future with representatives of Bulkan Timberworks due in Cuba from July 11 – 16 and other local companies including Gafsons Industries, Modern Industries and W&T George and Company likely to follow.
Meanwhile, a source in Georgetown has told this newspaper that discourses are underway with the Cuban Civil Aviation Authority aimed at initiating the introduction of direct flights from Cuba to Guyana through Fly Jamaica.
Guyana and Cuba are also in the process of completing a Revised Draft Trade Memorandum of Understanding that is expected to result in the conclusion of a trade agreement between the two countries. This newspaper understands that work is being done on a new agreement for the health sector, the previous one having expired in 2015.
Guyana is expected to participate in the 35th Havana International Trade Fair which will take place from October 30 to November 5.
Comments

Prospects for the immediate-term fortunes of local rum manufacturers Demerara Distillers Ltd, in the light of what the company sees as a backing away from global free trade is likely to be one of the critical areas of interest, going forward, company Chairman Komal Samaroo says in the recently released 2017 annual report.

"While the front-loading of contracts and the securing of large contracts might be politically popular it might prove to be economically disastrous, University of Guyana Business Professor Leyland Lucas has said in an article that seeks, in part, to respond to the popular argument touting the virtue of so-called front-loading, that is, the drawing down of significant cash amounts of as yet unearned income from the oil and gas industry.

Against the backdrop of protracted public and private sector prevarication over the taking of steps to cater for the United States' Food Safety Modernization Act (FSMA), a US diplomat here has dropped a broad hint that unless local companies whose ambitions extend to securing traction in the US market get their houses in order, they are likely to find themselves out in the cold.
By Leyland M. Lucas In the late 1990s, Guyana signed an Oil and Gas exploration agreement with Exxon's subsidiary, EEPGL.

Hanoman Ramsaroop is a farmer 'to the bone.' On Fridays he makes his way to the Anna Regina Market to sell the vegetables cultivated on his farm situated off the Capoey access road.