Following on the heels of the conclusion of a major rice export contract with Cuba (see report in this issue of Stabroek Business) this newspaper has learnt of several other bilateral business agreements between Guyana and Cuba are currently in various stages of completion.
Earlier this week, Stabroek Business learnt that Havana's Instituto de Aeronautica Civil de Cuba had given formal approval for FlyJamaica/Air Guyana Airline to operate a non-scheduled passenger commercial and transport service between Guyana and Cuba.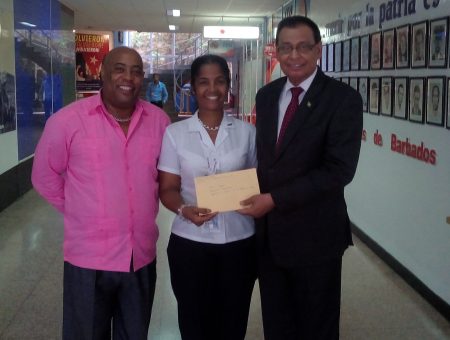 The document outlining the details of the approval was handed over to the airline's representative Lindbergh Smith on Monday, July 24 in Havana in the presence of Guyana's high Commissioner to Cuba Halim Majeed.
The conclusion of the agreement paves the way for a history-making first ever direct flight between Guyana and Cuba. The airline is owned by Guyanese pilot and aviation sector investor Captain Ronald Reece. An official launching ceremony will be held in Havana shortly.
In a brief comment following the conclusion of the agreement Ambassador Majeed said that the conclusion of the agreement "accords with the continued aggressive promotion of our economic diplomacy effort."
This newspaper understands that FlyJamaica/Air Guyana will be providing flights between Cuba and Guyana five times weekly. In Cuba, it will operate two flights from Havana, one from the Varadero Resort, one from Santiago de Cuba and one from Camaguey. Cuba has 11 international airports.
Stabroek Business will also be following up on visits to Cuba of representatives from local business entities that included Bulkan Timber Works, Gafson's Industries, Modern Industries, W&T George and Company.
In June, Majeed received a Revised Draft Memorandum of Understanding preceding the conclusion of a Trade Agreement between the Guyana and Cuba while work is currently being done on a new agreement in the health sector between the two countries the replace an agreement that expired in 2015.
Comments

Even as Roraima Airways prepares to host the annual Wedding Expo next month, the company's Chief Executive Officer, Gerry Gouveia has told Stabroek Business that the process of amending the country's Marriage Act to reduce the residency requirement from fifteen days to two days for non-nationals wishing to marry in Guyana, must be accelerated.

S&P Global Platts, the international provider of energy and commodities information has reported in its January 2018 Global Survey of member countries of the Organization of Petroleum Exporting Countries (OPEC) that, for the sixth straight month Venezuela's oil output has fallen,  reaching 1.64m barrels per day in January.

Berlinda Duncan- Persaud has spent much of the past two years trying to interweave the art and craft of the Amerindian communities into mainstream Guyanese life by making the work of indigenous craftsmen and women available to a coastal market and even to extend the demand outside of Guyana.

In an advertisement in this week's Stabroek News, Guyana Deep Water Operations Inc (GDO) listed 31 areas for service opportunities.

(Jamaica Gleaner) Renovation of the first 600 metres of berth under the first phase of the expansion of the Kingston Container Terminal (KCT), being undertaken by operators Kingston Freeport Terminal Limited, is now completed and ready to accommodate Panamax vessels.