When the University of Guyana's (UG) School of Entrepreneurship, Business and Innovation throw open its doors at Turkeyen and Tain to students for the first time later this month, the institution will be beginning its ascent to new heights in pursuit of the relevance of the offering of the institution to the development of Guyana.
SEBI's Visiting Professor Leyland Lucas is unmistakably upbeat about the transformative effect that SEBI can have, as much on the informal sector as on the traditional public and private sectors. He points out that the significance of SEBI reposes in the fact that it is not an abstract academic contrivance but a response to what is felt to be a critical developmental need that has been overlooked for far too long.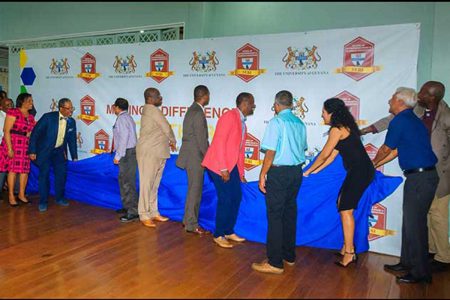 SEBI, Professor Lucas says, emerged from three sets of considerations: the pronouncement made by President David Granger regarding the need to look beyond the traditional public service for viable employment options, the "vision" on the part of UG's Vice-Chancellor Professor Ivelaw Griffith in seeking to take the institution in a direction that renders it more relevant and the feedback gleaned particularly from private sector institutions and entrepreneurs regarding the paucity of skills available to fuel the movement of the private sector…..
To continue reading this article
Comments

Investment proposals in several sectors of the Guyana economy were facilitated by GO-Invest last year.

Cevons Waste Management and Puran Brothers have won the full backing of much of the private sector.

The country's remaining standing mangrove forests are continually under threat from "a range of natural and man-made factors".

A leading UK-headquartered market research firm, Technavio, is predicting that from 2016 and up to 2020 the projected growth of the global coconut water market is likely to be close to a whopping 27 per cent.

Nothing, she says, pleases her more than the modest achievement of Team Guyana at the recent international robotics tournament in Washington and the occasion it afforded for a celebration at home.