Investment proposals in several sectors of the Guyana economy were facilitated by the Guyana Office for Investment (GO-Invest) last year and in an article appearing in the current issue of Guyana Invest, the agency's official publication, "official figures coming out of GO-Invest" credit its facilitation of those proposals with the creation of "in excess of 10,000 jobs."
The article lists agriculture, agro-processing, light manufacturing, services, tourism, ICT, energy, forestry and mining as the sectors currently under the radar of GO-Invest.
The disclosures contained in an article headlined 'GO-Invest re-engineers under new leadership' comes against the backdrop of longstanding criticism of inefficiencies relating to the promotion of the entity. Interestingly, by the admission of the article, "the work of GO-Invest is not promoted as it should be" though it promises this will change under the direction of the current Chief Executive Officer Owen Verwey who took up the position last year.
Critics of GO-Invest have continually alluded to what they say has been the underperformance of the agency over the years though the article alludes to a disclosure by Verwey that the entity is one of the local entities that will benefit from the Inter-American Development Bank-funded Enhancement of National Quality Infrastructure Project which he says will allow for "a complete review of the agency and its departments." This project is scheduled to commence during this year.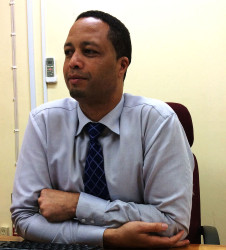 According to the article, the state-run investment agency facilitated 45 projects last year with the bulk of these aimed at the agriculture sector and attracting some US$45.5 million while local investors committed more than US$80 million. "The initiatives and intervention on the part of the new government, including the creation of the Ministry of Business have seen GO-Invest already reaping rewards," the article says.
In alluding to the overall success of the agency, Verwey said that 11 service sector-related proposals passed through GO-Invest representing US$102 million in potential investments. According to Verwey, there was also heightened interest in the tourism, and ICT sectors which "saw proposals to the value of almost US$150 million."
GO-Invest, Verwey said, has seen some "unique" agricultural investments and a number of larger scale ones on the horizon. "Persons are experimenting with new
projects including the Brazilians with corn and soya: lemon grass for oil, potato and onion farming" while "there is also growth in the coconut industry with the opening of one ISO-certified project exporting coconut cream to Europe.
Guyana, Verwey was quoted as saying, was "ripe now more than ever with the range of industries on the rise, the favourable environment with regard to regulation and other safeguards and strong support from government. Through GO-Invest, the sky really is the limit," he added.
All told, more than 110 proposals with an estimated potential of almost US$ .5 billion were facilitated by GO-Invest in 2016.
Asserting that the agency is now closer to becoming a one-stop shop the CEO alluded to the introduction of new procedures that allow GO-Invest to share information with "the integral agencies" in order to reduce processing time and hassle for potential investors. The agency, he said, was also focusing on bridge-building initiatives "in order to regain investor confidence."
GO-Invest, according to the article has been working with the Ministry of Business to establish stronger collaboration with government ministries and agencies "to promote specific opportunities under their agencies."
Around the Web