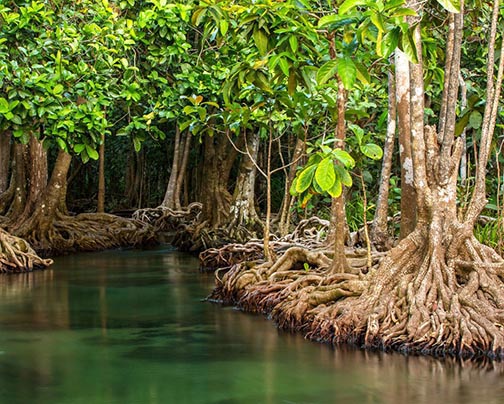 While mangrove continues to contribute substantially to the overall local sea defence regime on account of its role in dampening wave action and reducing wave energy, the country's remaining standing mangrove forests are continually under threat from "a range of natural and man-made factors" according to the 2016 Annual Report of the National Agricultural Research and Extension Institute (NAREI).
The report says that while the mangrove also plays a role in trapping sediments, stabilizing shoreline substrates in addition to playing a role in "carbon sequestration," the "natural erosive and accretive cycle characteristic of the coastline of the Guianas" as well as large scale mud bank movements also represent natural threats to mangroves in Guyana…..
To continue reading this article
Comments

Investment proposals in several sectors of the Guyana economy were facilitated by GO-Invest last year.

Cevons Waste Management and Puran Brothers have won the full backing of much of the private sector.

A leading UK-headquartered market research firm, Technavio, is predicting that from 2016 and up to 2020 the projected growth of the global coconut water market is likely to be close to a whopping 27 per cent.

Nothing, she says, pleases her more than the modest achievement of Team Guyana at the recent international robotics tournament in Washington and the occasion it afforded for a celebration at home.

Chief Executive Officer National Agricultural Research and Extension Institute Dr Oudho Homenauth The 2016 Annual Report of the National Agricultural Research and Extension Institute (NAREI) has highlighted the role of the National Plant Protection Organization (NPPO) in providing services designed to support exporters seeking to meet the phytosanitary import requirements of the country's overseas trading partners and to "provide pest and related information" critical to facilitating trade relationships between Guyana and her various trading partners.