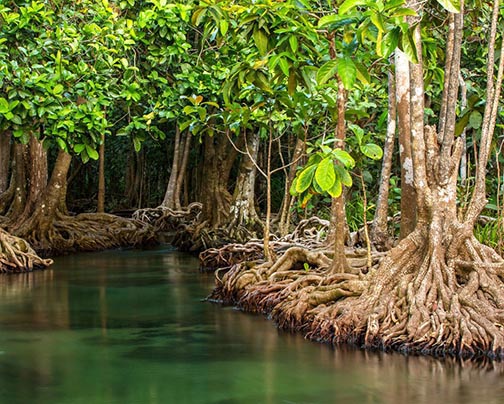 While mangrove continues to contribute substantially to the overall local sea defence regime on account of its role in dampening wave action and reducing wave energy, the country's remaining standing mangrove forests are continually under threat from "a range of natural and man-made factors" according to the 2016 Annual Report of the National Agricultural Research and Extension Institute (NAREI).
The report says that while the mangrove also plays a role in trapping sediments, stabilizing shoreline substrates in addition to playing a role in "carbon sequestration," the "natural erosive and accretive cycle characteristic of the coastline of the Guianas" as well as large scale mud bank movements also represent natural threats to mangroves in Guyana.
The report says that while the local mangrove belt appears to have been wide enough to recover following periods of erosion, the advent of manmade factors resulting from "intensive settlement of Guyana's coastline" has left part of the country's mangrove belt dangerously vulnerable to "erosion cycles."
"Manmade factors affecting mangroves in Guyana include the direct loss of mangrove habitat as a result of land development for housing and urban development, agriculture and aquaculture and infrastructure development" including private development projects, canals, sea defence infrastructure and power lines. Widespread loss is also suffered as a result of the overharvesting of mangroves for raw materials such as firewood and burnt brick.
The NAREI report says that the entity's Mangrove Restoration and Manage-ment Department is focusing on the implementation of strategies that seek to maintain the protective function, values and diversity of the mangrove "while meeting the socio-economic developmental and environmental needs of coastal areas."
Last year, the Mangrove Restoration and Manage-ment Department's programme of works included interventions designed to support the restoration of one kilometre of coastal mangroves with a view to reducing instances of coastal and consequential saline intrusion onto agricultural; lands. The report says that during 2016 the department also focused on increasing the capacity of coastal communities to manage and protect mangroves, undertake research designed to increase the knowledge base on Guyana's mangroves and increase capacity to monitor and protect mangroves through the utilization of GIS technology and improved data collection and monitoring.
The report alludes to the collection and storage of data as part of as integrated monitoring system utilizing both GIS and human resources with a view to sharing the information among the various agencies and stakeholders involved in enhancing the management of Guyana's coastal zone as part of an integrated climate change mitigation and adoption strategy. It says that the specific objective of the monitoring interventions is to track and map changes over time, evaluate conservation or management efforts, assess damage and set targets for flashpoints.
Mangrove site monitoring in various regions across the country last year revealed that while several sites monitored in Regions 2, 4 and 5 have shown "significant improvement" in the regeneration of mangroves and increased elevation resulting from planting and structural interventions, "the opposite has been recorded in Regions 3 and 6.
Among the main activities conducted under the mangrove restoration initiative last year were the development of "map products" designed to guide restoration interventions. GIS is being used as an integral tool in the mangrove monitoring system "to capture and analyze spatial data" for "planning and decision-making" purposes, the report says. During last year the department employed GIS to assess and plan restoration interventions, monitor the impact and change, over time, of restricted sites based on interventions implemented and capture monitoring data reported by rangers in the field.
Comments

(Prepared by the Guyana Marketing Corporation and published by Stabroek Business as a public service) The New Guyana Marketing Corporation has agreed to provide us with the above information which we will publish on a weekly basis subject to receipt.

The New Guyana Marketing Corporation has agreed to provide us with the above information which we will publish on a weekly basis subject to receipt.

A scheduled visit here by a Brazilian trade and investment delegation originally due to take place this month as a follow-up to one to Brazil by a team of Guyanese state officials last May has been postponed until mid-February, Stabroek Business has been informed.