The Guyana Marketing Corporation's Guyana Shop situated at the corner of Robb and Alexander streets continues to serve as the marketing incubator for local products ranging from soaps to spices, many of which are still seeking to establish a firm footing on the mainstream market, mostly the supermarket shelves that favour the eye-catching brand name imports.
Stabroek Business' latest, decidedly uplifting visit to the Guyana Shop provided an encouraging insight into the modest strides that are being made in the agro-processing sector. The available evidence suggests not only that producers are beginning to develop an enhanced appreciation of the nexus between packaging and labelling, on the one hand, and marketability on the other but also that imaginative minds are offering up impressive new products. Gradually, our agro-processing sector is coming of age.
Sandra Craig is more than a trifle hopeful that SS Natural Fruit Flavours, the brand name under which her barbecue sauces are being distributed will find favour with the market which she hopes to engage when she arrives in Barbados as part of the Guyana contingent to this year's Caribbean Festival of Arts (Carifesta).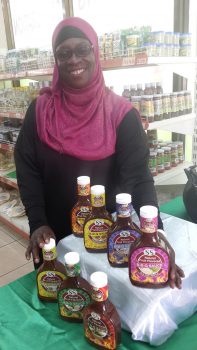 Since 2014, Craig has been 'jazzing up' her barbecue sauces with local flavours: pineapple, tamarind, soursop, golden apple, ginger, garlic, passion fruit and mango. She believes that the SS brand having been given a considerable thumbs up on the local market, is now 'fit and ready' for the outside world.
Craig spent much of her life in cooking. During the period that she and her husband served as caretakers at the Guyana National Trading Corporation Sports Complex on Carifesta Avenue, she cooked and sold food to patrons, extending the service into an additional clientele when the facility changed hands, passing to the National Insurance Scheme.
After her husband died eight years ago, the impetus to persist came largely from her son, Shemroy, a talented cricketer who financed an expansion initiative to the tune of $500,000. This was used to acquire utensils and start-up rations for the 58 Orange Walk, Bourda operation she now manages.
The birth of the SS brand was a spinoff from her diversification in barbecue chicken as part of her standard offering to customers. The response from her 'regulars' to her first flavour, pineapple, encouraged her to immerse herself in further experiments aimed at producing the range of local tastes that have now unmistakably branded her own barbecued chicken. These days, she is also promoting various other flavoured sauces, dressings, meat seasonings and other taste-enhancers.
Expansion and diversification have seen Craig hand the food business over to her daughter, freeing herself to concentrate on the development of her barbecue sauces. What has now become a commercial pursuit has provided a modest opportunity for farmers trading at Bourda Market where she diligently seeks out the best prices and quality.
Production of the sauces is done at her Orange Walk place of business and the woman who, over time, has also succeeded in training herself as a social worker told Stabroek Business that she highly values the knowledge she has secured in the food service industry. In 2014, in response to what she says were the "pressures" associated with having local producers meet international food safety standards, she engaged the Government Analyst Food and Drug Department to facilitate the testing and approval of her products. The experience facilitated the clearance of a major psychological hurdle.
The popularity of SS fruit flavoured barbecue sauces has now extended beyond Craig's kitchen though the complexities of marketing still compel modest production levels. With less than generous technical support in pursuit of expanded local patronage and external markets, local producers like Craig are still hemmed in by low production levels and by extension, limited profit margins. It is a weakness that could well strangle much of the agro processing sector and one which the Guyana Manufacturing and Services Association and the government need to put heads together to resolve. For all its popularity, production of SS barbecue sauces is limited to around 150 bottles per month.
The constraints of limited sales and fluctuating raw material costs compel Craig to wholesale a 12ml bottle of sauce for $800 and retail it for $1,000. Her prices are slightly above those of her competitors but she believes that product quality will sustain her.
Prohibitive marketing costs remain her primary challenge. The Guyana Shop remains her primary outlet and visitors from abroad sustain an encouraging, if modest repeat customer demand. Up to this time she is not overwhelmingly encouraged by the outcomes of her approaches to local supermarkets and restaurants in her wider effort to secure greater market share.
Nor is there any compensation to be found in packaging costs. Aware as she has become of the demanding nature of the competition and the need to evince standards that will attract customers, she acquires bottles from the USA at a current cost of around $80,000 per 200 bottles. She concedes that these costs do not make optimal financial sense.
Over time she has participated in several workshops and seminars on packaging and labelling and concedes that through that exposure she has come to appreciate the value of effective product promotion. Her labels were produced with the support of the Food and Drugs Department and the Guyana Marketing Corporation.
Craig also produces limited quantities of seasonings and pepper sauces. Her efforts to expand her operations have taken her both to local commercial banks and to the Institute for Private Enterprise Development. Her engagements have been unsuccessful since she has been unable to meet their collateral requirements.
Earlier this year, in May, Craig visited Canada to investigate the market there. The 80 bottles of sauces which she took were all sold in addition to which she met several prospective buyers. She hopes that one particular prospective buyer who evinced a strong interest in her sauces would make contact with her eventually.
Her sauces were also among the items taken to Barbados by the Guyana Marketing Corporation on a recent product-promotion mission. Again, the sauces were a "sellout." It was also the same in Suriname but the big breakthrough is still to come.
Next week Craig is off to Carifesta X111 in Barbados and she hopes that the region's biggest collective cultural event will provide the stage for a breakthrough. Even at the planning stage, however, challenges have arisen. She has had to place an unintended limit on the volume of product she will take to Barbados. Her empty bottles arrived from the United States late as a result of which the container set aside to move cargo from Guyana to Barbados for the regional festival left here without her sauces. A lesser consignment taken by hand will have to suffice.
Around the Web