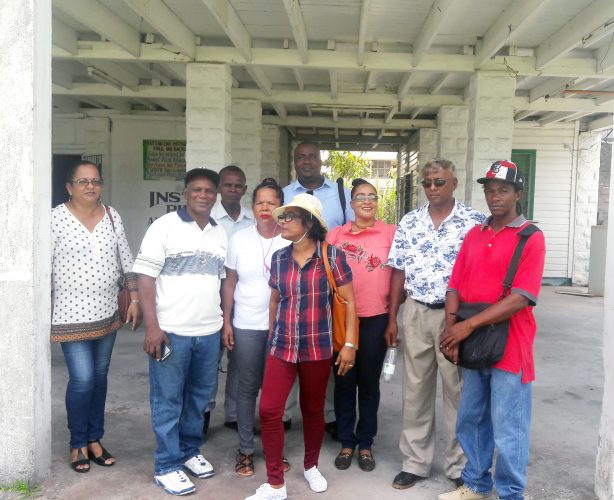 Just over a week after Natural Resources Minister Raphael Trotman had 'talked up' gold-mining syndicates as a potential economic breakthrough for "hundreds of Guyanese men and women," representatives of nine of the fifteen syndicates already created are demanding a meeting with President David Granger in an effort to break what they say has been a frustrating logjam relating to the distribution of land to syndicates.
The Ministry of Natural Resources has since said that it will be meeting with the syndicates and two other mining groups on September 7 on their grievances.
In stark contrast to gatherings of just months ago of an upbeat group of small miners buoyed by the prospect of being collectively allocated long-awaited mining lands, around fifteen members of nine syndicates gathered at the Girl Guides Pavilion on Tuesday vented their spleen on the Ministry of Natural Resources over what they say has been the imposition of unprecedented limits on lands available to mining syndicates in circumstances where individual large-scale miners control much larger tracts of mining lands. Following several random interjections which threatened to push the meeting out of control the syndicate members told Stabroek Business that they felt that it would require a meeting with President Granger to resolve their concerns.
What now appears to be an….
To continue reading this article
Comments

Local gold mining syndicates are awaiting a commitment in writing from Natural Resources Minister Raphael Trotman which an official of the umbrella body administering the affairs of syndicates says should kick start operations by the groups comprising hundreds of small miners.

A joint public/private sector initiative to realize the setting up of a multi-purpose agro-processing plant in Guyana will be high on the agenda of the second Inter Ministerial Roundtable discourses between government and the Guyana Manufacturing and Services Association (GMSA), Stabroek Business has been informed.

By Raymond F. Trotz ITC Liaison, Guyana: Coconut Industry Development for the Caribbean (CIDC) It has been almost a year since the staging of Guyana's first Coconut Festival and there have been many queries on its outcome and possible repetition.

At least thirty young Guyanese from various local communities will shortly be experiencing a novel learning opportunity designed to equip them with skills that will open up possible employment opportunities in the country's mining and oil and gas sectors.

Even as Guyana becomes increasingly preoccupied with the 2020 timetable for the commencement of oil and gas recovery, the ongoing efforts of Trinidad and Tobago to diversify its economy away from the fossil fuel ought to be an object lesson for the new kid on the block as far as the fossil fuel sector is concerned.