The fortunes of the art and craft contingent at the August 17th – 27th Caribbean Festival of Arts (CARIFESTA) in Barbados may not have been much more than modest but renowned Guyanese Potter, Nicholas Young believes that in circumstances where learning has been an incremental experience for Guyanese creative artists some positives would have been taken away from this year's experience.
If the local craft industry is truly a reflection of a critical element of the Guyanese culture, it is, as well, an industry, from which our creative people expect to make a living. That has always been an issue. If a relative few have been able to make a commercial success of their work, others, the vast majority, cannot look to their creative skills for what we in Guyana term 'a living.'
Accordingly, as much as the local craft contingent that journeyed to Barbados for CARIFESTA would have served as Ambassadors for Guyanese culture, the commercial opportunity promised by what might have been expected of a gathering of truly Caribbean people would have been seen as significant. Accordingly, there would have been some measure of investment in creating eye-catching 'pieces' for Barbados with the hope that admiration for the work on show would have been transformed into some measure of patronage.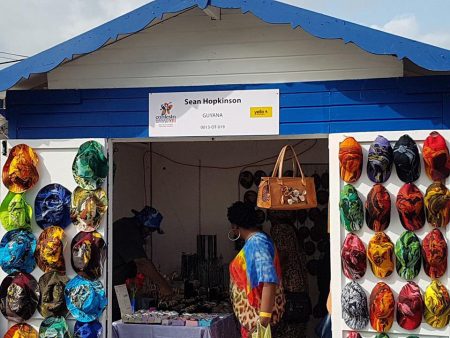 It didn't happen that way, at least not for those craftspeople with whom Stabroek Business spoke. What probably made the trip to Barbados worth the while was the subsidy thrown in by the Government of Guyana through the support of the Guyana Office for Investment (Go-Invest) and the Small Business Bureau (SBB) coupled with the experience (apparently there were quite a few first-timers in the trip) of being part of a CARIFESTA. We were told about a Government of Guyana-funded container which accommodated the consignments of various participants and which spared them the cost of having to air freight their goods to Barbados. At least one participant told us that she had had her ticket to CARIFESTA paid for by a state agency.
Still, the best that could be said for most of the smaller local craftspeople was that they managed to sell quite a bit of what they took. For them there were no long-term marketing deals to be made. That, notwithstanding the fact that from all reports, the quality of the craft produced in Guyana is highly thought of in the rest of the region.
There were logistical and organizational hiccups in Barbados. Though the opening of the event happened on August 17, The Grand Market, where most of the buying and selling was to have been done, did not begin until three days later, on August 20, the lateness of the event officially attributed to the arrival of Hurricane Harvey. Even then, the duration was further reduced by one day to August 26th. More than that it appears that patronage fell well below expectations with the attendance numbers increasing only after entrance fees were waived.
Nicholas Young was the first to acknowledge that from a commercial standpoint many, perhaps most of the local craftspeople experienced nothing to shout about.   His own experience, however, has thought him to think very much in the longer term and perhaps more than that to reflect on what we can do differently as both a local and a regional craft community. He believes that there are commercial opportunities for locally-based Guyanese craftspeople in the diaspora. Making the best use of those opportunities requires a recognition and a seizing of the opportunity as well as a mustering of the energy and focus to take advantage of it.
We talked about the need for energy and cohesiveness at the level of the local art and craft community. There was a fair measure of acknowledgement of the view that rather than a sense of community what appeared to prevail was a stronger measure of divisiveness.
Young disclosed that during his stay in Barbados he had engaged a creative colleague from Jamaica about the possibility of creating a facility in Barbados that could stock and market creative pieces from across the Caribbean. It is a simple but altogether worthwhile idea and the absence of such a facility up until now probably illustrates the absence of any real interest at the level of Caribbean governments – forty five years after CARIFESTA was created in any sort of cohesiveness in significantly broadening the demand for creative work originating in the Caribbean both across the region and beyond.
It may not have become an issue during our discourse with the handful of CARIFESTA X111 participants with whom we spoke but throughout the exchanges there was always the presence of the underlying issue of the need for us to move beyond a mere vocal acknowledgement of the talent of our local artists and craftspeople and ensuring that their talents are appropriately rewarded. What is becoming increasingly apparent is that creative people are becoming increasingly disinclined to accept outpourings of admiration for their work as the currency with which they must be content. It is not that they are lacking in appreciation for the praise that they receive; it is simply that circumstances dictate that they focus – perhaps much more than they did in the past – on the entrepreneurial potential of their work.
So that, increasingly, there is, amongst our creative people, a concern that central government do more to create a national infrastructure that can create an enabling environment for the flowering of talent and a transformation of that talent into material worth. Then there is the failure of the creative community, up until now, to develop any sense of cohesiveness that transcends their understandable individualism, the point being that particularly for the small craftspeople there is a need to work to create collective opportunities if they are to realize any kind of individual material success.
After the experience of CARIFESTA X111 there appears to be an agreement that the creative community must refashion itself, that it must reach out to potential partnerships the exist in the media and in the business community. With regard to the media there has to be an appreciation of its role in helping to direct public consciousness on the value of our creative sector.  With regard to the business community, the hotels, the restaurants, the various other public spaces, there has to be a preparedness to partner with the creative community, to have the popular spaces occupied by the work of these artists and craftspeople.    Here, it is simply a matter of maximizing every available opportunity to promote creative people and their work.
Comments

What had appeared for several months to have been sharp differences between the Ministry of Natural Resources and representatives of mining syndicates over land allocation that had effectively stalled the commencement of work by the country's first group of gold-mining cooperatives now appears to have come to an end following an encounter between the miners and Minister of Natural Resources Raphael Trotman.

While there are signs that talks on the huge debt owed by the city to Puran Brothers and Cevons Waste Management have been bearing fruit, dissonance continues even as the garbage crisis in the capital may be worsening.

The Guyana Mining School and Training Centre Inc.,in partnership with its stakeholders and supporting training partners, has begun training more than thirty five young adults in disciplines relating to the application of STEM (Science, Technology, Engineering and  Mathematics) to the exploration component of  upstream oil and gas operations.

Gold Prices for the three day period ending Thursday November 16, 2017 Kitco is a Canadian company that buys and sells precious metals such as gold, copper and silver.

With good grades in English Language and Mathematics increasingly being touted as a critical doorway to higher education and meaningful employment paths in Guyana," the Georgetown-based JTW Management Institute has launched the City and Guilds of London and English and Mathematics certificates as what the Institute's Director Jocelyn Williams is describing as a "second chance" for CSEC students and young school leavers.