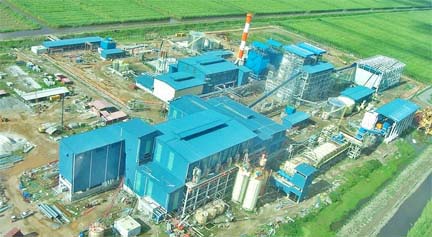 If Rajendra Persaud, one of the two brothers who sit at the helm of Nand Persaud and Company Ltd, is disappointed over the fact that the company will now have to formally restate its interest in the acquisition of the Skeldon Sugar Factory, he does not show it.
Less than forty-eight hours after the Corentyne businessman had sketched some of the company's plans for the multi-million dollar processing plant to the Stabroek Business, the state- run National Industrial and Commercial Investments Ltd. (NICIL) announced that companies that had earlier expressed an interest in buying parts of GuySuCo's operations, will now have to submit new proposals.
On Saturday, Stabroek Business had met with Rajendra alone in his Corentyne office; the company's joint CEO, his brother Mahendra, had traveled to Georgetown to join officials of Alimport, the Cuban state agency that has been responsible for negotiating a historic agreement under which the Berbice company has recommenced shipping rice to Cuba after almost two decades. The Alimport officials had travelled to Guyana to witness the loading of the first 7,500 metric tonnes of white rice onto a vessel for Cuba…..
To continue reading this article
Comments

The long-awaited reports on the work of the Small Business Bureau (SBB) for the years 2015 and 2016  "should be ready for publishing next week" though an official assessment of the performance of the entity launched in 2013 suggests that it has experienced mixed fortunes over the period of its existence.

Amidst sustained expressions of concern over the anticipated impact of the closure of several of GuySuCo's sugar estates in Berbice, Business Minister Dominic Gaskin used the occasion of last Friday's 2017 Berbice Expo and Trade Fair to seek to assure the region with the heaviest dependence on the sugar industry that the transition from the crop that has been at the heart of the Guyana economy will see the creation of new opportunities for the region.

A one-time Foreign Service Officer, 61-year-old Janice Fraser appears more than comfortable in her current role as a beekeeper.

Assurances associated with the quality of cooked foods being provided to patrons at public places are an important barometer of a country's development and lapses in food safety standards can have a negative impact on external perceptions of standards "on the whole" in a country, Director of the Government Analyst Food and Drugs Department (GA-FDD) Marlan Cole has told the Stabroek Business.

Gold Prices for the three-day period ending Thursday October 12, 2017 Kitco is a Canadian company that buys and sells precious metals such as gold, copper and silver.