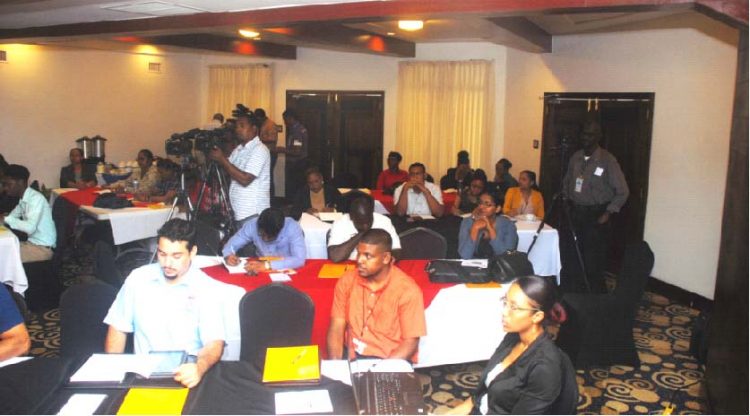 Failure to comply with the regulations set out in the 2011 United States Food Safety Modernization Act (FSMA) could result in Guyana losing a US market for fresh and processed foods worth more than $1.4 billion, including spices and condiments worth in excess of US$1.4 million dollars.
The eventuality, according to Managing Director of the Jamaican company, Technology Solutions Ltd (TSL), Food Technologist, Dr. Andre Gordon, could result from delinquency in the productive sector with regard to compliance with the FSMA.
In an exclusive interview with the Stabroek Business on Wednesday, Dr. Gordon named seafoods, fresh fruit, vegetables, agro-processed condiments and alcoholic beverages as being among locally produced items originating in Guyana that could find themselves shut out of the US market through failure to comply with the provisions of the Act…..
To continue reading this article
Comments

The long-awaited reports on the work of the Small Business Bureau (SBB) for the years 2015 and 2016  "should be ready for publishing next week" though an official assessment of the performance of the entity launched in 2013 suggests that it has experienced mixed fortunes over the period of its existence.

Amidst sustained expressions of concern over the anticipated impact of the closure of several of GuySuCo's sugar estates in Berbice, Business Minister Dominic Gaskin used the occasion of last Friday's 2017 Berbice Expo and Trade Fair to seek to assure the region with the heaviest dependence on the sugar industry that the transition from the crop that has been at the heart of the Guyana economy will see the creation of new opportunities for the region.

A one-time Foreign Service Officer, 61-year-old Janice Fraser appears more than comfortable in her current role as a beekeeper.

Assurances associated with the quality of cooked foods being provided to patrons at public places are an important barometer of a country's development and lapses in food safety standards can have a negative impact on external perceptions of standards "on the whole" in a country, Director of the Government Analyst Food and Drugs Department (GA-FDD) Marlan Cole has told the Stabroek Business.

Gold Prices for the three-day period ending Thursday October 12, 2017 Kitco is a Canadian company that buys and sells precious metals such as gold, copper and silver.