NEW YORK,  (Reuters) – Puerto Rico's benchmark general obligation bonds fell on Wednesday, hitting a record low, after U.S. President Donald Trump suggested late on Tuesday that the island's massive debt load will have to be wiped out because of devastation caused by Hurricane Maria.
The bond due in July 2035, the island's most recent benchmark debt issue, dropped by 6.5 cents to 37.5 cents on the dollar in late trade on Wednesday. Trading volumes surged to $183 million, nearly three times the combined volume of the prior nine days of activity. The price fell as low as 30.25 cents on the dollar at the start of the day.
The bonds are in default and behave more like an equity as no change in yield accompanies their price movements. They carry a coupon of 8 percent.
Early on Wednesday, White House Budget Director Mick Mulvaney backed away from Trump's comments. The president was referring to Puerto Rico's need to fix its own debt issues through its oversight board, Mulvaney said in an interview on CNN.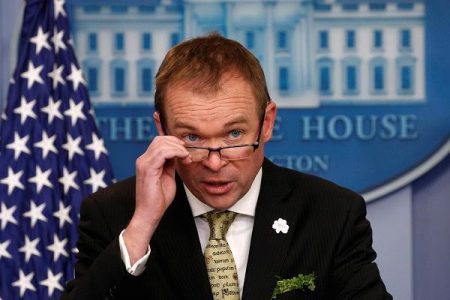 "I wouldn't take it word for word," Mulvaney said of Trump's comments. He later added in an interview on Fox Business Network: "So, I don't think you saw any indication there of a federal involvement in the bond situation in Puerto Rico."
The U.S. House of Representatives Committee on Natural Resources said it will work to identify red tape and other bureaucratic hurdles to speed up Puerto Rico's recovery and rebuilding.
Puerto Rico in May filed a form of bankruptcy under the federal 2016 rescue law known as PROMESA. The island's capital structure has 18 public agencies owing a combined $120 billion in bond and pension debt.
"They owe a lot of money to your friends on Wall Street and we're going to have to wipe that out," Trump said in an interview with Fox News late on Tuesday after he toured the island.
The 2035 bond has tumbled by more than 25 cents on the dollar since Hurricane Maria devastated the U.S. territory last month.
The storm knocked out power to the island's 3.4 million residents, devastating the already dilapidated electric power infrastructure. The Puerto Rico Electric Power Authority (PREPA) declared bankruptcy under PROMESA in July.
Restoring the grid after the worst storm to hit in nine decades would be a monumental task even for a well-run utility. It will be much harder for the chronically underfunded PREPA, with its mounting maintenance problems, years-long battles with creditors, a shrinking workforce and frequent management turnover.
"We are going to get the electric going again. You know, that was a complete wipeout," Trump told Fox.
The Federal Emergency Management Agency's latest briefing said it is still providing fuel to hospital generators, delivered over 5 million meals and over 5 million liters of water.
Mobile phone services are still limited. The Federal Communications Commission reported 86.3 percent of cellphone sites are still out of service, a slight improvement from Tuesday.
PROMESA
Last year, in a rare show of bipartisanship, the U.S. Congress passed the PROMESA law that created the Financial Oversight and Management Board to help the island negotiate with creditors.
The law also created a mechanism known as Title III that allowed U.S. territories such as Puerto Rico to enter a form of bankruptcy, a financial tool the island did not have access to previously.
"The status of the bonds that you heard the president mention this morning are actually inside the bounds of the PROMESA proceedings right now," Mulvaney said.
"So those bonds are being dealt with, were being dealt with before the storm, will be dealt with after the storm through the PROMESA process," he added.
For the firms that insure some, but not all, of Puerto Rico's various debt issues, the prospect of more federal money could lessen the amount of money they pay out, say analysts at BTIG Research.
The losses on Wednesday for shares of AMBAC Financial Group , Assured Guaranty, and MBIA "should be viewed as a buying opportunity," BTIG said in a research note.
Puerto Rico's governor, Ricardo Rossello, said in a news briefing that he was concerned with actions, not words, and with getting Puerto Ricans what they need.
"As far as the comment made about wiping the debt clean, that is the opinion of the president," Rossello said, adding he could not comment because of the Title III judicial proceedings.
Rossello, in a late interview with CNBC, addressed bondholders, saying, "We are all one right now." He added that the island needed to go to the U.S. Congress and "ask for a real aid package," in order to help get out of the emergency phase and start rebuilding the island.
"That is better for all of the bondholders, all the stakeholders, and all the people of Puerto Rico," Rossello said.
Around the Web