Assurances associated with the quality of cooked foods being provided to patrons at public places are an important barometer of a country's development and lapses in food safety standards can have a negative impact on external perceptions of standards "on the whole" in a country, Director of the Government Analyst Food and Drugs Department (GA-FDD) Marlan Cole has told the Stabroek Business.
He was at the time responding to the reported recent closure by the Mayor and City Council of five food establishments in various parts of the city for offences including the absence of business registration, trading without a Food Handler's Certificate and Trading under insanitary conditions.
Cole told Stabroek Business that the Food and Drugs Department was pleased at the action which City Hall has taken. "We have to continue to send strong signals that we are serious about enforcement of the laws," Cole told Stabroek Business. He said that the prevalence of the practice tended to be greater in areas where the presence of municipal monitoring was weaker, particularly rural areas. "What is also important is that the recent action by City Hall sends signals to the other offenders. That cannot be a bad thing," the GA-FDD Director told Stabroek Business, adding that it was good to see that despite "what is almost certainly a situation of limited resources, City Hall is still seeking to keep the pressure up on delinquent food vendors."
Cole said that he believed that the action being taken to clamp down on delinquents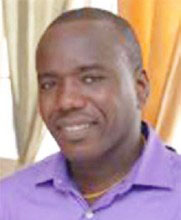 is a function of stepped up   initiatives in the area of food safety training and the dissemination of food safety commercials in the media. "That suggests that our training is being taken more seriously".  Cole told Stabroek Business, however, that he believed that there was still "a long road to travel" in order to get standards to where we want them to be. "We wish to see more persons with Food Handlers ID Cards secure same with training. More than that we need to have street vendors equip themselves with some basic things including hot and cold storage facilities, potable running water,  food handlers certification, waste disposal facilities and appropriate protective clothing.   Cole, meanwhile, told Stabroek Business the  GA-FDD wished to see stepped up monitoring and more assertive action from inspectors across the regions where there is a prevalence of food vending. "We cannot afford to ignore safety considerations outside of the city and its environs," Cole said.
Besides the local market, Cole explained that what is known internationally as "roadside food" has become extremely popular with tourists across the world. "There are people whose primary purpose for travel is to visit various countries and sample traditional foods that are prepared and served outside of the conventional hospitality setting. In that regard it is important that we do what we can to keep our standards high."
Asked if questionable standards of cleanliness and food hygiene in small food establishments, including roadside enterprises is not a function of the fact that such businesses frequently have their origins in poor communities, Cole said that such establishments still had an obligation to live within the law and to provide a service that the consuming public can trust. "The fact that roadside vending provides what is often an essential earning opportunity for the vendors does not mean that we can afford to overlook transgressions that have to do with situations that can injure the health of the consuming public", he asserted.
The GA-FDD Director told Stabroek Business that there could be no leniency with vendors who continue to trade without the relevant credentials. "If you are operating without a Food Handler's Certificate or if you are offering cooked food to the public in poor conditions you cannot expect to be exempted from sanction," Cole said, though he conceded that the onus was on the authorities to impose sanctions.
Around the Web