From its humble beginning in 1971 as a modest manufacturing establishment – trading at the time as Mohammed's Manufacturing Enterprise in Sussex street Albouystown – Peppy's Foods has gradually become a household name in the local Agro Processing sector.
First, chowmein then vermicelli were its best known products. These days, plantain flour has risen to the top of the pile and doing well…so well that the company's proprietor, Khalil Mohammed boasts of selling more than 3,000 packets of the product every week. Demand for the traditional Guyanese porridge item is high but, according to Mohammed, plantain flour has now slipped the local leash and is making a bold and aggressive bid for the external market.
Mohammed says that his own feedback suggests that the growing popularity of the product has to do with its reported health benefits. He says that his customers find plantain flour to be a healthy, high-energy food and that he has been placing it on the market at an affordable price for more than thirty years. Plantain flour, he says, has made a name for itself as a popular baby food, outselling the imported brands mostly in working class communities. Over time its reputation has drifted into the region and has become popular in Antigua, among other places. That, he believes could be a springboard to propel the product beyond the region.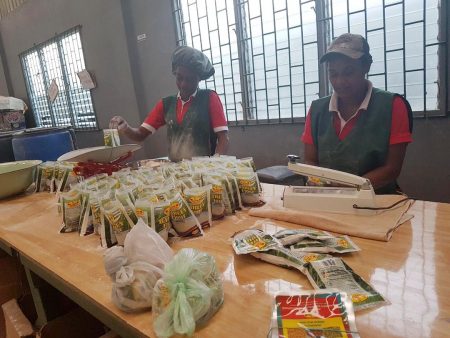 Peppy's Plantain Flour boasts a shelf life of six months which, arguably, stands it in good stead, in terms of making it to North America. If that is to happen, however, product quality must meet the high food safety standard demanded in North America. To satisfy the requirements of the United States' demanding Food Safety Modernization Act (FSMA), the product will, in the first instance, have to engage the attention of the local Government Analyst-Food & Drugs Department. As one of the longest-serving local agro-processing entities, Peppy's is acutely aware of this.
What could make life easier is the fact that the plantains come from Mohammed's own farm, a circumstance that allows him a measure of quality control, one of the requirements of the FSMA. His yield of one thousand pounds from his own farm is supplemented by a further thousand pounds of dried plantains from other suppliers.
"We have been manufacturing plantain flour for more than 30 years. We buy the plantain off the bunch from farmers and we take from our farm, we then chip the plantains, dry and grind into powder and package," Mohammed said.
The process is not without its challenges. Inclement weather can slow down the drying process and compromise supplies. He has been sufficiently concerned about this to finance dryers for two of his suppliers at Pomeroon. "Now, they (suppliers) chip and dry the plantains and they send it out in boats. I buy them and then I dry them some more to remove even more moisture." Afterwards, six persons grind the plantains to flour. One hundred pounds of raw plantains yield twenty five pounds of dried ones. "We sell a lot of plantain flours and there are a lot of people who are interested," the businessman says.
Two years ago the firm underwent a major upgrade and it was then that Mohammed began to contemplate expanding his export market. He says he now has the capacity and machinery to "think big."
Mohammed said that he got into the business of manufacturing plantain flour because there was a demand for it some 30 years ago. "I started my business selling noodles and persons would come and ask me for it and that's how I started making the plantain flour."
Around the Web