Gone are the days when young, bright, ambitious Guyanese cling tenaciously to academic pursuits that equip them for distinguished careers in well-recognized disciplines, leaving entrepreneurial options to those who see greater merit in doing business.
Twenty-year-old Isha Beth Benjamin had spent several months after leaving secondary school in search of the 'coveted' government job …teaching or perhaps nursing. Afterwards, she harboured thoughts of starting a business of her own. Then she got a job…with her cousin Michael Sinclair's business. It has, she says, been a worthwhile partnership. The two are bright, enlightened and easily mistaken for University of Guyana undergraduates. Their sights, instead, are set on building a lucrative business together.
As a beginning they are building M & I Business Enterprise, an agro processing outfit situated at Lot 108 Rose Hall Town, Corentyne, Berbice. That was in December 2016 and approaching the entity's first anniversary they are entirely immersed in their first original product, a flavourful fruit-based cake mix that is catching on in an encouraging way.
We met Isha Beth and Michael at the Albion Sports Complex two weeks ago 'testing' their product on its largest market yet, the XIIIth Berbice Business Exposition. This is the season when cake mix is in high demand and the two were keeping their fingers crossed the event would be their breakthrough.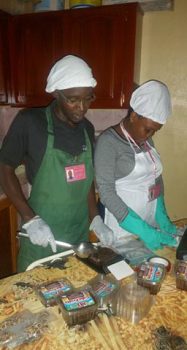 Initially, M&I Business Enterprise had been a compulsory diversion from an earlier Information Techno-logy venture that had fallen short of business expectations. M&I has been meant to fill that gap. Their line of reasoning was that Christmas was not too far away and that they could borrow from traditional recipes en route to arriving at their own product. In principle, it was simply a blend of tropical fruit – papapya, carambola, bilimbi, cashew, avocado and gooseberry in pursuit of their own particular flavour. It was, in the first instance, a question of exciting the seasoned taste buds within the family. They got the thumbs up and that boosted their confidence, jettisoning them into a commercial adventure.
M&I, however, refuses to commit their company to a one-product pursuit. At the Berbice Business Exposition they also trotted out their shredded coconut and moringa seeds harvested from a plant cultivated in tropical and sub- tropical countries and highly valued for their nutritional and health benefits.
The first batch of blended cake fruit has already been tested on the Berbice market. Its appearance at the Expo was a further test. When we spoke with Michael and Isha Beth they were upbeat.
Journey
We talked about the journey they have made including their engagement with the Government Analyst-Food & Drug Department and the Guyana National Bureau of Standards. (GNBS). Through these establishments they learnt that producing foods that pass safety standards tests can be a costly exercise. First, there is the creation of a facility suitably appointed to pass the safety and health tests. Construction costs topped $3 million.  A loan of $500,000 coupled with their savings allowed for the start of construction. There were further costs associated with the purchase of inventory that included an industrial mill and a coconut grater. What money was left went towards purchasing fruit.
Their limited effort has, up until now, placed the products on three supermarket shelves – Sparkle at Alness Village, Goodlife at Belve-dere and Massy at Providence on the East Bank.  Going forward, more aggressive marketing is a challenge they will have to confront.
The shredded coconut and moringa seeds have enjoyed markedly more success in Georgetown than in Berbice. The shredded coconut is pre-processed and has a shelf life of approximately six months.
M&I's cake fruit is offered in one-pound and half-pound packets which are retailed at $760 and $400, respectively.
Packaging and labelling continue to be works in progress. Containers for the cake fruit are purchased in Georgetown while zip lock bags for shredded coconut are imported from the United States. Labels are produced by the Berbice company, Rainbow Arts.
Fruit, including coconuts, is purchased from markets in Berbice. With the company still growing, transportation is among its steepest costs. The 10-month old business currently employs six persons.
The two say that they are keen on building a business foundation in agro processing and are currently experimenting with new products which they are seeking to place on the market by year end. Working capital with which to purchase equipment is their biggest challenge. If their production volumes are to increase there will be a need for more mills and grinders. The cost associated with additional inventory, going forward is approximately $2 million. In the short to medium term they are seeking to apply their own 'talent for taste' to place their own brands of ground orange peel, mango achar, pepper sauce, herbal tea bags and seasoned flour on the market.
Around the Web