What is being promoted as the start of a major public/private sector initiative to create a wider domestic market for Guyana's agro-processing sector will be staged next weekend at the National Exhibition Centre, Sophia under the title Uncapped.
On Tuesday, representatives of the Guyana Manufac-turing & Services Association (GMSA) and the Ministry of Business, the two lead agencies in the staging of the event, along with representatives of other stakeholder entities met at Sophia to finalize arrangements for the three day – Friday October 27 to Sunday October 29 – event which seeks to serve as a springboard for the significant popularization of the country's potentially lucrative agro- processing sector.
Both Prime Minister Moses Nagamootoo and Minister of Business Dominic Gaskin are scheduled to address the Friday October 27th opening of Uncapped though the organizers have emphasized that the official part of the proceedings will be relatively short and that the customary formalities will be subsumed beneath the substantive purpose of the event, that is, to help create a significantly enhanced consumer interest in and demand for local agro-produce.
Last Tuesday, top GMSA officials, including sitting President Shyam Nokta and Vice President Ramsay Ali, who is serving as Event Coordinator, were emphasizing the significance of the event as a potential 'summit' for buyers and sellers.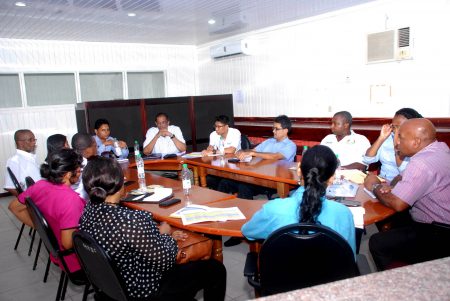 Up to earlier this week more than sixty agro-processors had signalled their intention to participate in Uncapped and Nokta told Stabroek Business that at the core of the event would be the interface between local agro-processors and the various buyers, distributors, supermarkets and other more modest outlets across coastal Guyana whom the organizers had targeted for invitations to attend the event.
According to Ali, an equally important aspect of the Uncapped event was the opportunity it afforded for consumers to get a sense of the range of "quality products" being manufactured by the local agro-processing sector. Accordingly, he said that critical to the planning of the event was the distribution of tickets at various locations in and around the capital. By Tuesday, arrangements were being discussed for various high-profile business houses including the Giftland Mall to be used as locations for ticket sales. Nokta confirmed that the event's Planning Committee had been placing emphasis on getting visitors to the event "in significant numbers."
Uncapped will be challenged to match the customary enthusiasm that Guyanese have demonstrated for the annual GuyExpo, the significance of the first-time event underscored by the fact that GuyExpo will not be held this year. What has also been set aside is the entertainment dimension that has come to be associated with GuyExpo. Ali told Stabroek Business, however, that Uncapped will feature a modest entertainment slot.
Meanwhile, the event's Food Festival will feature food stalls that will allow for the sampling of some of the country's iconic Amerindian, Creole and Chinese dishes.
Around the Web