Lakraj Singh, Roy, as he is familiarly known, has spent more than twenty years selling spices to customers on the Essequibo Coast. He lives at Lot 13, Adventure, and used to be a cash crop farmer. Last weekend, his eye-catching stall at the public/private sector Uncapped agro processing event at the Sophia Exhibition Centre attested to the strides that his business has made over the years.
It was the overpoweringly pleasant aromas of geera and masala that took us to the stall. Geera and masala are key ingredients in Indian cuisine. Their health benefits are also touted.
We counted twenty spices… including black pepper, ginger, curry powder, cinnamon, mustard seed, nutmeg, clove, aniseed, pimento and turmeric and his Sales Manager son, Govinda, a Computer Science student at the University of Guyana was on hand  to talk with us.
It is not difficult to tell that the family has a keen appreciation of the nexus between product presentation and marketing. They have invested in high-quality, re-sealable plastic packaging with the brand, Roy's Spices, proudly emblazoned on the package.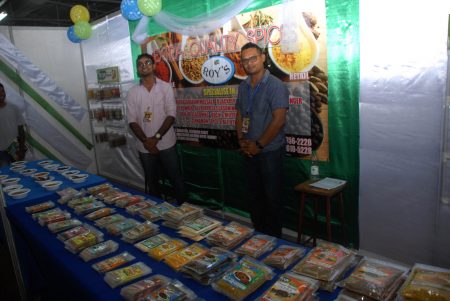 Unsurprisingly, they have decided that having made their mark on the Essequibo Coast they are ready to venture even deeper into the Region Four market. With the local market for spices and condiments already crowded that could prove a challenge though Govinda says that events like Uncapped have made them aware of the potential of their products. There are export ambitions too. Govinda says that even now they are ready to increase production in order to fill overseas orders. The idea of tapping into the export market had been contemplated about fifteen years ago and had arisen out of a request by a local customer that a sizeable order for ground geera and masala be filled for a customer in the USA. It was this order that had triggered the decision to produce the geera and masala in the powdered form for the local market and to make inquiries about export potential.
Up until late Saturday no firm contract had been concluded though there had been a few commitments to engage with potential buyers during the current week.
On the whole, the vast majority of agro-processing enterprises had their origin in basic equipment, mostly kitchen tools pressed into service to do more demanding jobs. Govinda says that his father began grinding on a kitchen handmill. These days, he and his Electrical Engineer brother have combined their skills to manufacture a $2 million automated grinder. The grinder, he says, has made the production process less physically demanding. Whereas, previously, the spices had to be manually parched and grinded, all of this is now done by machine. The Factory on the Essequibo Coast has six full-time employees.
For the time being, Roy's Spices can be bought at the Mon Repos Market, the Guyana Marketing Corporation's Guyana Shop, DSL Cash and Carry , Real Value and Nirva's  Supermarkets in Georgetown. Govinda says that he is currently in discussions with Bounty and Survival Supermarkets about having the spices on their shelves.
Having engaged the Government Analyst Food and Drugs Department, Guyana Marketing Corporation and the Guyana National Bureau of Standards, what began as an ordinary family business has now passed through the rigours of qualification that allows their products to take pride of place on supermarket shelves. That is a landmark that the family cherishes. They have come a long way from packaging in ordinary plastic bags that resulted in the product suffering a loss of aroma over a short period.
Like so many other local agro processors, Roy's has looked to the People's Republic of China for packaging and labels. Good product presentation has come at a high cost and Govinda concedes that the additional expenditure on packaging and labeling has compelled the company to raise its market prices.
To meet the needs of the various customers the company has 'sized' its packaging, offering 25-30-gram packaging as well as 120–gram packaging.
Around the Web