The National Agricultural Research and Extension Institute (NAREI) is reporting that production of sweet peppers by local farmers last year reduced the country's food import bill by $20 million.
A release received by the Stabroek Business from NAREI's Mon Repos headquarters links the breakthrough in sweet pepper production to the Institute's "focus extensively on increasing crop production and enhancing diversification."
The release says that in 2018, production of "non-traditional crops" would increase by at least 2.5 percent, pointing to its work with the Canadian-backed Promotion of Regional Opportunities for Produce through Enterprise and Linkages (PROPEL) in the local cultivation and potato and onions as a possible contributory factor.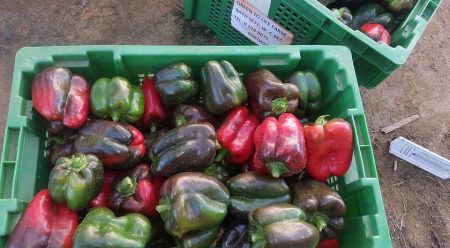 NAREI says that having recognized in 2013 that there was a high local demand for bell peppers and given its significant contribution to the food import bill, the agency went into "planning mode," importing seeds and carrying out tests on a number of varieties of sweet pepper in order to determine which would adapt best to the local climate. Following the tests NAREI says it identified the Aristotle, Jade and Early Sunsation varieties as the most suitable for local conditions. NAREI says it introduced these varieties to local farmers and provided them with training associated with their cultivation and care.
The NAREI release names Bath Settlement, West Coast Berbice farmer, Dhaniram Ramchand, Proprietor of Green to Life farm as one of the success stories arising out of its training programme and a leading supplier of sweet pepper to several local supermarkets.
The Institute's Chief Dr. Oudho Homenauth says that crop diversification has been a key focus of its work, the emphasis being on initiatives aimed at reducing food imports. "Sweet pepper is one of those commodities which have been cultivated successfully."
NAREI is citing its work in the increase of sweet pepper production as a critical success story. NAREI, according to the release, has not issued any importation permit to anyone wanting to import the commodity in recent times given its widespread availability on the local market.
"This is what we want—the money to remain in Guyana, among the local farmers. Persons, who used to import these peppers, now buy from our local producers," the NAREI head said.
According to NAREI, the Ramchand farm was certified by the National Plant Protection Organization (NPPO), a department within NAREI as fit for export. Certification guarantees that the farmer would have produced the peppers under conditions that satisfy international market standards.
Around the Web