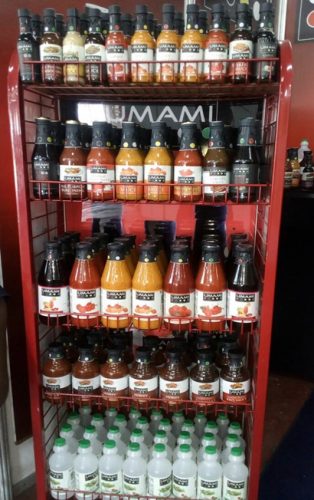 Long seized of the critical importance of the role of labeling and packaging as a marketing tool, Umami, the Lusignan-based company last month used the occasion of the public/private-sector staged Uncapped event at the National Exhibition Centre to rebrand its range of sauces and condiments.
Evidently tailored to nudge the market into taking a fresh look at its range of products which, in terms of product  presentation had crept to the top of the agro processors market since its launch here in November 2013, the company last month turned out 'new look' labels with five circles featuring the colours of the national flag and sporting the tagline "also from Guyana," an initiative which it says was undertaken in an effort to continue building its "contribution to patriotic marketing." The concept, the company's management says, doubles as an educational tool, affording "customers who might not necessarily be aware of Guyana's rich heritage and culture to be enlightened by its famous landmarks."
Its watermarked images, the company says, were carefully plucked from Guyana's history and includes the Amazon Jaguar, Harpy Eagle, Canje Pheasant, Rice, Gold, Kaieteur Falls, Stabroek Market, St. George's Cathedral, and the Umana Yana. ….
To continue reading this article
Comments

What had appeared for several months to have been sharp differences between the Ministry of Natural Resources and representatives of mining syndicates over land allocation that had effectively stalled the commencement of work by the country's first group of gold-mining cooperatives now appears to have come to an end following an encounter between the miners and Minister of Natural Resources Raphael Trotman.

While there are signs that talks on the huge debt owed by the city to Puran Brothers and Cevons Waste Management have been bearing fruit, dissonance continues even as the garbage crisis in the capital may be worsening.

The Guyana Mining School and Training Centre Inc.,in partnership with its stakeholders and supporting training partners, has begun training more than thirty five young adults in disciplines relating to the application of STEM (Science, Technology, Engineering and  Mathematics) to the exploration component of  upstream oil and gas operations.

Gold Prices for the three day period ending Thursday November 16, 2017 Kitco is a Canadian company that buys and sells precious metals such as gold, copper and silver.

With good grades in English Language and Mathematics increasingly being touted as a critical doorway to higher education and meaningful employment paths in Guyana," the Georgetown-based JTW Management Institute has launched the City and Guilds of London and English and Mathematics certificates as what the Institute's Director Jocelyn Williams is describing as a "second chance" for CSEC students and young school leavers.