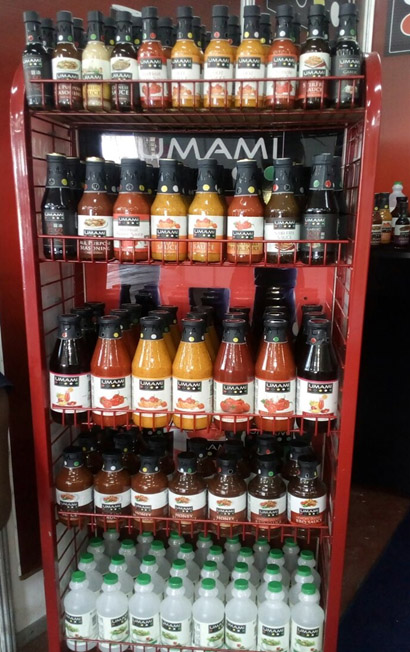 Long seized of the critical importance of the role of labeling and packaging as a marketing tool, Umami, the Lusignan-based company last month used the occasion of the public/private-sector staged Uncapped event at the National Exhibition Centre to rebrand its range of sauces and condiments.
Evidently tailored to nudge the market into taking a fresh look at its range of products which, in terms of product  presentation had crept to the top of the agro processors market since its launch here in November 2013, the company last month turned out 'new look' labels with five circles featuring the colours of the national flag and sporting the tagline "also from Guyana," an initiative which it says was undertaken in an effort to continue building its "contribution to patriotic marketing." The concept, the company's management says, doubles as an educational tool, affording "customers who might not necessarily be aware of Guyana's rich heritage and culture to be enlightened by its famous landmarks."
Its watermarked images, the company says, were carefully plucked from Guyana's history and includes the Amazon Jaguar, Harpy Eagle, Canje Pheasant, Rice, Gold, Kaieteur Falls, Stabroek Market, St. George's Cathedral, and the Umana Yana. 
The company says that an important spinoff of its mindfulness of the importance of 'patriotic marketing' has been the large numbers of local farmers who seek out Umami in an effort to ensure that their produce forms part of the manufacturing mix that is offered to consumers.
At the Uncapped event the company turned out, amongst its range of  agro processed products items such as Cocktail Syrup, Garlic Sauce, Green Seasoning, BBQ Sauce, Hot Sauce and others. The management says a tribute to its success as an agro-processor has been its availability in both major supermarkets and community shops countrywide as well as in markets in the United States, Dominica, Grenada, Tortola and St. Croix, among other territories.
Less than a month ago Umami was awarded the Gold Manufacturer's Awards for quality by the Guyana National Bureau of Standards (GNBS).
Around the Web