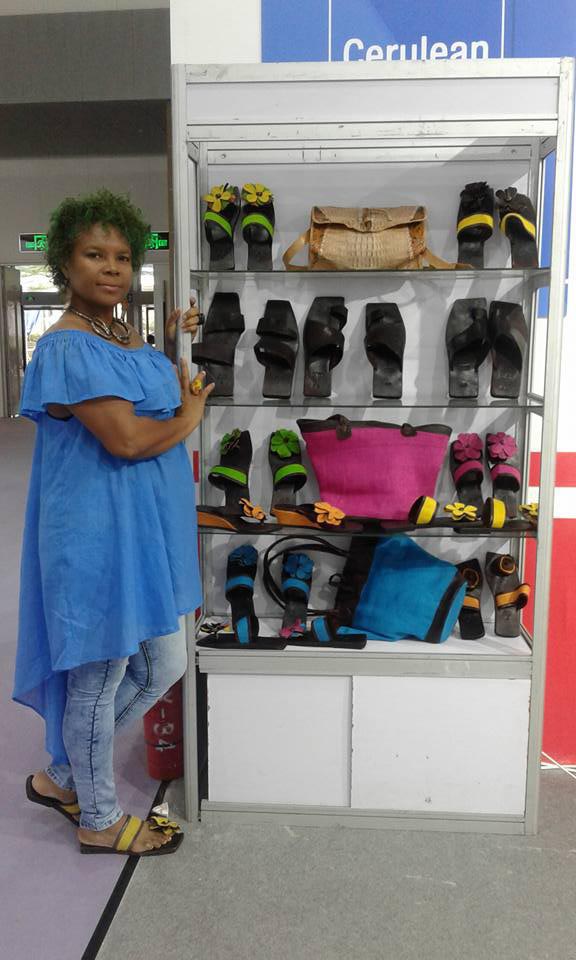 Even as the proliferation of Chinese stores in downtown Georgetown continues to serve as evidence of the country's increasing prominence as the most visible trading presence in the hemisphere, Guyanese fashion designer Carol Fraser has told Stabroek Business that the local fashion industry can do much worse than look to China to accelerate the growth of the sector in Guyana.
Just back from the November 9-11 China-Latin America and the Caribbean (CLAC) Exposition in the Chinese Province of Zuhai, Fraser told this newspaper earlier this week that her "China experience" has persuaded here to "shift focus" with a view to establishing closer business ties with Chinese companies that are combining attractive marketing techniques with advanced technological tools to bring its offerings in the fashion industry to the rest of the world. 
And Fraser is encouraging others of her counterparts in the fashion industry to 'check out' what the Chinese have to offer both in terms of what she says is the "high class" fabric which local fashion designers crave at prices considerably more favourable than those that obtain in the United States to opportunities to secure contracts through which Chinese manufacturers can produce sizeable numbers of local designs. In her case the recent China event has afforded her the opportunity to work with a Chinese company which she hopes will manufacture some of the hats that she has designed. If she is successful, she says, "it opens up an opportunity for me."
 She believes that increased participation by locals in the fashion and craft industries and in the wider creative and manufacturing sectors are likely to see the benefits of doing business with China though she concedes that this will only materialize if more opportunities arise for Guyanese to visit China. "I have nothing against visits here for sensitization purposes but I really do believe that Guyanese creative people who need to do business with China must travel to China to see how things work there." 
Cost effective and attractive fabric apart, Fraser says that Guyanese designers can take advantage of the Chinese manufacturing sector to produce a variety of local merchandise including haversacks, working bags and pocket books. 
Fraser told Stabroek Business that her visit to China has also caused her to reject the popular myth regarding the quality of Chinese products. "Much of what I saw in China causes me to reject the idea that Chinese products are cheap and sub-standard."
Even as the conventional commercial sector in the Caribbean, including Guyana, continues to express reticence over the proliferation of Chinese merchants in the region, the China-Latin America and the Caribbean (CLAC) Exposition signaled the latest major Chinese investment in its quest for significant economic/commercial penetration in region. The November event featured the inauguration of the 244,000 square mile Hengqin China-Latin America Economic and Trade Cooperation Park and a further US$375 million investment in additional infrastructure. The site is expected to be an investment in collaborative projects between Chinese and Latin American entities. At the Expo, contracts valued at US$490 million were initiated for more than 70 projects spanning a wide range of industries including printing supplies, modern logistics, petrochemicals and household appliances.
While relations between China and Latin American and Caribbean countries in the commercial sphere have now entered a new historical period characterized by the ever increasing presence of Chinese merchants and inexpensive goods across the region, Fraser told Stabroek Business that she believed that the response here in Guyana ought to be to seek to develop closer links between Guyanese businesses and Chinese enterprises seeking to do business with the Caribbean. "The reality is that given the size of our business sector it may be beneficial for entire sectors, including the fashion sector to make collective approaches to China so that sectors as a whole can benefit from what the Chinese have to offer," Fraser told Stabroek Business. "There is a certain inevitability about our business relationship with China," Fraser says.
Around the Web