Even as expanding Guyana's  international rice market continues to be the primary focus of the local industry, one of the country's leading rice milling entities has told this newspaper that optimizing the returns from the industry requires, among other things, significantly increased investment in inputs and services necessary for enhancing rice yield, both qualitatively and quantitatively.
Chief Executive Officer of the Berbice-based Nand Persaud and Company, Rajendra Persaud whose company, earlier this rice year, struck a historic rice sales deal with Cuba, told Stabroek Business in an interview this week that optimizing returns from the rice sector requires significantly greater official attention to critical infrastructural and other support mechanisms associated with ensuring its growth and wellness.   Persaud told this newspaper that while potentially lucrative rice markets exist in both Central America and Latin America current rice production levels are not adequate to position the country to take full advantage of them.
Asserting that Guyana needs to move decisively to extend lands under cultivation, Persaud also alluded to what he termed "the age-old problem of irrigation" that farmers faced. Every year farmers complain that they do not get water within a specific time frame for the ploughing and planting of paddy. There is need for a timetable for the distribution of water during that period."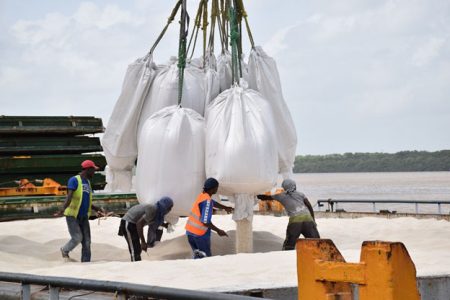 Alluding to what he says are the "land challenges" confronting Berbice rice farmers, Persaud declared that it is "difficult for the farmers in Berbice to be competitive because fifty percent of the farmers rent land to farm rice and have to pay before planting ". Those rents apply, he said, even in instances when flooding and/or drought mean that farmers are unable to plant or harvest. "Given that "situation the profit margin is marginal or nonexistent. Some farmers are unable to invest in their farms to produce quality yield; some have to borrow and are forever in debt."
And according to Persaud there are expanses of land aback of Canje which are inaccessible. Government, he said, would do well to invest in infrastructure, including roads that will   open up lands to the farmers. "With new lands and improved yield we can and will be competitive on the world market……………and who knows more farmers may be encouraged to plant. There are markets out there…especially in Latin and Central America but at the moment we do not have rice to supply those markets," Persaud said.
The Berbice businessman told Stabroek Business that the sector was also plagued with the challenge of an acute and worsening shortage of labour.  "There is a shortage of labourers to spray the fertilizer and if the fertilizer is not applied on time it affects the quality of both the paddy and the rice," he said.
Persaud disclosed that his company has applied for official permission to conduct aerial spraying, an option which he said may have to be pursued by the rest of the industry. The permission is still to be granted though Persaud told Stabroek Business that an airstrip has already been constructed close to the company complex to facilitate aerial spraying.
Persaud, meanwhile, has told Stabroek Business that he is satisfied with the pace of progress made with the delivery of consignments of rice to Cuba under the Agreement reached earlier this year. In expressing cautious but unmistakable optimism about prospects for the successful continuity of the agreement Persaud said that arrangements had gone "smoothly" for the shipping of two consignments of 7,500 tonnes each of rice to Cuba and that  Nand Persaud was currently engaged in discourse with its partners in Havana with regard to rice shipments for 2018.
Asked about the volume of rice expected to be shipped to Cuba next year under the agreement the company says that it could not provide precise information on shipments to Havana at this point since that depended on the amount of paddy available from local farmers.
With the new Cuba contract now added to its other external commitments, the company is now challenged to meet its obligations to CARICOM markets and to Mexico. Nand Persaud's shipments of rice to Mexico for 2017 totalled 88,000 tonnes.
Around the Web