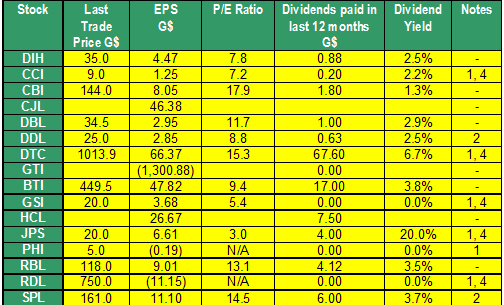 GASCI Summary of Financials Session 714 March 27, 2017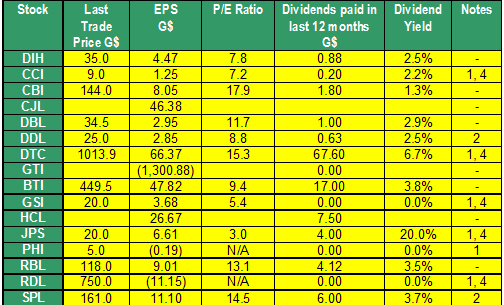 Notes
1 – Interim Results
2 – Prospective Dividends
3 – Shows year-end EPS but
Interim Dividend
4 – Shows Interim EPS but year-end Dividend
EPS: earnings per share for 12 months period to the date the latest financials have been prepared. These include:
2005 – Final results for GTI.
2015 – Final results for CJL, BTI and GSI.
2016 – Interim results for CCI, DTC, HCL, JPS, PHI and RDL.
2016 – Final Results for DIH, CBI, DBL, DDL, RBL and SPL.
As such, some of these EPS calculations are based on un-audited figures.
P/E Ratio: Price/Earnings Ratio = Last Trade Price/EPS
Dividend yield = Dividends paid in the last 12 months/last trade price.
Around the Web