LOS ANGELES, (Reuters) – Stage, screen and television actress Viola Davis yesterday received the 2,596th star on the Hollywood Walk of Fame. The Oscar-nominated actress was visibly moved by the honour at the unveiling.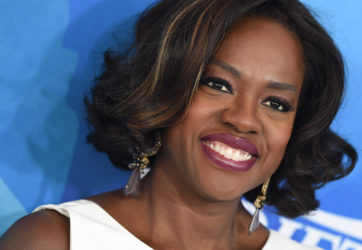 "The only thing I could think of is the little girl from Central Falls," said Davis, continuing, "She was always kind of in the background. But inside she had big dreams bursting and the only thing I could think about is that saying, what the caterpillar calls the end of the world, the master calls the butterfly."
Speaking at the ceremony, Meryl Streep, Davis' co-star from "Doubt" for which she received an Oscar nomination, said, "Viola Davis is possessed. She's possessed of a blazing, incandescent talent … She's a gift to writers. She plants herself in a scene where she has no words and she writes paragraphs with her eyes."
Last month, Davis received a Golden Globe nomination for best supporting actress for her turn in "Fences" – a role that garnered her a Tony in 2010, and is expected to earn her a third Academy Award nomination when they are announced on Jan. 24.
Her previous Oscar nods were for her work in 2011's "The Help" and 2008's "Doubt".
Before becoming a film star, Davis was already a celebrated theater actress, making her Broadway debut in 1996, and winning her first Tony in 2001 for "King Hedley II."
Around the Web