NEW YORK,  (Reuters) – J. Geils, leader of The J. Geils Band whose hard-driving hits of the late 1970s and early 1980s included "Centerfold," "Freeze Frame" and "Love Stinks," died on Tuesday at his home in Groton, Massachusetts, police said. He was 71.
Groton police said Geils, whose full name was John Warren Geils Jr., appeared to have died of natural causes. After a "well-being check" at the musician's house at around 4 p.m. EDT (2100 GMT), Geils was discovered unresponsive and was declared dead at the scene, police said in a statement.
The J. Geils Band was launched as a blues trio in Worcester, Massachusetts, in the 1960s. It soon switched its focus to electric guitars and bass as it became a staple of the Boston music scene through the 1970s with Geils as its lead guitarist and Peter Wolf on vocals, the group said on its Facebook page.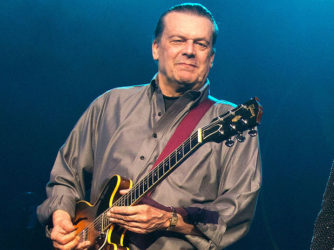 Its biggest commercial successes were the hard rock 'n' roll anthems that came with the release of "Freeze Frame," the band's 12th album, in 1981.
The album, which followed the comical hit "Love Stinks," also included the title track and "Centerfold," which was No. 1 for six weeks on the Billboard Hot 100 list, the group said.
The band's success was relatively shortlived. After Wolf left the group in 1983, the remaining members produced another album, "You're Gettin' Even While I'm Gettin' Old," and one single, "Concealed Weapons," before breaking up in 1985.
The band had several reunion tours since then. Geils finally quit the band in 2012 and later sued his bandmates, claiming they were conspiring to tour without him and unlawfully using the band's trademarked name, according to Rolling Stone magazine.
Geils remained active outside his namesake band. He released two albums in the mid-1990s with his band Bluestime, Rolling Stone said. He returned to his jazz roots during the 2000s with three solo records, it said.
Geils was born in New York on Feb. 20, 1946, and grew up in the New Jersey suburbs.
Comments

LOS ANGELES,  (Reuters) – Fox Searchlight's fantasy romance "The Shape of Water," about a woman who falls in love with a strange river creature, led the Oscar nominations yesterday in a wide-ranging list that embraced stories about and by women and people of colour.

MOSCOW,  (Reuters) – The Russian premiere of "Death of Stalin, a dark, satirical movie from British director Armando Iannucci, was called off yesterday after a private pre-release viewing drew ire from government figures, TASS news agency reported.
(Reuters) – U.S. comedian Bill Cosby performed his first stand-up gig since being swept up in sex scandals, joking in Philadelphia on Monday about his blindness and fueling criticism on social media, according to video posted online.

(Reuters) – U.S. singer-songwriter Neil Diamond, one of pop music's all-time best-selling artists, has been diagnosed with Parkinson's disease and plans to retire from touring, his official website said on Monday.
NEW DELHI/MUMBAI,  (Reuters) – India's Supreme Court yesterday rejected bids by two states to re-instate a ban on the release of controversial Bollywood film "Padmaavat", saying it stood by its previous ruling clearing the way for the movie to be shown in theatres.