LOS ANGELES, (Reuters) – "Grease" actress and singer Olivia Newton-John said on Tuesday that her breast cancer has returned and spread to her lower back.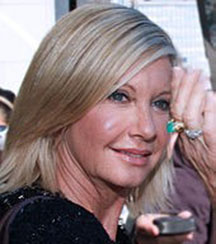 Newton-John, 68, who became an advocate for healthy living and medical research after her first bout with breast cancer in 1992, will undergo radiation treatment and is confident of returning to work later this year, her representatives said in a statement.
"I decided on my direction of therapies after consultation with my doctors and natural therapists and the medical team at my Olivia Newton-John Can-cer Wellness and Research Centre in Melbourne, Australia," Newton-John said.
The statement said the "Physical" singer was postponing her June U.S. and Canadian tours.
"The back pain that initially caused her to postpone the first half of her concert tour, has turned out to be breast cancer that has metastasized to the sacrum," Tuesday's statement said.
British-born and Australian-raised Newton-John started her career as a singer with pop hits like "If Not for You" and "I Honestly Love You."
She shot to international fame in the 1978 movie adaptation of musical "Grease," playing goody-goody teenager Sandy opposite John Travolta's wild boy Danny Zuko.
Newton-John was first diagnosed with breast cancer in 1992, and has raised funds for research and treatment as well as campaigning against animal cruelty.
Comments

CHICAGO,  (Reuters) – Mexican-born actress Salma Hayek has joined the ranks of Hollywood women accusing movie producer Harvey Weinstein of sexual misconduct, calling him a "monster" in an article published by the New York Times on Tuesday.
LOS ANGELES, (Reuters) – Small-town dramedy "Three Billboards Outside Ebbing, Missouri" led the 2018 Screen Actors Guild (SAG) nominations yesterday in a list that shut out veterans Meryl Streep and Daniel Day-Lewis as well as Steven Spielberg's press freedom movie "The Post." Instead, SAG members recognized performers in independent films that focused on women and people of color, throwing open the race for the Oscars in March.

LOS ANGELES,  (Variety.com) – With anticipation building for "Star Wars: The Last Jedi," Disney-Pixar's animated comedy "Coco" handily won its third straight crown at a moderate North American box office with $18.3 million at 3,748 sites.

PARIS, (Reuters) – Hundreds of thousands of people paid homage to late French rock and roll giant Johnny Hallyday at a Paris memorial service attended by French stars and politicians.

WASHINGTON,  (Reuters) – With the notable absence of President Donald Trump, the Kennedy Center yesterday celebrated singers Lionel Richie and Gloria Estefan, rapper LL Cool J, television producer Norman Lear and dancer Carmen de Lavallade with honours for the arts.