LOS ANGELES, (Reuters) – "Grease" actress and singer Olivia Newton-John said on Tuesday that her breast cancer has returned and spread to her lower back.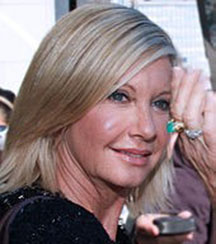 Newton-John, 68, who became an advocate for healthy living and medical research after her first bout with breast cancer in 1992, will undergo radiation treatment and is confident of returning to work later this year, her representatives said in a statement.
"I decided on my direction of therapies after consultation with my doctors and natural therapists and the medical team at my Olivia Newton-John Can-cer Wellness and Research Centre in Melbourne, Australia," Newton-John said.
The statement said the "Physical" singer was postponing her June U.S. and Canadian tours.
"The back pain that initially caused her to postpone the first half of her concert tour, has turned out to be breast cancer that has metastasized to the sacrum," Tuesday's statement said.
British-born and Australian-raised Newton-John started her career as a singer with pop hits like "If Not for You" and "I Honestly Love You."
She shot to international fame in the 1978 movie adaptation of musical "Grease," playing goody-goody teenager Sandy opposite John Travolta's wild boy Danny Zuko.
Newton-John was first diagnosed with breast cancer in 1992, and has raised funds for research and treatment as well as campaigning against animal cruelty.
Comments

LOS ANGELES,  (Reuters) – Romantic fantasy "The Shape of Water" won the best picture Oscar on Sunday, the film industry's most prestigious honour, on a night where themes of female empowerment and activism almost overshadowed the awards.

LOS ANGELES (Reuters) – Animated "The Emoji Movie" stunk up the annual Razzie awards on Saturday, tanking below all contenders for worst achievements in film, while Tom Cruise and Mel Gibson were also roasted for 2017's most ignoble performances.
CAIRO (Reuters) – Egypt's top court on Saturday dismissed all outstanding legal challenges to a deal transferring two Red Sea islands to Saudi Arabia, a day before a visit by its crown prince.

(Reuters) – Thousands of fans lined the streets of Mumbai yesterday, some weeping quietly, others running behind the hearse, as they joined Bollywood stars in paying tributes to actress Sridevi who died at the weekend in Dubai.
LOS ANGELES,  (Reuters) – The Academy Awards, the glitziest night in show business, takes place on Sunday, but the biggest drama may be not on the Dolby Theatre stage but behind-the-scenes moves to tackle the sexual misconduct scandal that has rocked the industry.