NEW DELHI,  (Thomson Reuters Foundation) – Bollywood film star John Abraham called on Monday for governments, charities and the public to step up efforts to curb rising cases of human trafficking and modern day slavery saying the crime was "a serious threat to humanity".
There are an estimated 46 million people enslaved worldwide, with more than 18 million living in India, according to the 2016 Global Slavery Index.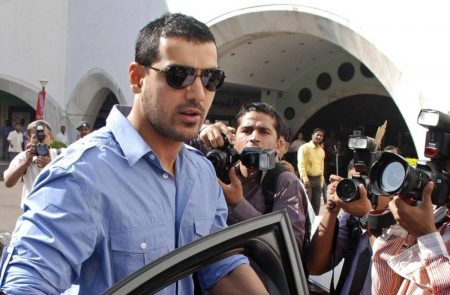 Many are lured by traffickers, only to find themselves or their children forced to work in fields or brick kilns, enslaved in middle-class homes as domestic workers or sold into sexual slavery.
"Any kind of human trafficking is a serious threat to humanity. It is a violation of human rights and dignity," Abraham told the United Nations Office on Drugs and Crime (UNODC) in an interview to mark World Day against Trafficking in Persons.
"I hear about women and men being trafficked from their homes for sexual exploitation or to work as domestic helps in other cities and countries, and even young girls and children are not spared."
The 44-year-old heartthrob, known mostly for action films, said it was important to speak out against human trafficking as most people were unaware of the issue or turned a blind eye.
South Asia, with India at its centre, is one of the fastest-growing regions for human trafficking.
Almost 20,000 women and children were victims of human trafficking in India in 2016, a rise of nearly 25 percent from the previous year, according to government data.
Thousands of people – largely poor, rural women and children – are lured to India's towns and cities each year by traffickers who promise good jobs, but sell them into modern day slavery. They may end up in domestic work, small industries such as textile workshops, farming or brothels.
In many cases, they are not paid or are held in debt bondage. Some go missing, and their families cannot trace them.
Abraham, a former model turned actor and film producer – famous for box office hits such as "Dhoom", "Dostanna", "Desi Boyz" and "Madras Cafe" – said he fully backed the UNODC's "Blue Heart Campaign" against human trafficking.
"It is so dehumanising. The root cause is vulnerability of people: due to poverty, conflicts, inequality and illiteracy. If these vulnerabilities can be identified and addressed, trafficking may be curtailed," said Abraham.
"It is truly sad to know that most people are never identified as trafficking victims and therefore cannot access most of the assistance or protection provided. I feel there is a need for the public, civil society and governments to act now to enhance protection and assistance to affected people."
Comments

DENVER, (Reuters) – Taylor Swift won her trial against a Colorado radio personality yesterday after a jury found that the former DJ assaulted and battered the pop star by groping her bare bottom, and awarded her the symbolic $1 in damages she had sought.

(Reuters) The Indian government dismissed the controversial chief of its movie censorship panel on Friday, following months of criticism from Bollywood film-makers and fellow panelists angered by attempts to sanitise art and popular culture.

CROPREDY, England,  (Reuters) – Grammy award-winner Petula Clark sang her global hit "Down-town" about as far from "where the neon signs are pretty" as she could at the weekend — to thousands in a field in rural England.
(Reuters) – Bruce Springsteen is headed to Broadway for an eight-week solo theater run that he says will feature "just me, the guitar, the piano and the words and music." "Springsteen on Broadway" will start Oct.
VANCOUVER,  (Reuters) – "Deadpool" star Ryan Reynolds said yesterday that actors and crew were "heartbroken, shocked and devastated" at the death of a driver in a motorcycle stunt in Vancouver that went wrong.