LONDON,  (Reuters) – So close to death was blues rocker Gregg Allman when he was making his final album, the cover photographer did not get to his Savannah, Georgia, house in time.
Instead, "Southern Blood", Allman's posthumous paean to his life and music to be released in September, is adorned with a sepia shot of the grounds, a wooden boardwalk heading away under the shade of Spanish Moss.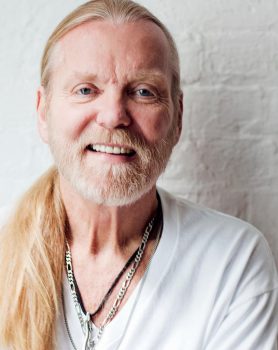 There probably could not be a more appropriate symbol for Allman, who died from cancer in May, aged 69. From the early days with his late brother Duane onwards, Tennessee-born Allman was the epitome of Southern rock and blues.
"Southern Blood" is not about the South per se — for that, skip back an album to the 2011 Grammy-nominated "Low Country Blues". This one is about Allman.
"(Gregg) was acutely aware that his time was limited," Allman's manager and friend Michael Lehman told Reuters when asked about the recording session. "These compositions, they are all poignant and meaningful and talk about his life's journey. Everyone of them had meaning (for him)."
For his last hurrah, Allman chose a number of songs written by friends and favourite artists including Jackson Browne, Willie Dixon, Jerry Garcia and Lowell George.
Each song, including those written by Allman himself, touch on something of the man — who led a difficult life with the early death of his brother, six divorces including from his celebrity marriage to Cher, drug addiction, hepatitis C, a liver transplant and, ultimately, cancer.
George's "Willin'", for example, is the tale of a hard-times Southwestern truck driver who keeps on the road against all the odds, a hint at Allman's near continual touring.
Another song — written by Mississippi bluesman Wilie Dixon — needs no explanation: "I Love The Life I Live, I Live The Life I Love".
In a similar vein a lot of the songs are basically goodbyes. One such is Allman's sweet rendition of Bob Dylan's "Going, Going, Gone" with it's starting lyrics: "I've just reached a place/Where the willow don't bend/There's not much more to be said/It's the top of the end".
Perhaps most poignant of all is the opening track, Allman's own "My Only True Friend" in which he calls on the people who have followed his music since before 1969, the year the Allman Brothers hit the road, to remember him.
"You and I both know this river must surely flow to an end
Keep me in your heart, keep your soul on the mend
I hope you're haunted by the music of my soul, when I'm gone
Please don't fly away to find a new love".
Comments

LOS ANGELES,  (Variety.com) – With anticipation building for "Star Wars: The Last Jedi," Disney-Pixar's animated comedy "Coco" handily won its third straight crown at a moderate North American box office with $18.3 million at 3,748 sites.

PARIS, (Reuters) – Hundreds of thousands of people paid homage to late French rock and roll giant Johnny Hallyday at a Paris memorial service attended by French stars and politicians.

WASHINGTON,  (Reuters) – With the notable absence of President Donald Trump, the Kennedy Center yesterday celebrated singers Lionel Richie and Gloria Estefan, rapper LL Cool J, television producer Norman Lear and dancer Carmen de Lavallade with honours for the arts.

LOS ANGELES,  (Reuters) – Carrie Fisher's final performance as the beloved Leia in "Star Wars" puts the character on the front lines in a dark new chapter that reaches theaters this month, leaving a galactic hole to fill after the sudden death of the actress a year ago.
(BBC) Madame Tussauds has debuted in Delhi, with 50 wax models of Indian and international celebrities.