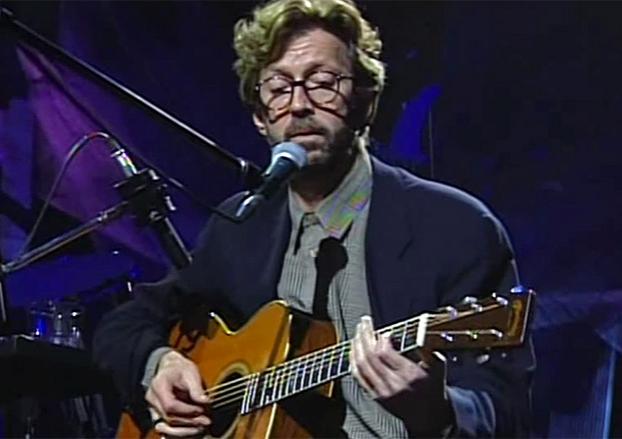 TORONTO, (Reuters) – A documentary about the life of renowned guitarist Eric Clapton does not attempt to whitewash over the darker side of the hard-drinking musician's life, even though it is directed by his longtime friend, filmmaker Lili Fini Zanuck said Monday.
Zanuck, who has known Clapton for 25 years, directed "Eric Clapton: Life in 12 Bars," following the life of the 72-year-old British guitarist from childhood to international stardom, through his struggle with drugs and alcohol and the 1991 death of his four-year-old son.
"To watch myself going through that was not easy," Clapton told reporters on Monday at the Toronto International Film Festival, where the film made its debut.
"Right up until the time I stopped drinking, everything I said was complete blather," he added, to laughter from the audience.
In his 2007 autobiography, Clapton described a 20-year drug and alcohol addiction that he said saw him spending about $16,000 a week on heroin in the 1970s. The death of his son Conor, in a fall from a New York high-rise, was the trigger to sobriety.
The musician, who is a producer on the film, spoke about his struggles with having his life documented on screen and doing interviews with Zanuck in a film that does not shy away from examining his faults.
"I do not like having my picture taken, I do not like talking to journalists. I love to play music," Clapton said.
Zanuck, who won an Oscar for 1989's "Driving Miss Daisy," said Clapton did not second-guess the responsibility he gave her in telling his story.
"For me, the movie is about redemption – personal redemption, not necessarily what society thinks," Zanuck told Reuters.
"No one got him out of despair, he did it himself," she added.
With hits such as "Bell Bottom Blues," "Cocaine" and "Layla," Clapton has won 17 Grammy Awards, and was inducted into the Rock and Roll Hall of Fame in 2000. He was ranked No. 2 on Rolling Stone magazine's 2015 list of 100 greatest guitarists of all time, behind Jimi Hendrix.
"Eric Clapton: Life in 12 Bars" will be released in North American theaters later this year and air on premium cable channel Showtime in February.
Comments

CHICAGO,  (Reuters) – Mexican-born actress Salma Hayek has joined the ranks of Hollywood women accusing movie producer Harvey Weinstein of sexual misconduct, calling him a "monster" in an article published by the New York Times on Tuesday.
LOS ANGELES, (Reuters) – Small-town dramedy "Three Billboards Outside Ebbing, Missouri" led the 2018 Screen Actors Guild (SAG) nominations yesterday in a list that shut out veterans Meryl Streep and Daniel Day-Lewis as well as Steven Spielberg's press freedom movie "The Post." Instead, SAG members recognized performers in independent films that focused on women and people of color, throwing open the race for the Oscars in March.

LOS ANGELES,  (Variety.com) – With anticipation building for "Star Wars: The Last Jedi," Disney-Pixar's animated comedy "Coco" handily won its third straight crown at a moderate North American box office with $18.3 million at 3,748 sites.

PARIS, (Reuters) – Hundreds of thousands of people paid homage to late French rock and roll giant Johnny Hallyday at a Paris memorial service attended by French stars and politicians.

WASHINGTON,  (Reuters) – With the notable absence of President Donald Trump, the Kennedy Center yesterday celebrated singers Lionel Richie and Gloria Estefan, rapper LL Cool J, television producer Norman Lear and dancer Carmen de Lavallade with honours for the arts.