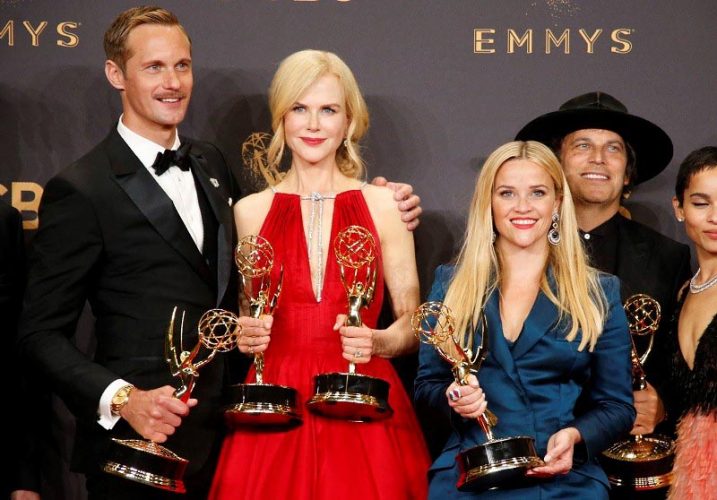 LOS ANGELES, (Reuters) – "The Handmaid's Tale" and political comedy "Veep" won the top prizes at the Emmy awards on Sunday, but satirical sketch show "Saturday Night Live" won the most Emmys overall on the back of a season of Donald Trump spoofs.
The new U.S. president, who never won an Emmy despite his reality show past, was also the butt of multiple jokes at the ceremony honoring the best of television.
"If he (Trump) had won an Emmy, I bet he wouldn't have run for president," host Stephen Colbert told the A-list audience.
"It's your fault! He never forgave you and he never will. But unlike the presidency, the Emmys go to the winners of the popular vote," Colbert quipped, referring to the 2016 election result.
Alec Baldwin won the comedy supporting actor Emmy for his withering impersonations of Trump for "Saturday Night Live "on the Comcast Corp's NBC.
After its most-watched season in 23 years, "Saturday Night Live" won nine Emmys, including best variety sketch series, for actress Kate McKinnon and for Melissa McCarthy's turn as former White House press secretary Sean Spicer.
With HBO's medieval series "Game of Thrones" out of the running this year because of a later airdate, there were a slew of new faces among Sunday's winners.
Many of them were for women, who scored with female-centric shows like "Big Little Lies," "A Handmaid's Tale" and "Veep," and rare wins for women directors, writers and producers.
In the first major awards wins for streaming service Hulu, "The Handmaid's Tale" star Elisabeth Moss was named best drama actress for playing a woman forced into sexual servitude. The show also won awards for writing, directing and for supporting actress Ann Dowd for a total of 8.
Other new faces included Donald Glover, the best comedy actor and also director for his hip-hop themed show "Atlanta."
Julia Louis-Dreyfus won her sixth consecutive Emmy for playing a female egotistical presidential candidate on HBO's "Veep," one of the few repeat winners.
"We did have a whole storyline about impeachment but we abandoned that because we were worried that someone else might get to it first," said Louis-Dreyfus, accepting her trophy.
Sterling K. Brown won best dramatic actor for his role as an African-American who is adopted into a white family in heart-tugging NBC family drama "This Is Us."
In a crowded limited series category, HBO's murder mystery "Big Little Lies" came out on top, winning eight Emmys including for best series, for Nicole Kidman's abused wife character, for Laura Dern and Alexander Skarsgard, as well as for writing and directing.
Kidman said the show "was created out of frustration because women weren't getting great roles. So now, more roles for women, please!"
Britain's Riz Ahmed beat presumed front-runner Robert De Niro to take his first Emmy for his role as a man who falls foul of the U.S. judicial system in HBO's crime limited series "The Night Of."
Some of the night's biggest losers included two new Netflix shows. Fan favorite "Stranger Things" won just five of its 18 nominations, mostly in technical categories, and British royal series "The Crown" came away with three out of 16 nominations.
Comments

LOS ANGELES,  (Variety.com) – With anticipation building for "Star Wars: The Last Jedi," Disney-Pixar's animated comedy "Coco" handily won its third straight crown at a moderate North American box office with $18.3 million at 3,748 sites.

PARIS, (Reuters) – Hundreds of thousands of people paid homage to late French rock and roll giant Johnny Hallyday at a Paris memorial service attended by French stars and politicians.

WASHINGTON,  (Reuters) – With the notable absence of President Donald Trump, the Kennedy Center yesterday celebrated singers Lionel Richie and Gloria Estefan, rapper LL Cool J, television producer Norman Lear and dancer Carmen de Lavallade with honours for the arts.

LOS ANGELES,  (Reuters) – Carrie Fisher's final performance as the beloved Leia in "Star Wars" puts the character on the front lines in a dark new chapter that reaches theaters this month, leaving a galactic hole to fill after the sudden death of the actress a year ago.
(BBC) Madame Tussauds has debuted in Delhi, with 50 wax models of Indian and international celebrities.