LOS ANGELES, (Reuters) – Emmy-winning comedic actress Julia Louis-Dreyfus said on Thursday that she was battling breast cancer and highlighted the case for universal healthcare.
Louis-Dreyfus, 56, who plays foul-mouthed fictitious U.S. president Selina Meyer on HBO's "Veep," said "1 in 8 women get breast cancer. Today, I'm the one," in a short post on her social media platforms.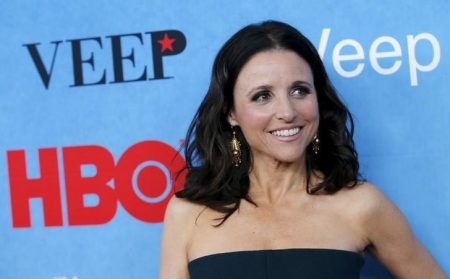 "The good news is that I have the most glorious group of supportive and caring family and friends, and fantastic insurance through my union. The bad news is that not all women are so lucky, so let's fight all cancers and make universal health care a reality," the actress wrote.
She did not give any further details of her health status.
Louis-Dreyfus won a record sixth Emmy award for comedy actress for her role as Meyer earlier this month. She became famous in the early 1990s for her role of Elaine on NBC's "Seinfeld," which won her several awards.
Comments

LOS ANGELES,  (Variety.com) – Disney-Marvel's "Black Panther" is heading for a super-heroic $218 million debut over the four-day President's Day weekend at 4,020 North American locations, estimates showed Sunday.
LONDON,  (Reuters) – Dark comedy "Three Billboards Outside Ebbing, Missouri" was the biggest winner at the BAFTA Film Awards, held in London on Sunday, an event which saw the campaign for women's rights in the entertainment industry take centre stage.

LOS ANGELES, (Reuters) – Some film critics are calling it the best Marvel movie so far; others say it's a correction after years of neglecting minority talent in Hollywood.

(Reuters) Amid violent protests and calls for a ban, Sanjay Leela Bhansali's "Padmaavat" released in Indian theatres last week to a mostly positive reception from audiences.

LOS ANGELES,  (Reuters) – U.S. singer Vic Damone, a crooner who found fame in the 1940s and 1950s, has died at the age of 89, his family said on Monday.