LOS ANGELES, (Reuters) – Emmy-winning comedic actress Julia Louis-Dreyfus said on Thursday that she was battling breast cancer and highlighted the case for universal healthcare.
Louis-Dreyfus, 56, who plays foul-mouthed fictitious U.S. president Selina Meyer on HBO's "Veep," said "1 in 8 women get breast cancer. Today, I'm the one," in a short post on her social media platforms.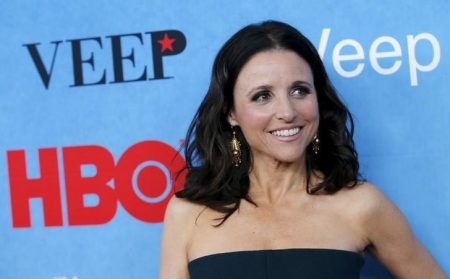 "The good news is that I have the most glorious group of supportive and caring family and friends, and fantastic insurance through my union. The bad news is that not all women are so lucky, so let's fight all cancers and make universal health care a reality," the actress wrote.
She did not give any further details of her health status.
Louis-Dreyfus won a record sixth Emmy award for comedy actress for her role as Meyer earlier this month. She became famous in the early 1990s for her role of Elaine on NBC's "Seinfeld," which won her several awards.
Comments

LOS ANGELES,  (Variety.com) – With anticipation building for "Star Wars: The Last Jedi," Disney-Pixar's animated comedy "Coco" handily won its third straight crown at a moderate North American box office with $18.3 million at 3,748 sites.

PARIS, (Reuters) – Hundreds of thousands of people paid homage to late French rock and roll giant Johnny Hallyday at a Paris memorial service attended by French stars and politicians.

WASHINGTON,  (Reuters) – With the notable absence of President Donald Trump, the Kennedy Center yesterday celebrated singers Lionel Richie and Gloria Estefan, rapper LL Cool J, television producer Norman Lear and dancer Carmen de Lavallade with honours for the arts.

LOS ANGELES,  (Reuters) – Carrie Fisher's final performance as the beloved Leia in "Star Wars" puts the character on the front lines in a dark new chapter that reaches theaters this month, leaving a galactic hole to fill after the sudden death of the actress a year ago.
(BBC) Madame Tussauds has debuted in Delhi, with 50 wax models of Indian and international celebrities.