LOS ANGELES, (Reuters) – Emmy-winning comedic actress Julia Louis-Dreyfus said on Thursday that she was battling breast cancer and highlighted the case for universal healthcare.
Louis-Dreyfus, 56, who plays foul-mouthed fictitious U.S. president Selina Meyer on HBO's "Veep," said "1 in 8 women get breast cancer. Today, I'm the one," in a short post on her social media platforms.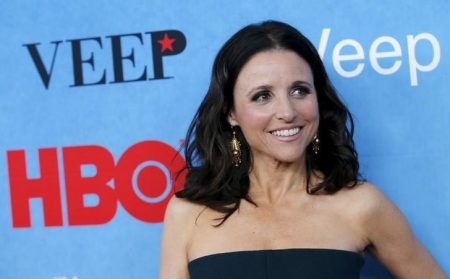 "The good news is that I have the most glorious group of supportive and caring family and friends, and fantastic insurance through my union. The bad news is that not all women are so lucky, so let's fight all cancers and make universal health care a reality," the actress wrote.
She did not give any further details of her health status.
Louis-Dreyfus won a record sixth Emmy award for comedy actress for her role as Meyer earlier this month. She became famous in the early 1990s for her role of Elaine on NBC's "Seinfeld," which won her several awards.
Comments

LOS ANGELES (Reuters) – The Academy of Motion Picture Arts and Sciences expelled Oscar-winning producer Harvey Weinstein on Saturday, after allegations that he sexually harassed or assaulted a number of women over the past three decades.

LOS ANGELES, (Reuters) – Meryl Streep and Judi Dench, two of Hollywood's most respected actresses, lashed out at movie producer Harvey Weinstein yesterday but said they were unaware of his decades of alleged sexual harassment of women.
By Laya Maheshwari (BBC) In India, a film can often face pre-release hurdles.

(Reuters) Grammy-winning rapper Nelly was arrested near Seattle early on Saturday Nelly after a woman accused him of sexually assaulting her on a tour bus, police said.

LOS ANGELES,  (Variety.com) – "Blade Runner 2049" is heading for a downbeat $31.5 million opening weekend at 4,058 sites in North America.