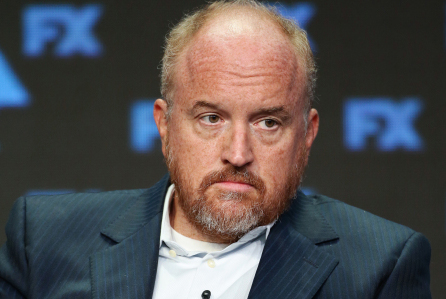 (LOS ANGELES, (Reuters) – Five women detailed sexual misconduct allegations against Emmy-winning comedian Louis C.K. in a New York Times report published Thursday, including three who said he had masturbated in front of them.
In the New York Times article, C.K.'s publicist Lewis Kay said the comedian "is not going to answer any questions" from the publication.
Kay said in an email to Reuters on Thursday that C.K. will issue a written statement "in the coming days." Reuters was unable to independently confirm any of the allegations.
In the Times article, C.K. had "dismissed stories of his alleged sexual misconduct as 'rumors,'" when the Times had interviewed him about his latest film "I Love You, Daddy" at the Toronto International Film Festival in September.
The New York premiere for "I Love You Daddy" was scheduled for Thursday and abruptly cancelled before the Times' story was published.
"In light of the allegations concerning Louis C.K. referenced in today's New York Times, we are cancelling tonight's premiere of "I Love You, Daddy." There is never a place for the behavior detailed in these allegations," the film's distributor, The Orchard, said in an emailed statement to Reuters.
The film company added that it is "giving careful consideration to the timing and release of the film and continuing to review the situation."
The Times article said C.K.'s scheduled appearance on "The Late Show with Stephen Colbert" was also scrapped.
C.K., 50, the creator and star of FX's "Louie" and one of the most popular and praised stand-up comedians, has often joked about sexual topics and masturbation in his stand-up routines and show.
Two of the women in the article, comedians Dana Min Goodman and Julia Wolov, said C.K. had invited them to his hotel room after a comedy festival in Aspen, Colorado, in 2002 and then masturbated in front of them. Reuters could not immediately reach Goodman and Wolov.
The Times also quoted three other women. One said C.K. masturbated in front of her, a second said he did so while on the phone with her and the third said she declined when asked to masturbate in front of her.
C.K. is the latest celebrity in the entertainment business to be accused of sexual misconduct by people coming forward in the wake of allegations against movie producer Harvey Weinstein and actor Kevin Spacey.
Comments

LOS ANGELES,  (Reuters) – Dark comedy "Three Billboards Outside Ebbing, Missouri" won three prizes at the Screen Actors Guild (SAG) awards on Sunday in a ceremony marked by women and their stories amid the sexual misconduct scandal that has swept Hollywood.
LOS ANGELES,  (Variety.com) – Sony's "Jumanji: Welcome to the Jungle" has won its third weekend box office title with ease, topping newcomers "12 Strong" and "Den of Thieves," with $20 million at 3,704 North American locations.

LOS ANGELES, (Reuters) – Woody Allen's adopted daughter gave a tearful television interview yesterday, giving details of an alleged molestation by the filmmaker more than 25 years ago.

MUMBAI, (Reuters) – India's Supreme Court yesterday cleared the way for the release of a controversial Bollywood movie based on an epic poem about a 14th-century queen, a day after its producers went to court to fight bans by several states.

LONDON, (Thomson Reuters Foundation) – British-Indian sculptor Anish Kapoor donated $1 million to five charities working with refugees worldwide on Wednesday in a bid to alleviate a record-breaking global displacement crisis.