LOS ANGELES (Reuters) – Actress and gospel singer Della Reese, who appeared for years in the "Touched By An Angel" television series, has died at the age of 86 at her home in California, her family said today.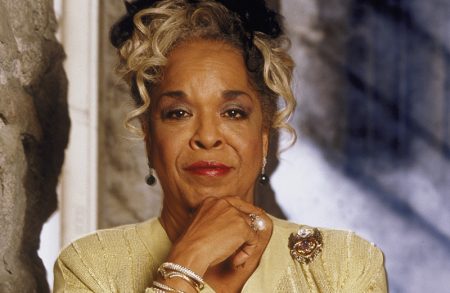 The actress "passed away peacefully at her California home surrounded by love" on Sunday, her husband Franklin Lett and her family said in a statement.
The statement was posted on the family's behalf by Reese's co-star Roma Downey on her Instagram page.
"Through her life and work she touched and inspired the lives of millions of people," the statement added.
No cause of death was given but Reese had suffered from diabetes which was diagnosed some 17 years ago.
Detroit-born Reese was trained as a gospel singer and first found fame in the late 1950s and early 1960s with pop and jazz hits like "Don't You Know."
By 1969, she had her own talk show "Della" – the first to be hosted by an African-American woman. She then landed roles in shows like "It Takes Two" and "Crazy Like a Fox"
Her biggest part however was her role as the sarcastic supervisor angel Tess on the supernatural CBS TV series "Touched By An Angel," which ran for nine years until 2003.
Reese also sang the title song "Walk With You."
Comments
LOS ANGELES, (Reuters) – "Star Wars: The Last Jedi," the latest chapter in the hugely popular franchise, debuted with a massive $450 million in global ticket sales over the weekend, distributor Walt Disney Co said yesterday.

CHICAGO,  (Reuters) – Mexican-born actress Salma Hayek has joined the ranks of Hollywood women accusing movie producer Harvey Weinstein of sexual misconduct, calling him a "monster" in an article published by the New York Times on Tuesday.
LOS ANGELES, (Reuters) – Small-town dramedy "Three Billboards Outside Ebbing, Missouri" led the 2018 Screen Actors Guild (SAG) nominations yesterday in a list that shut out veterans Meryl Streep and Daniel Day-Lewis as well as Steven Spielberg's press freedom movie "The Post." Instead, SAG members recognized performers in independent films that focused on women and people of color, throwing open the race for the Oscars in March.

LOS ANGELES,  (Variety.com) – With anticipation building for "Star Wars: The Last Jedi," Disney-Pixar's animated comedy "Coco" handily won its third straight crown at a moderate North American box office with $18.3 million at 3,748 sites.

PARIS, (Reuters) – Hundreds of thousands of people paid homage to late French rock and roll giant Johnny Hallyday at a Paris memorial service attended by French stars and politicians.